Or read along if you don't want to watch the video!
This site contains affiliate links to products. We may receive a commission for purchases made through these links.

|Juki Serger|Needles|Stretch Thread|Long Tweezers|
Serger Troubleshooting
Sergers, overlockers…whatever you call them, they can really help make sewing garments look a little more professional. But sergers can be slightly intimidating with all those knobs and threads, so let's see if we can help with some tips and tricks for serger troubleshooting.
My serger is a Juki Mo-654DE but these tips should help you with any serger. For a review on the Brother 1034d read more here.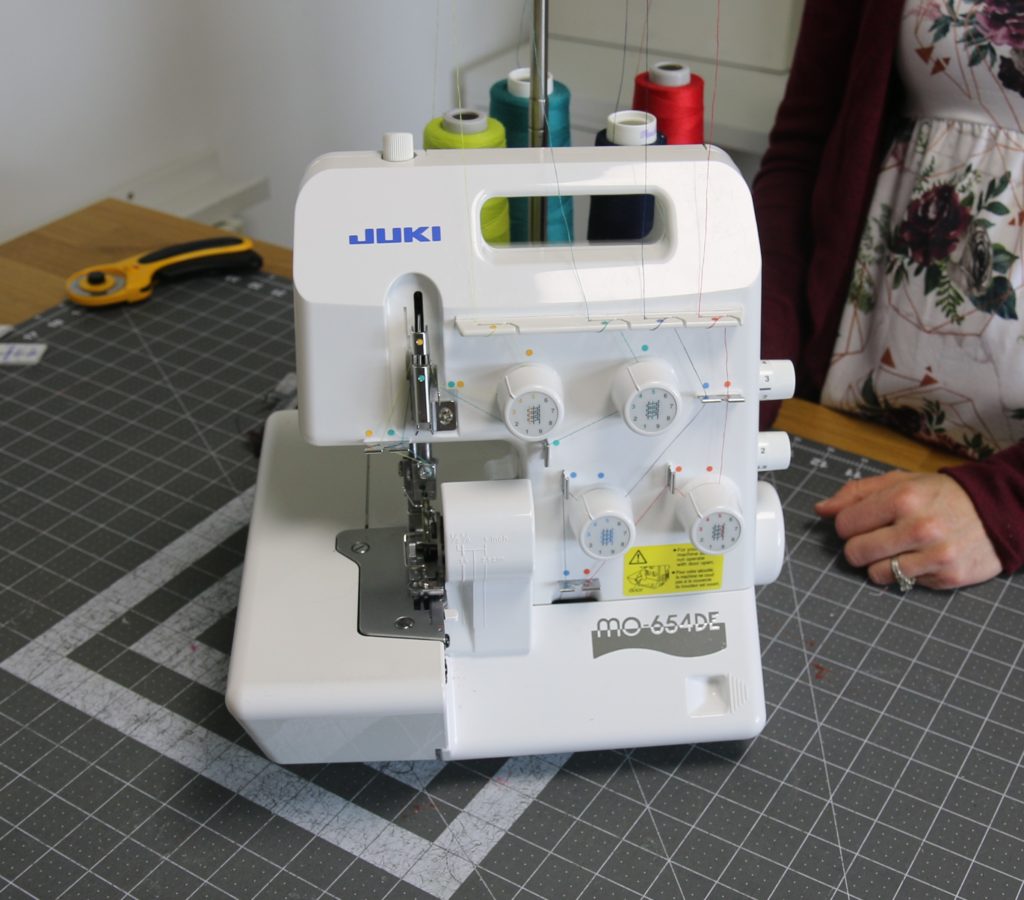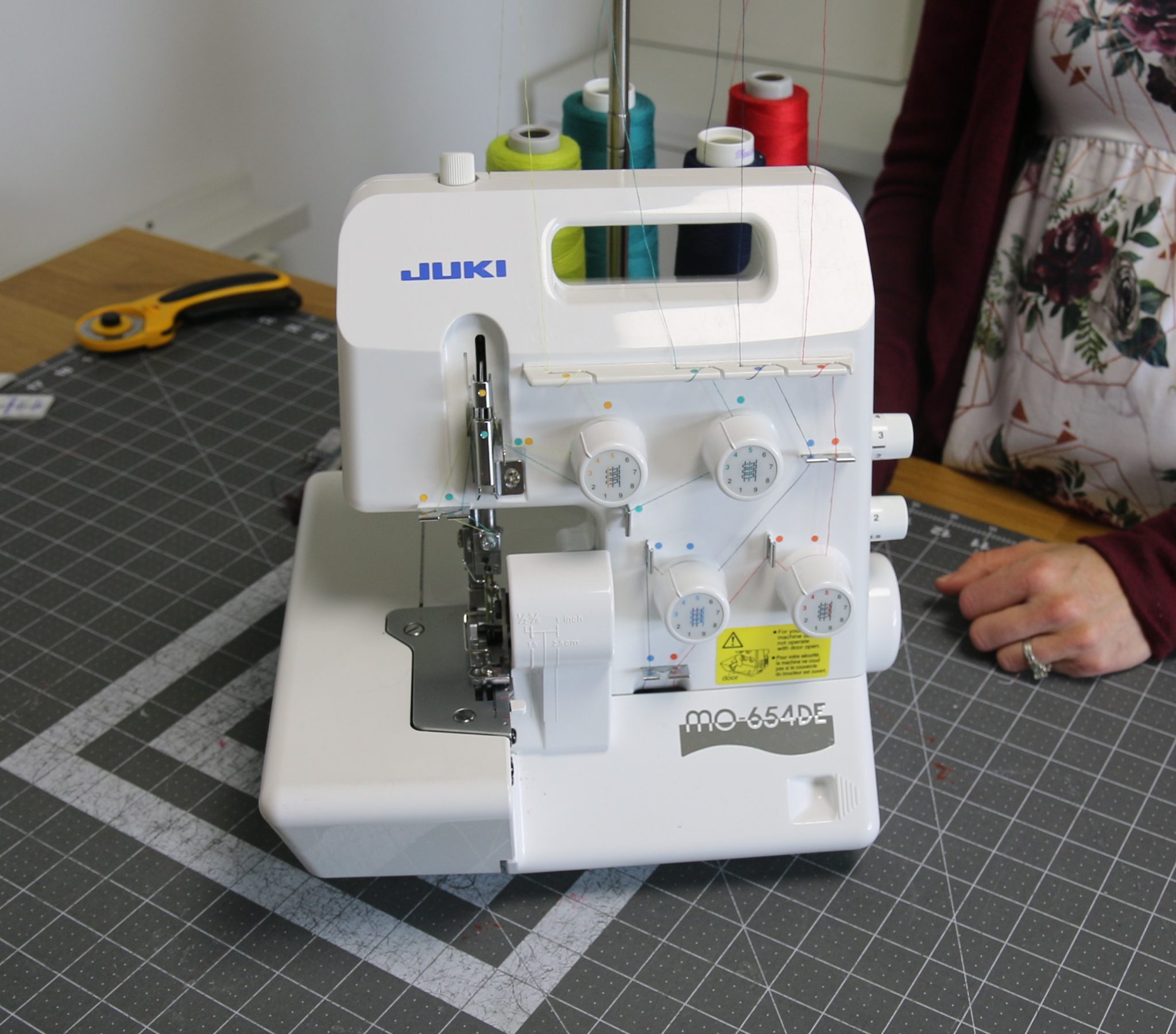 It's important to clean out your serger regularly so it doesn't get clogged with dust and lint, especially after particularly messy projects, but we will go over that another day. Generally, if your serger is misbehaving, it's probably in need of new needles or rethreading. 
Needles
Let's start with needles. Most sergers use the same needles a machine would and do not need anything special. I usually keep size 90/14 stretch needles in mine as I sew mostly knits with it but you would want your needles to match your fabric.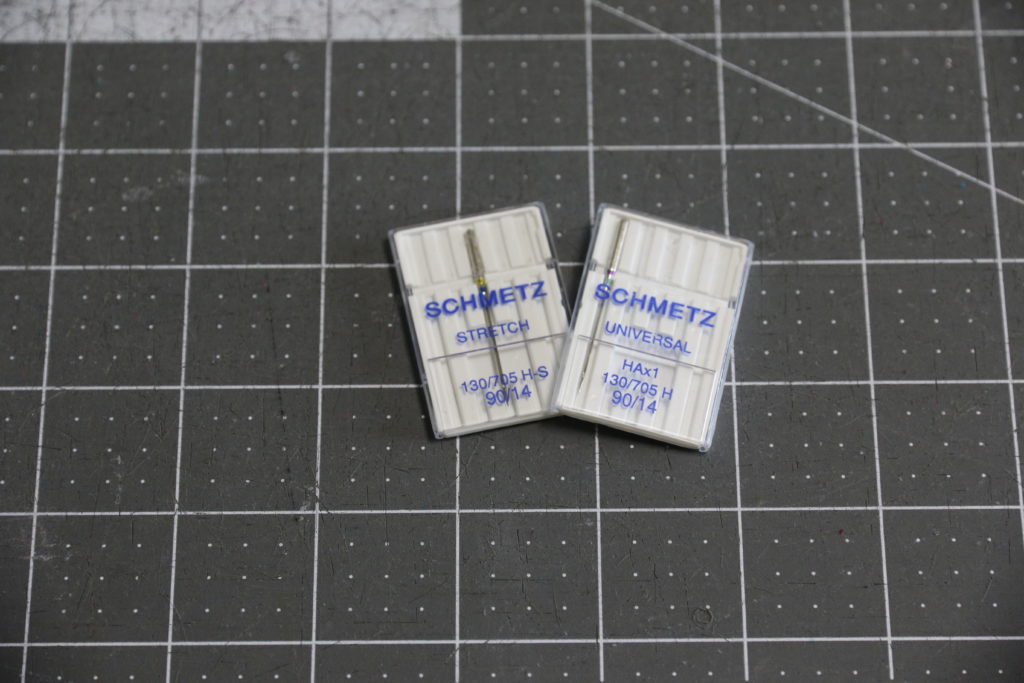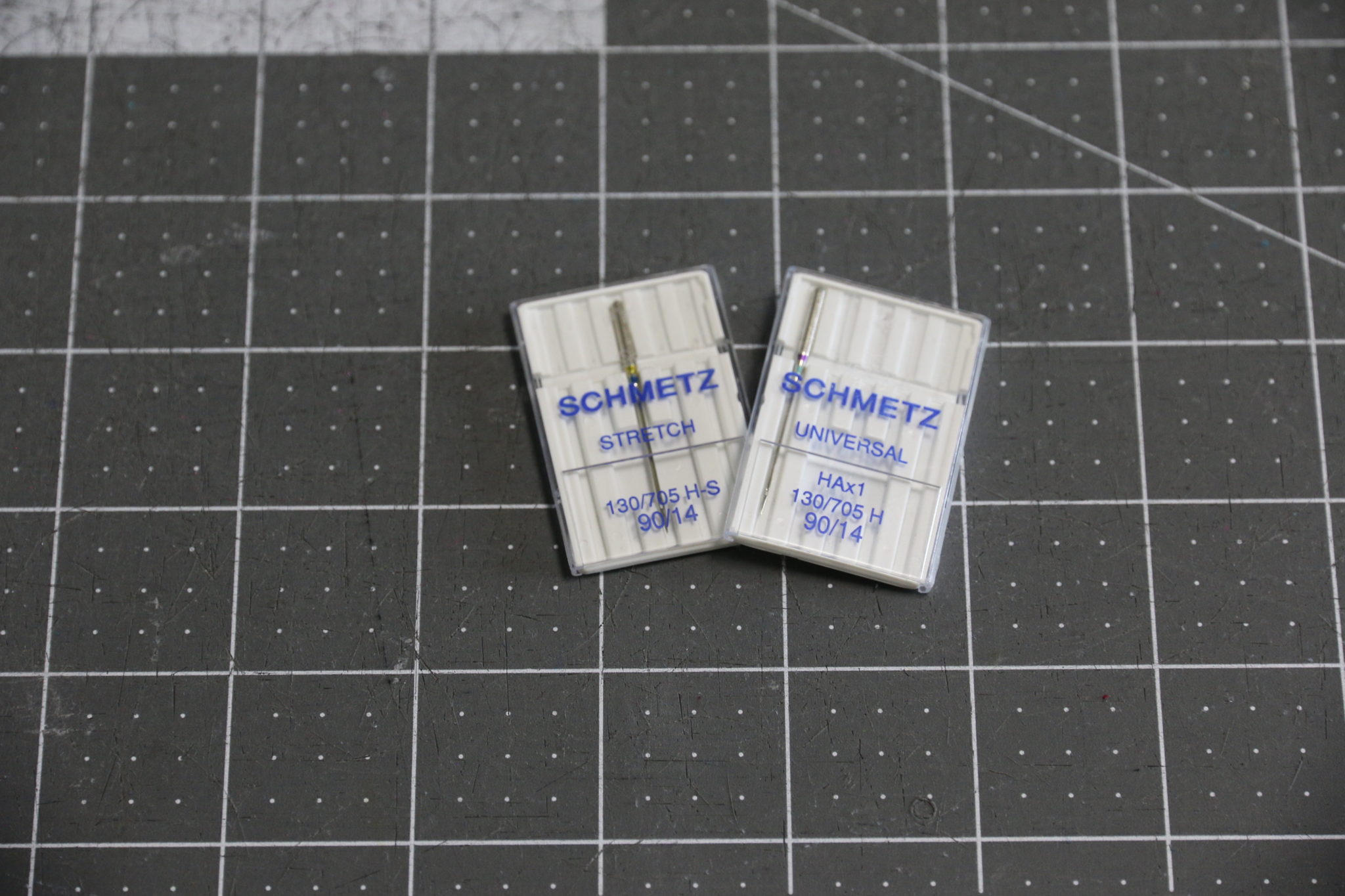 You'll need to change these regularly just as you would with your regular machine too.  When installing your needles for domestic machines, make sure that the flat part is towards the back, they are pushed all the way in, and that you tighten them well. The needles will be at different heights. 
Threading your serger
Next, threading your serger. Follow your manual for sure, but here's some extra tips as often when your serger isn't sewing nicely it is because it is not threaded properly. Best thing to do is to turn all tensions to zero as you start. My machine, and every one I've owned before all have you start with the upper looper, then the lower, then the needles. Order does matter to make sure it will chain for you. Starting with your upper looper thread, follow the guide marked. Pull your thread through the tension discs like you are flossing to make sure it is fully in there.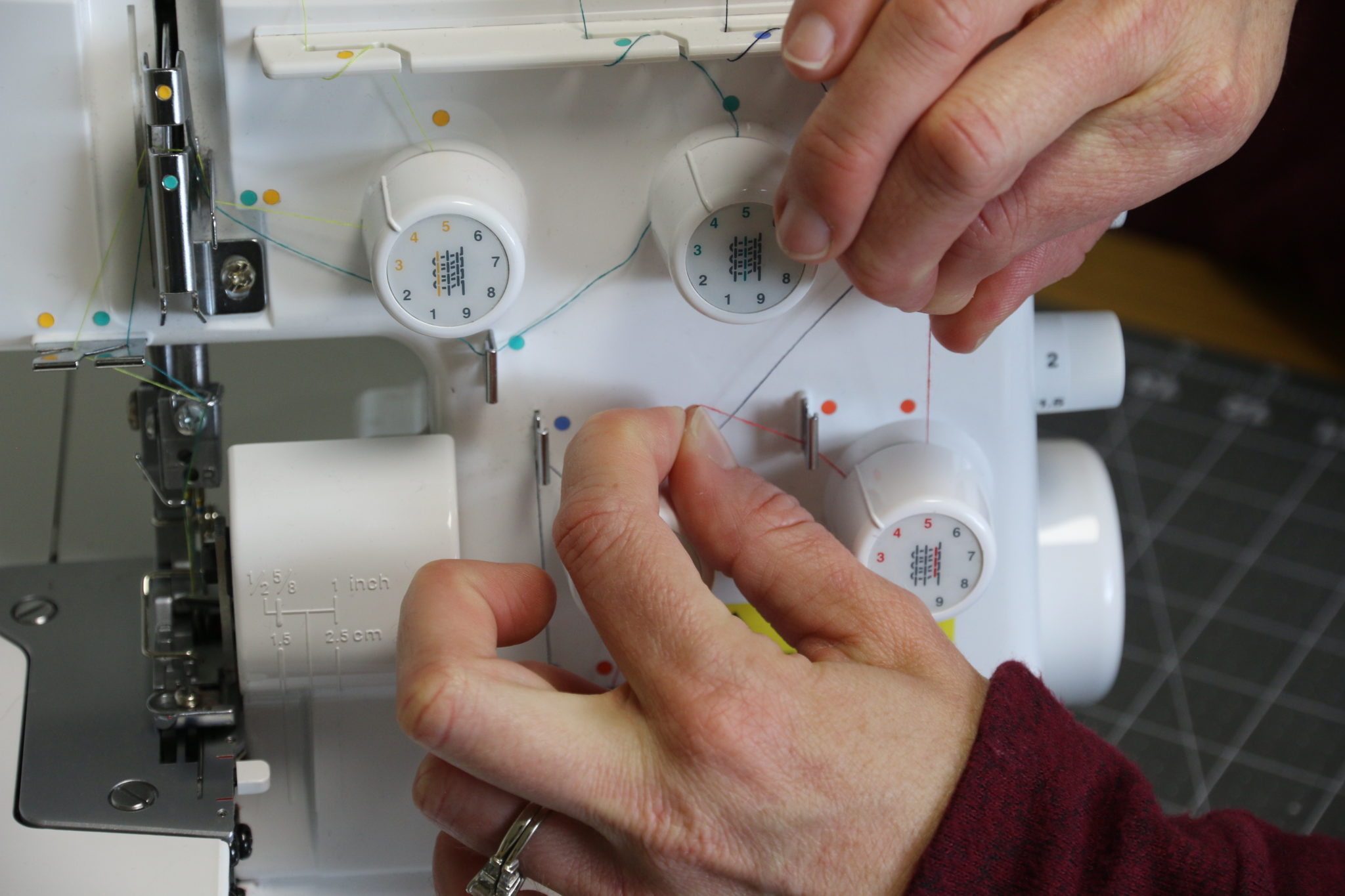 After you thread each path, make sure that you pull the thread under the foot and towards the back of your machine.
Thread all four in order, then turn the tensions to a normal range (usually marked on your machine with a different color or N, mine likes to hover around a 4-5). Test with a scrap piece of fabric (doubled over, as you'd rarely be serging a single layer) to make sure your chain looks correct.
Tension

Now that you have new needles and have rethreaded, what if your stitch doesn't look perfect? Let's learn which knobs to adjust. You want both loopers to meet at the edge of your fabric, not be more on top or bottom, or off the side or pulling it in.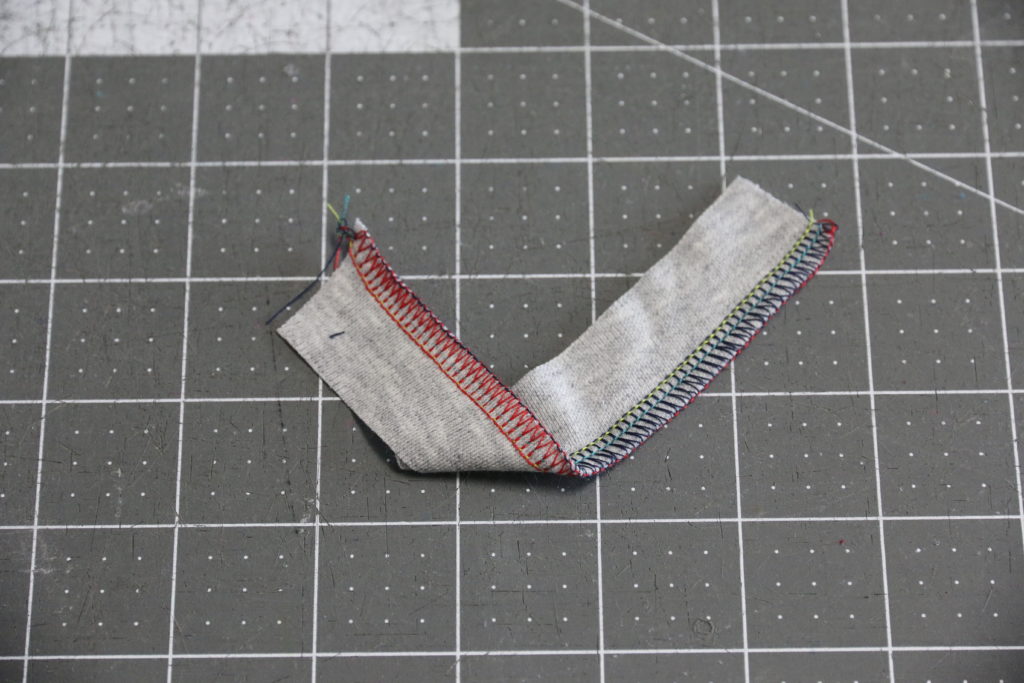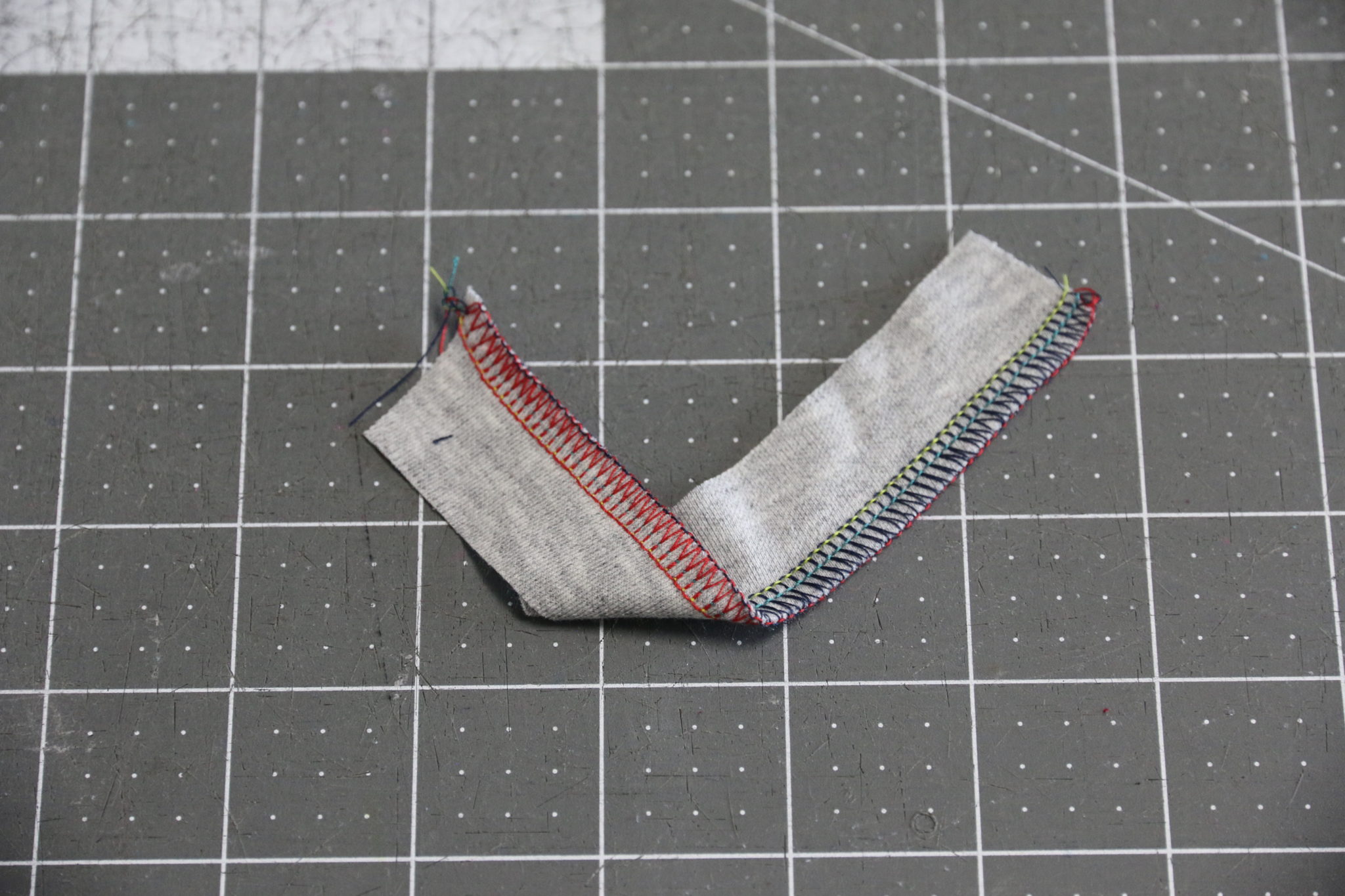 Adjust both lower and upper loopers until they meet at that edge. If the upper looper is too tight and/or the lower looper is too loose, the stitch will meet on the top.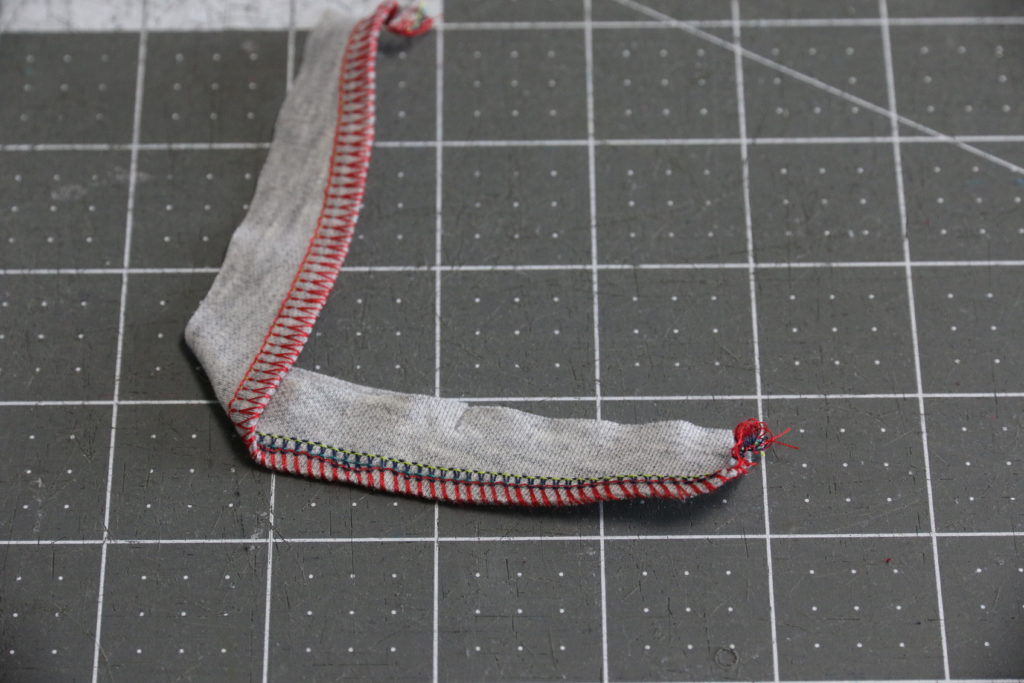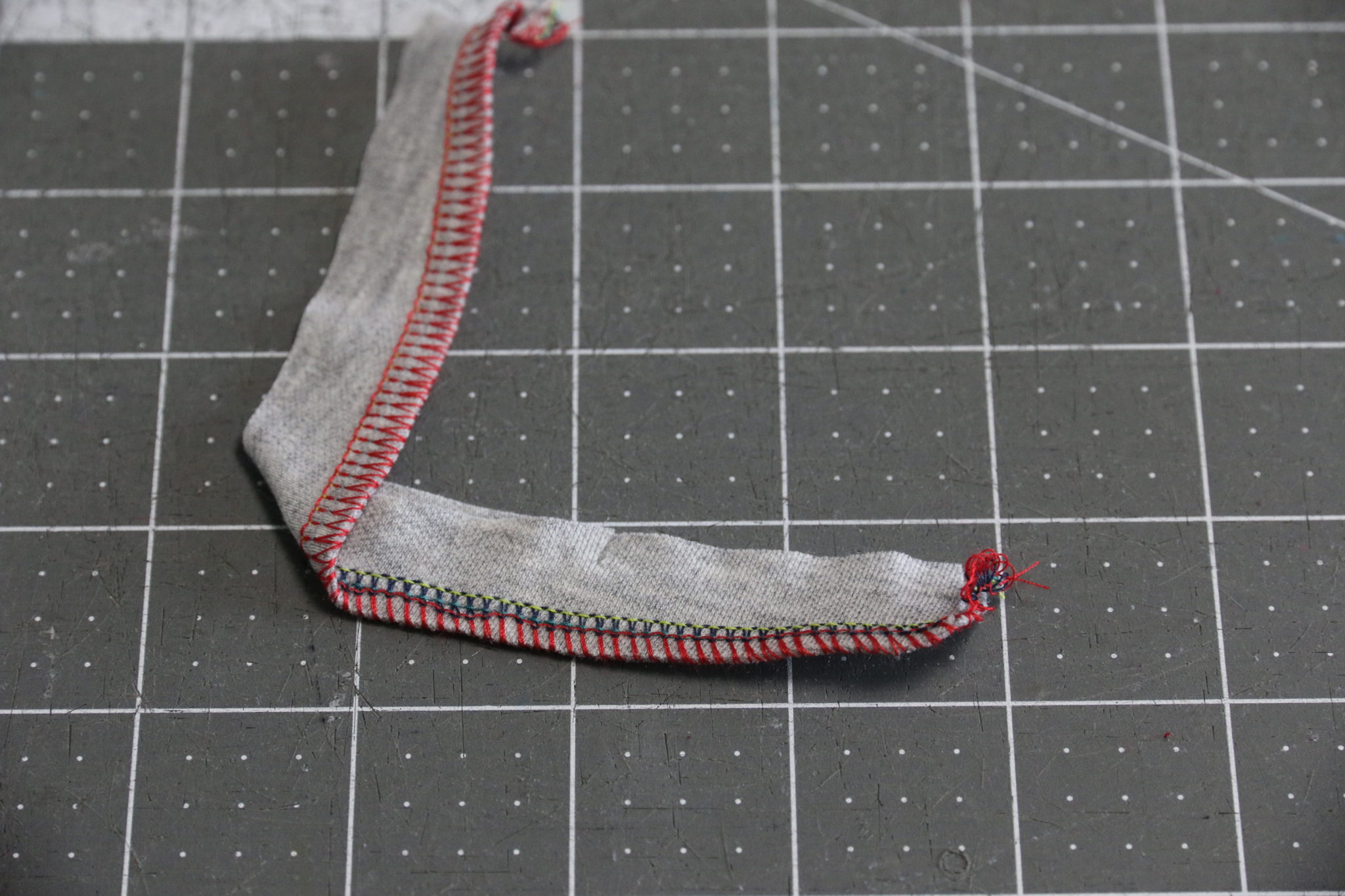 Likewise, if the upper is too loose and/or lower is too tight, the loops will meet at the back.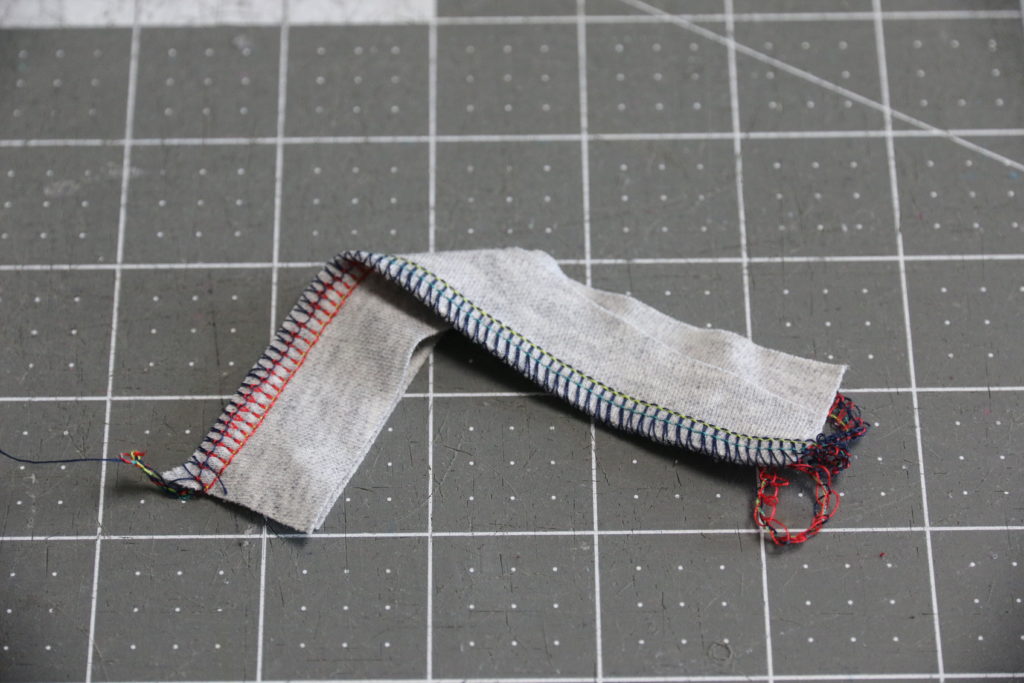 If loopers are too loose, they will hang off the edge of the fabric.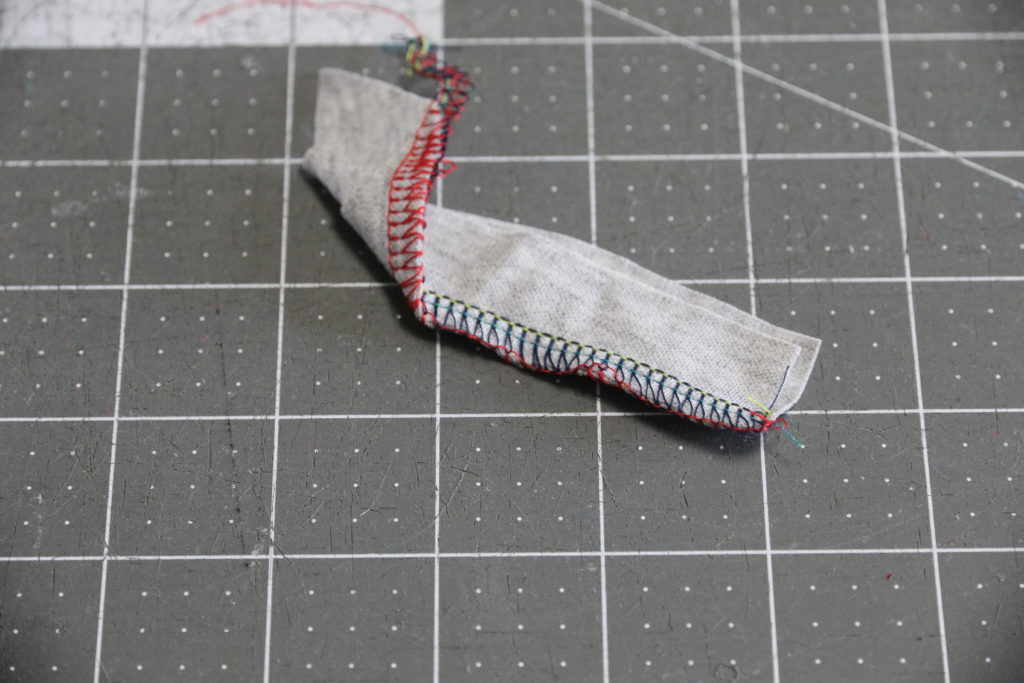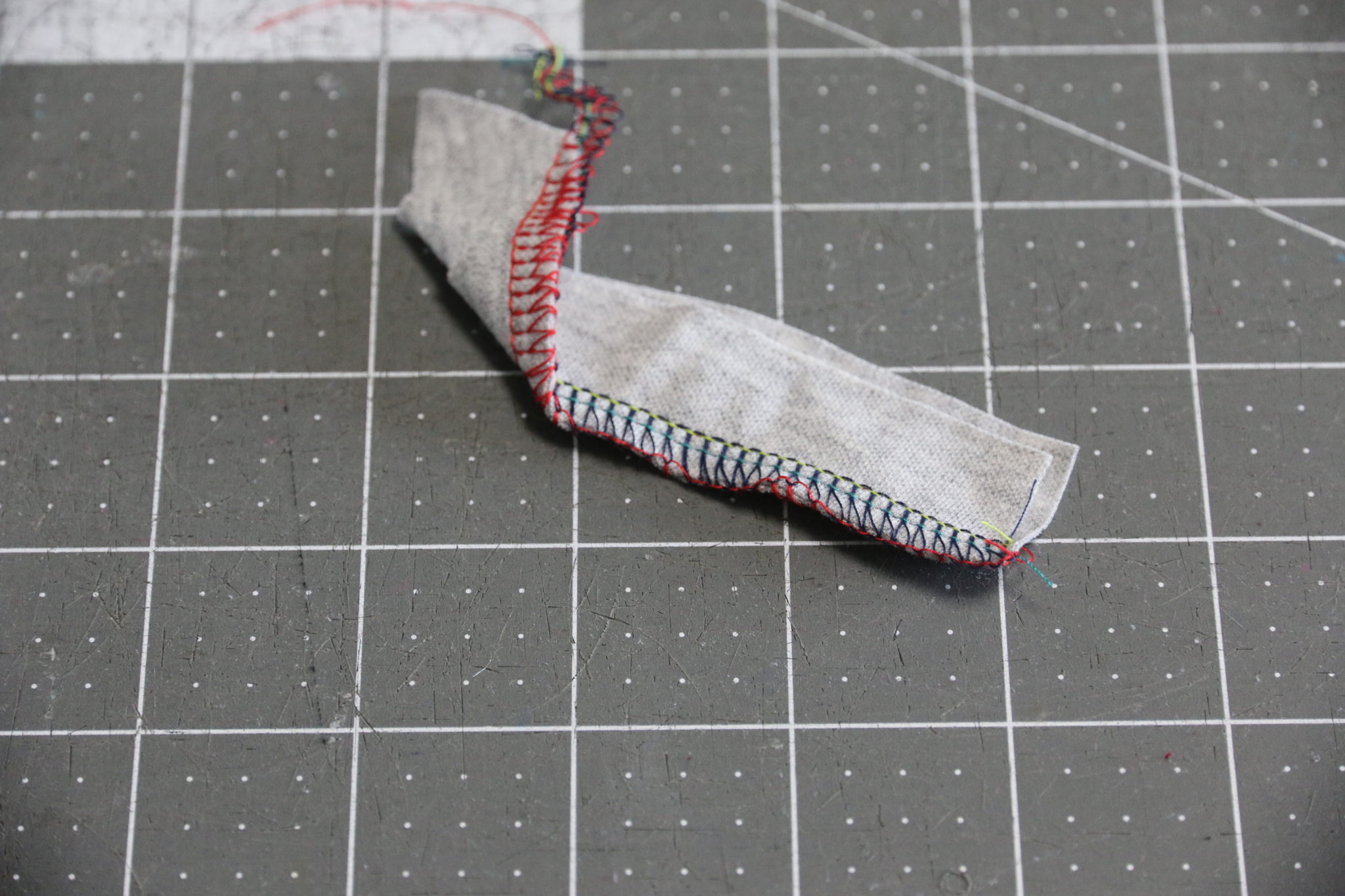 Too tight and they will curl the fabric edge and tug at your needles.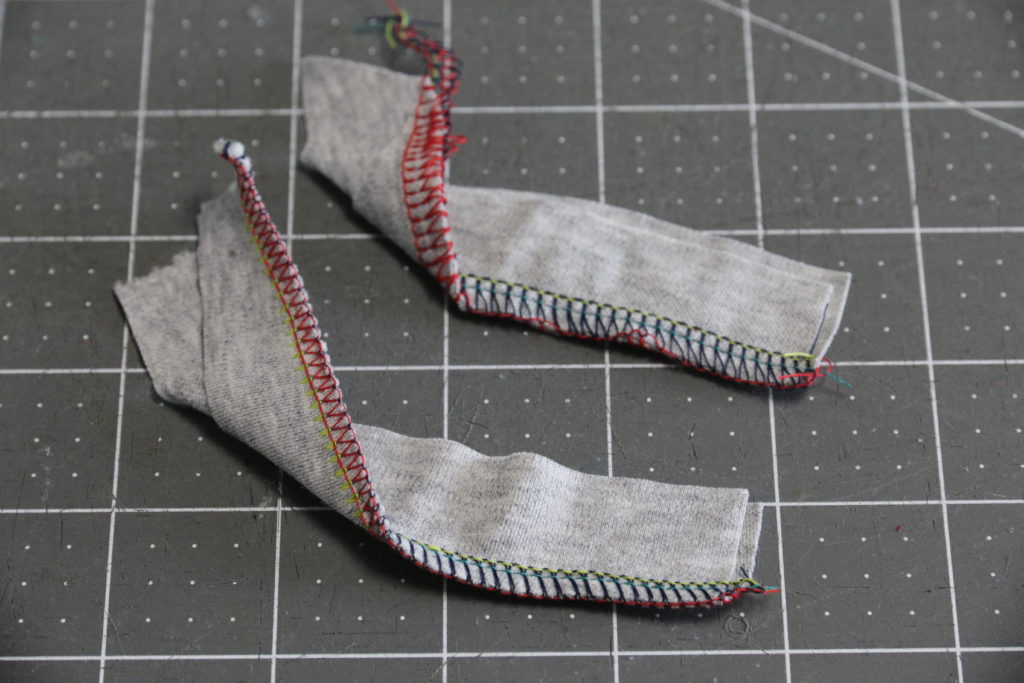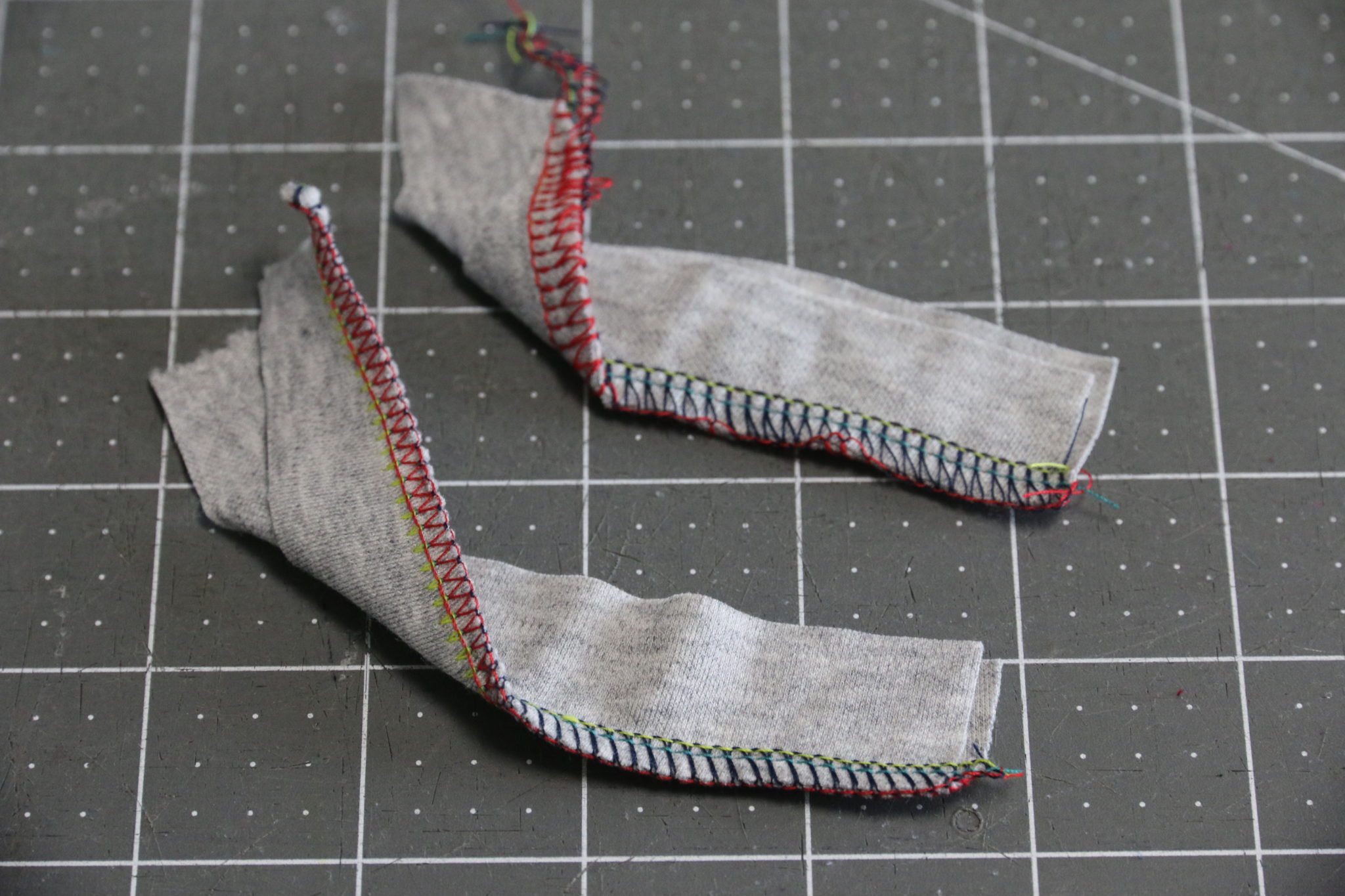 The needle threads should be visible as simple stitches on the top, but you do not see them on the back. If there's little loops there, you would need to tighten your left or right needle accordingly.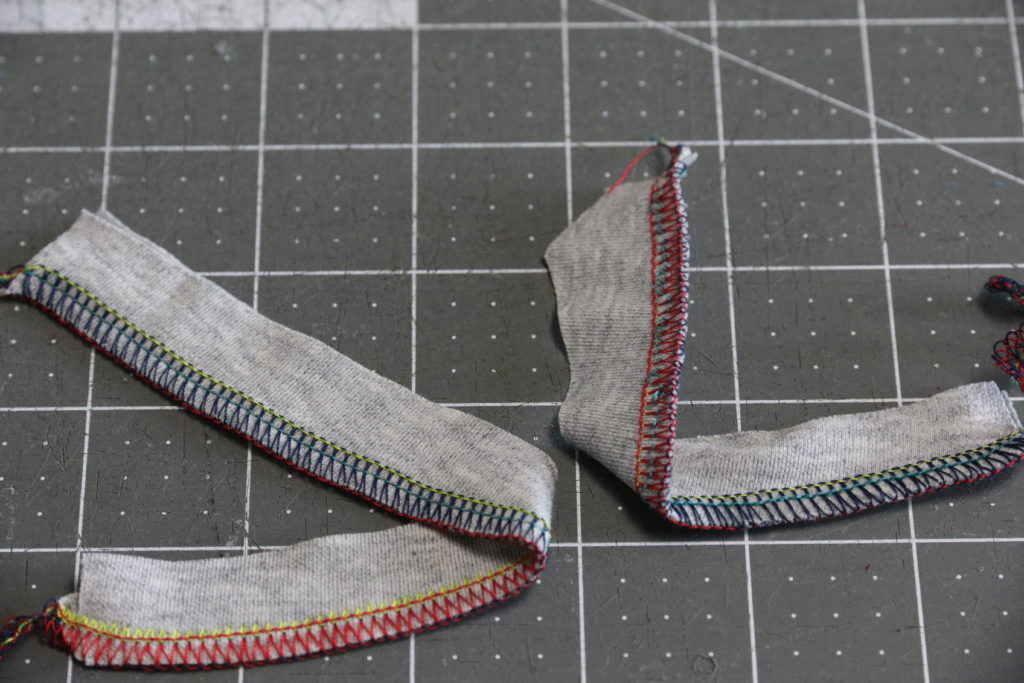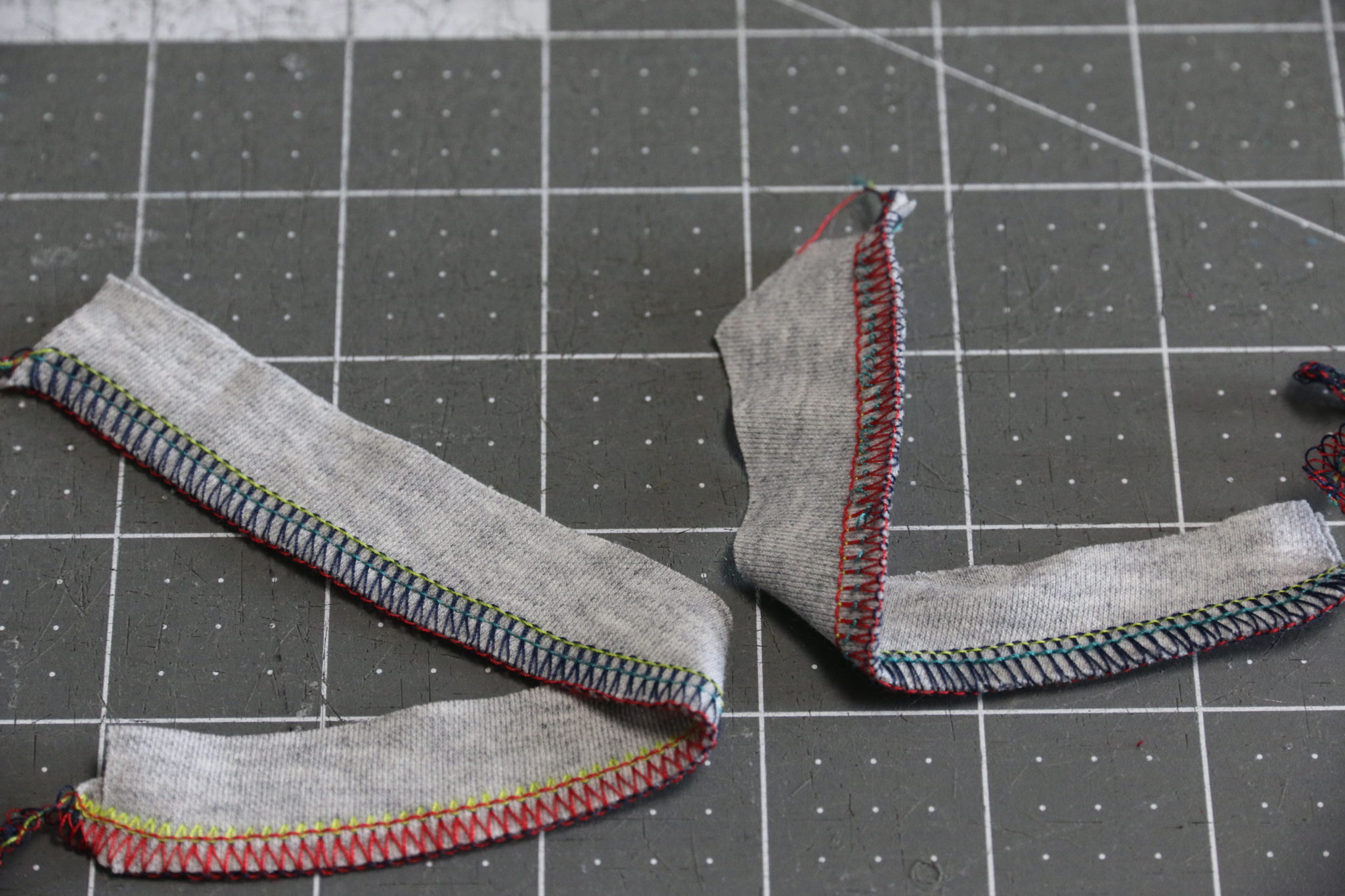 If the left needle tension is too loose you'd also be able to pull the fabric and see the threads.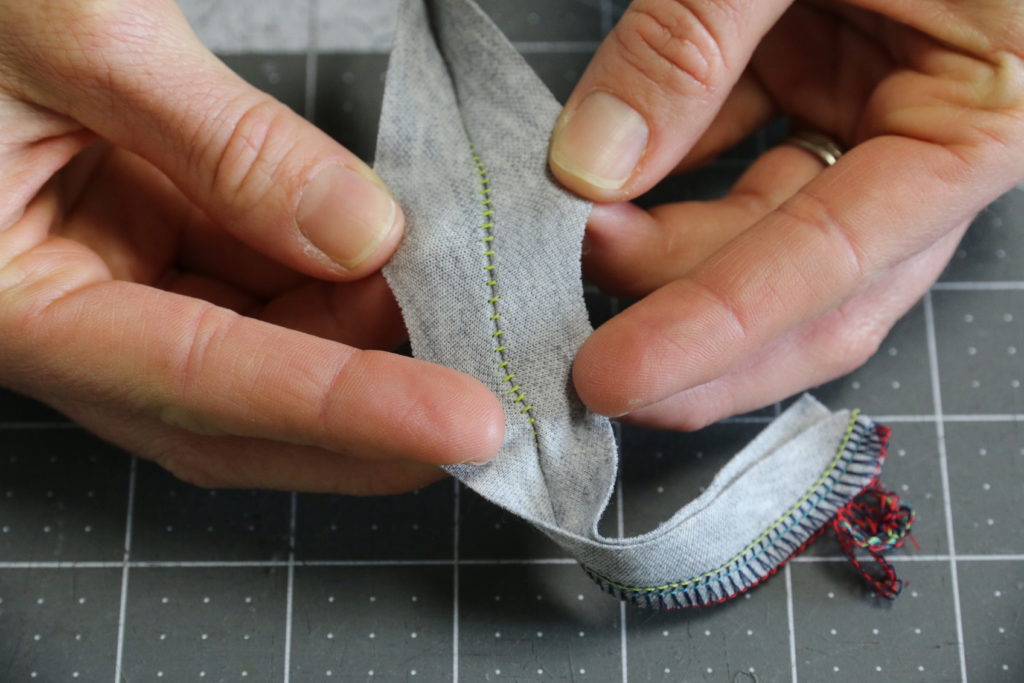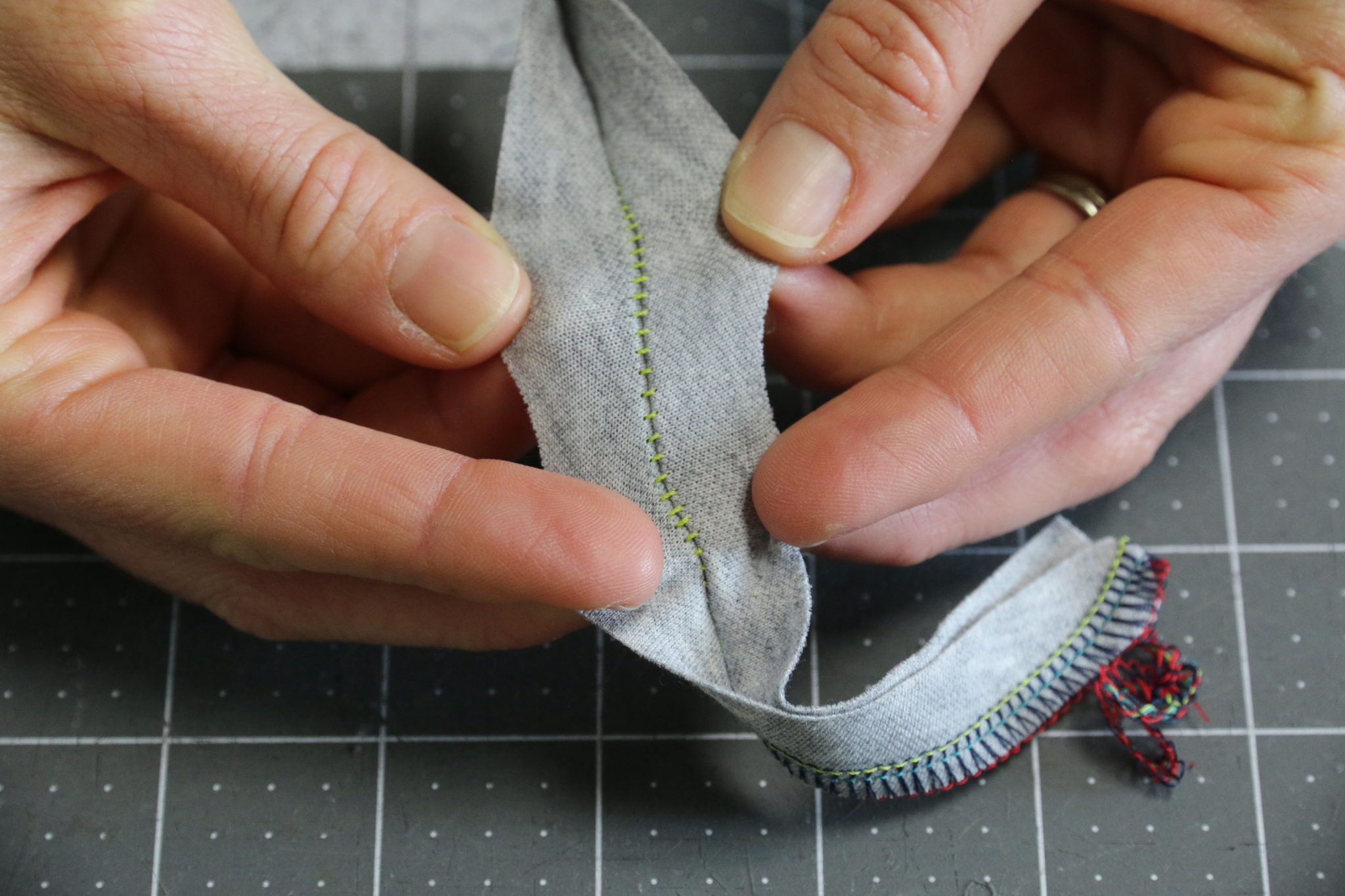 Needles that are too tight might have skipped stitches, snap easily or cause the fabric to pucker. If you're nervous about the tension knobs, I suggest, rethreading the machine with 4 different colors so that you can see exactly what each thread does. If you find you're having to turn the tensions up above 6, chances are the thread is not seated in the tension discs and you should rethread.
Differential feed and Stitch length
Now let's talk about the other knobs you might have. There's usually a stitch length selector and a differential feed knob. Stitch length is just like your machine, you can space the stitches more apart or not. I usually keep mine at 3 as I'm sewing mostly knits, but you would want a shorter stitch length if using fine woven fabrics more prone to fraying or doing a rolled hem.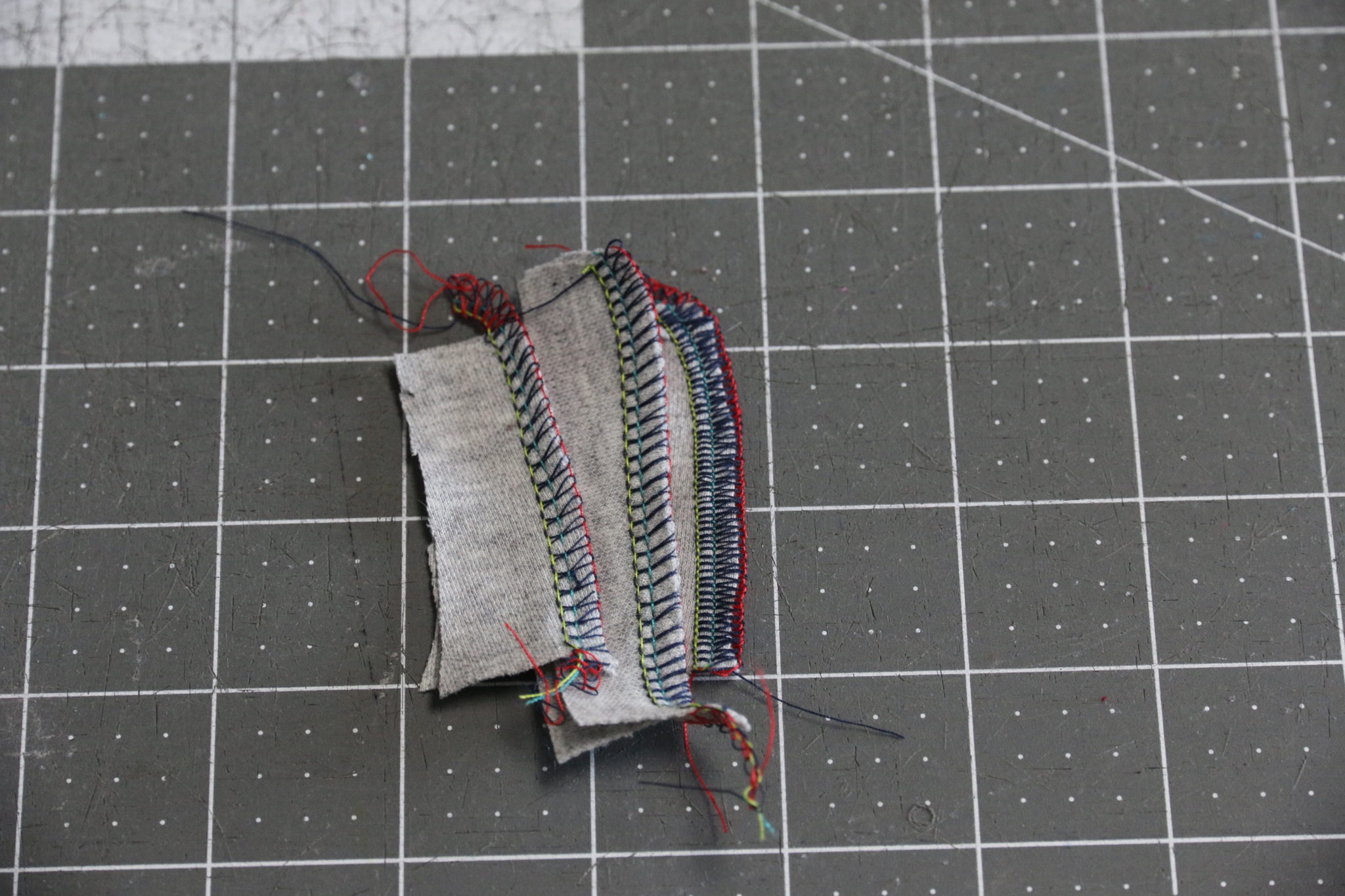 Differential feed adjusts how the back and front feed dogs push the fabric in relation to each other. If your fabric is puckering and bunching as it goes through, you would want to turn this knob down. If it is stretching and turning wavy, you would adjust the knob up. For stretchy knits, I usually have it at a 2.0. If your differential is too low, it can also make the stitches look much closer together as the fabric isn't feeding through as quickly as it should.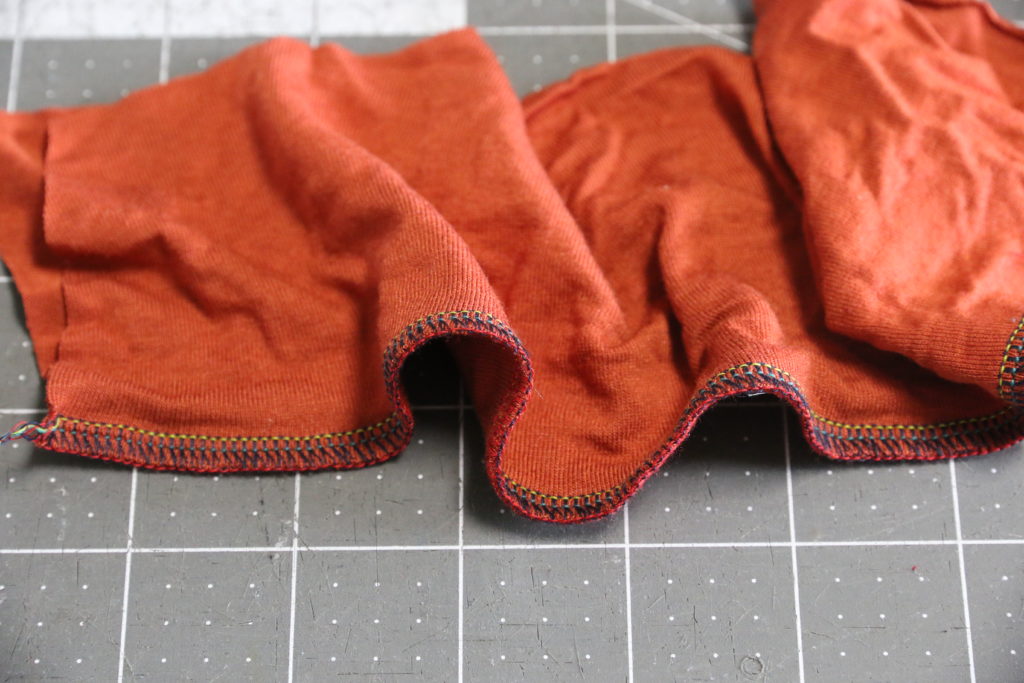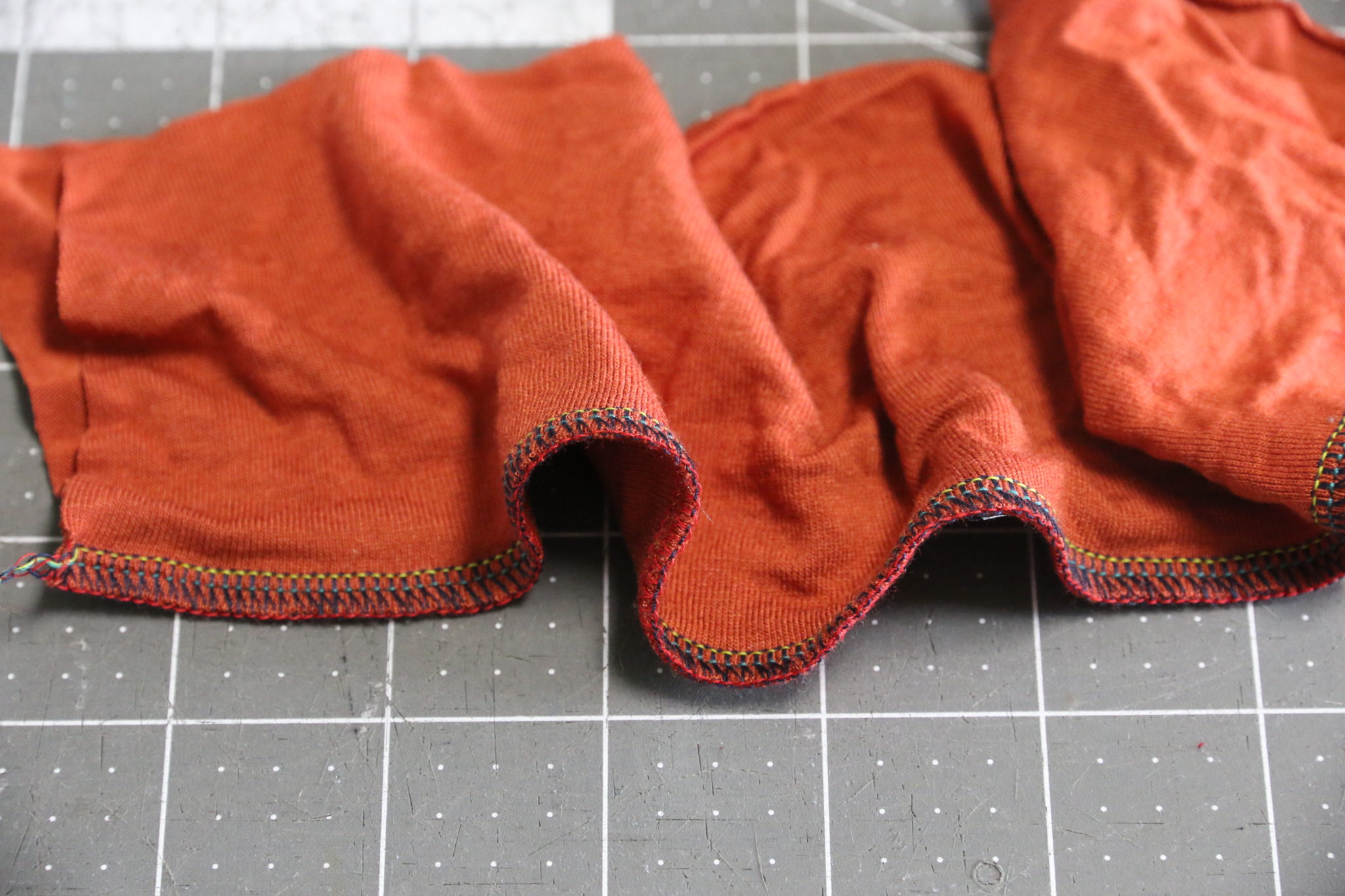 Differential too high on the right and too low on the left.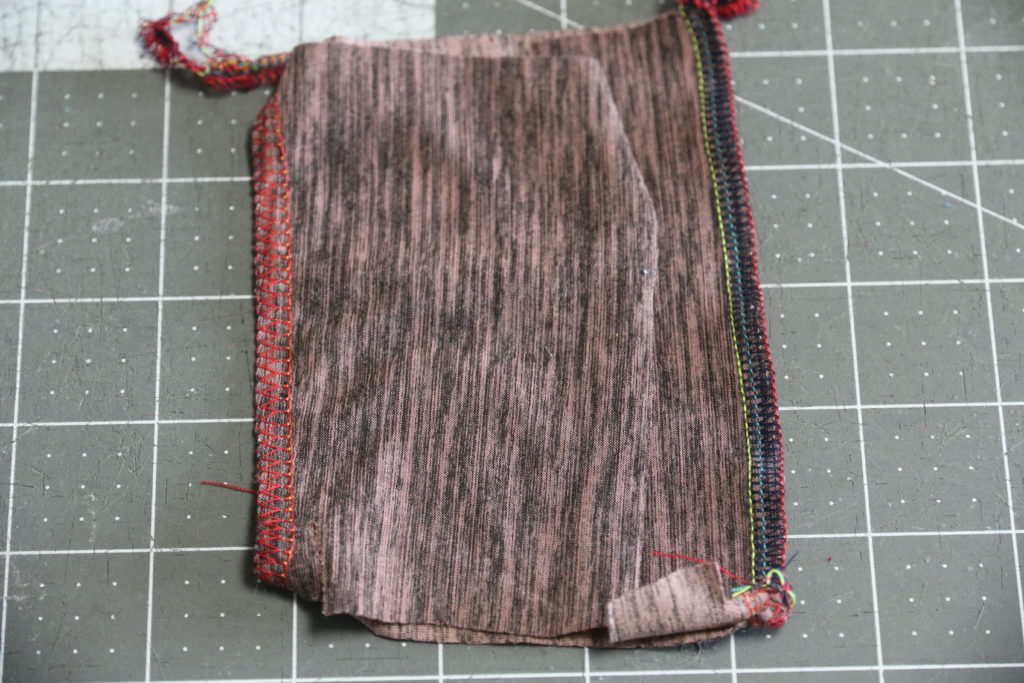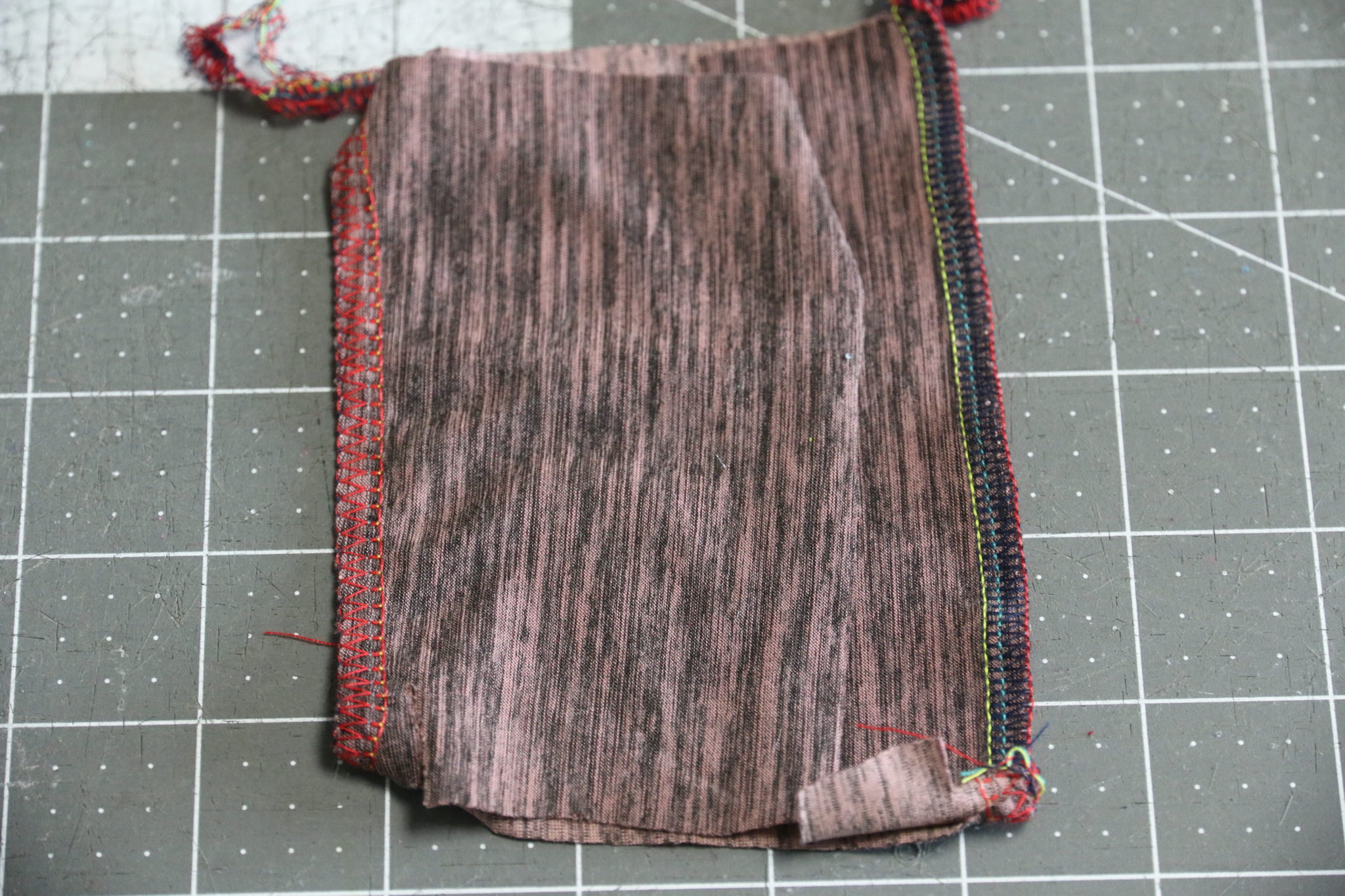 There is also the wheel on the side to move the needles manually, make sure that you always turn the fly wheel towards you when hand cranking.
More knobs and buttons!
There are still more knobs and buttons! The presser foot has an adjustment knob at the top but my manual says not to touch it. I have never had to adjust that, but it is how hard your presser foot is pushing down. Next we have a slider switch to adjust the stitch finger. The only time I use that is if I'm doing a rolled hem, otherwise it should always be pushed forward. Inside my machine there is a knob to adjust the knife width as well, but once again, I do not have to adjust that usually. 
Last, we can also choose to disengage blades on the serger as we do not always need it to cut. We would do this when we are stitching elastic to the edge for example or something else that we wouldn't want to cut the edge from. Mine has two knives that act as scissors, so lifting the upper knife by turning it disengages the blades. Read your manual for how to disengage the blade.
Rethreading your machine can be a pain, but it's important to get some practice so that you're comfortable with it. Sometimes though, I like to 'cheat' when switching to a new color and tie the new thread onto the old, turn the tensions all the way down, lift the foot, and gently tug the thread through. It saves me a lot of time!!
I hope you're slightly less intimidated by the serger now! Dive right into serger trouble shooting without fear.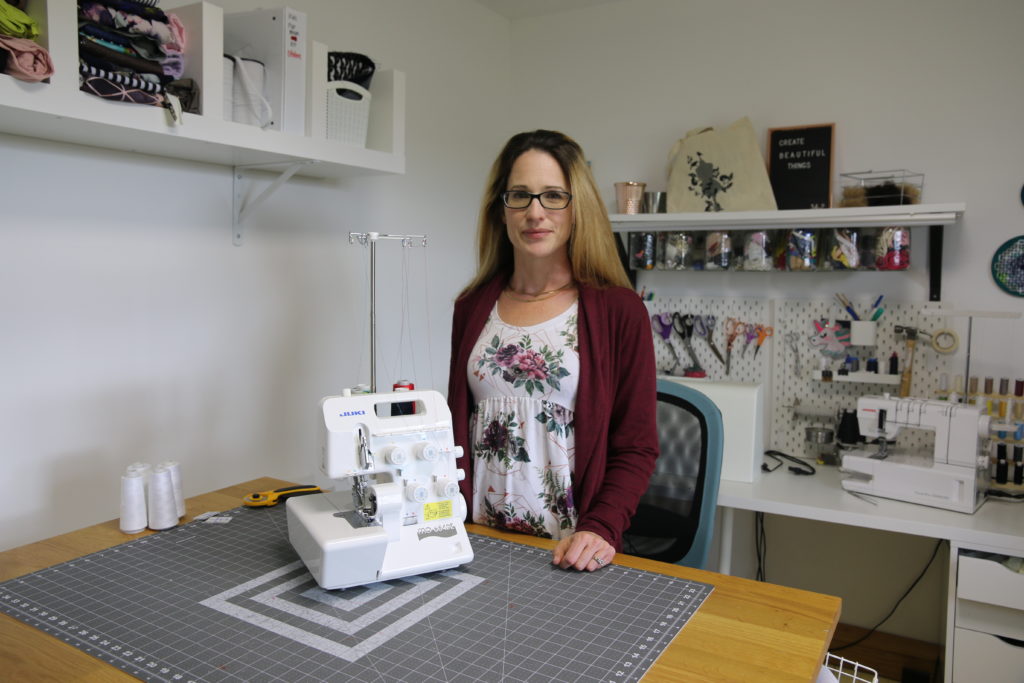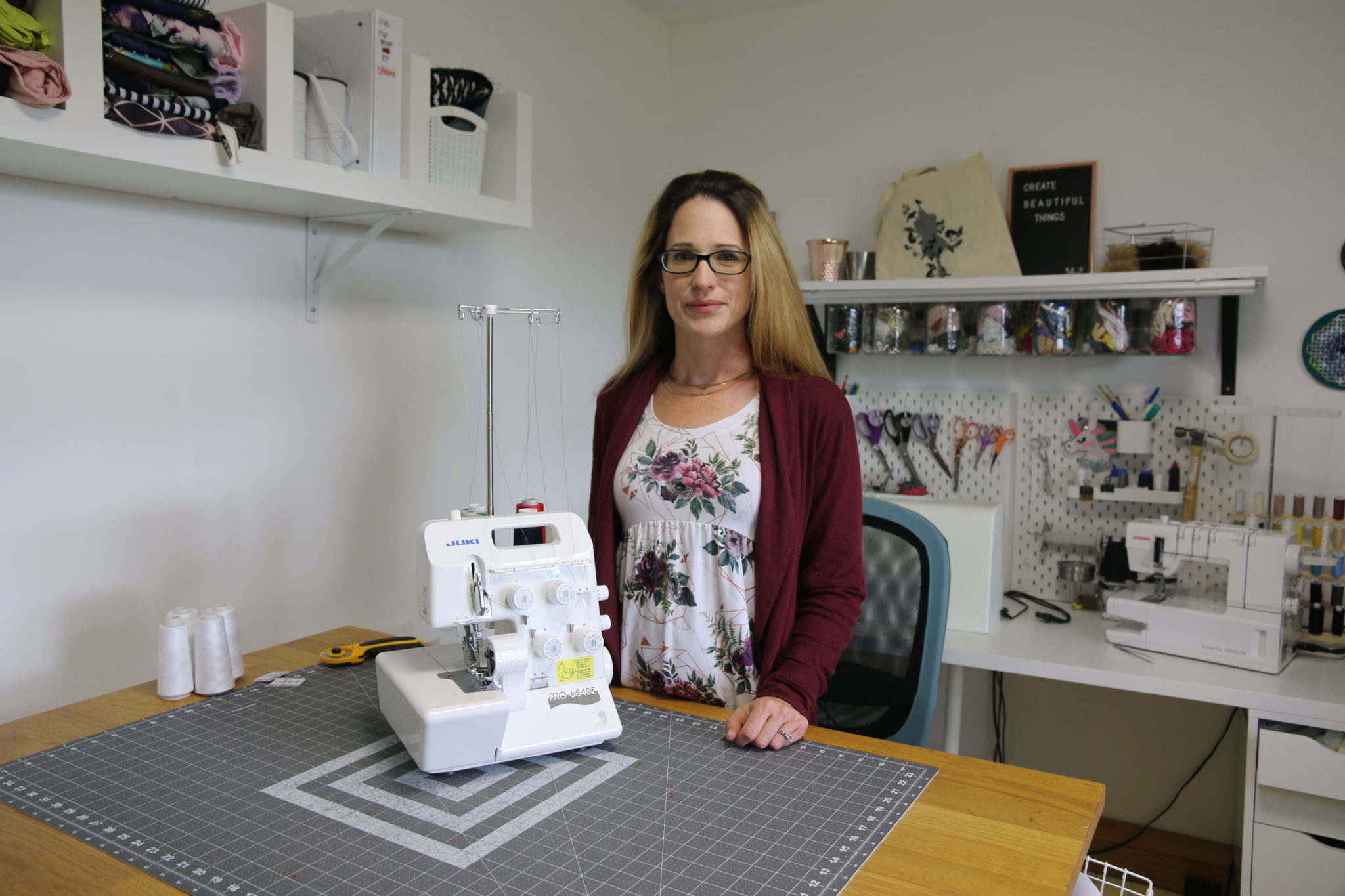 Make sure to head over to our Facebook group or Instagram #newhorizonssewing to share your sewing projects.