This site contains affiliate links to products. We may receive a commission for purchases made through these links.
Hello fellow makers!
This is Marta from @the.pickle.and.the.banana on Instagram and I'm here to do a review of my serger, the
Brother 1034D
, for you. Before I get into it, here a is a little disclaimer: This is the only serger I have ever had. Therefore I have no basis for comparison. Everything I have to say is just my own experience.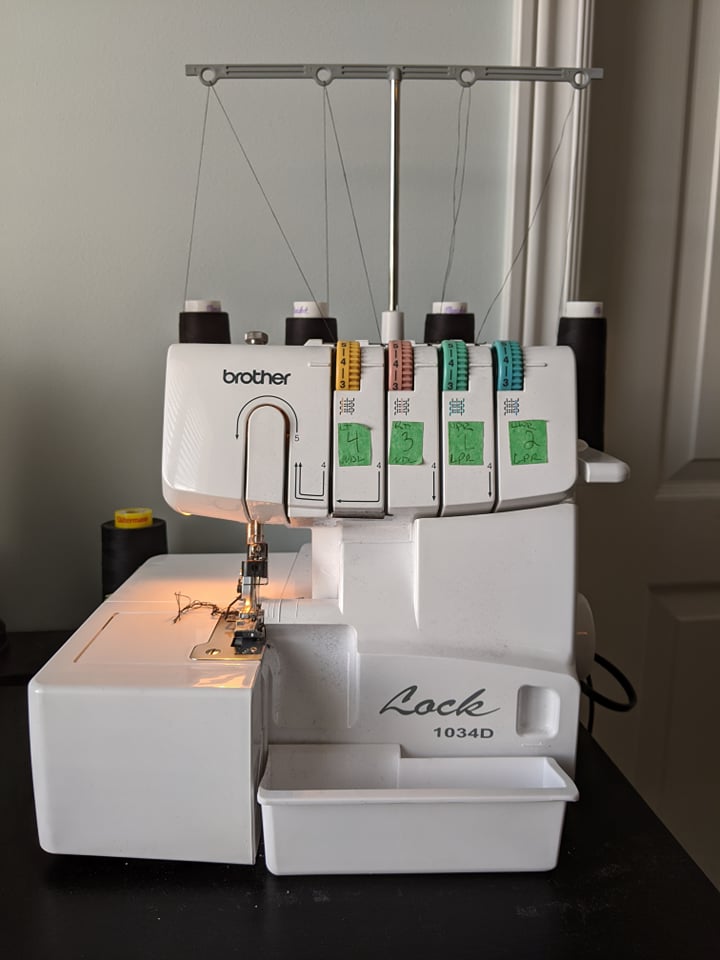 I've been sewing for almost 5 years and I've had this machine for most of that time. I started with wovens (just bonnets) and tried sewing knits on my old 1980s Kenmore and it just didn't go well for me. I didn't want to spend a ton of money, but I knew that a serger would make my knit life way easier. Let me take a second to give a HUGE shout out to those who sew with knits on their sewing machines. Y'all are magic! After a little bit of research (I'm impatient so it wasn't a lot of research) I decided on this machine since it was in my price point.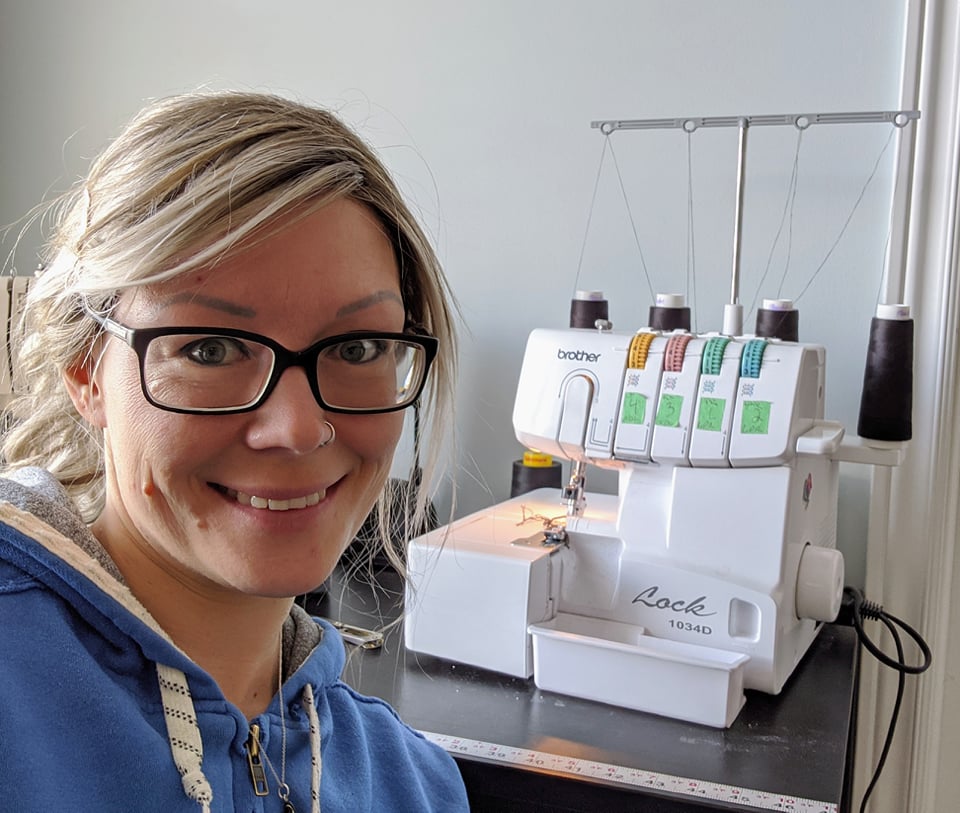 When I first got it I had a bit of trouble getting the settings right.  My loops did not want to sit flush with the fabric no matter what I did.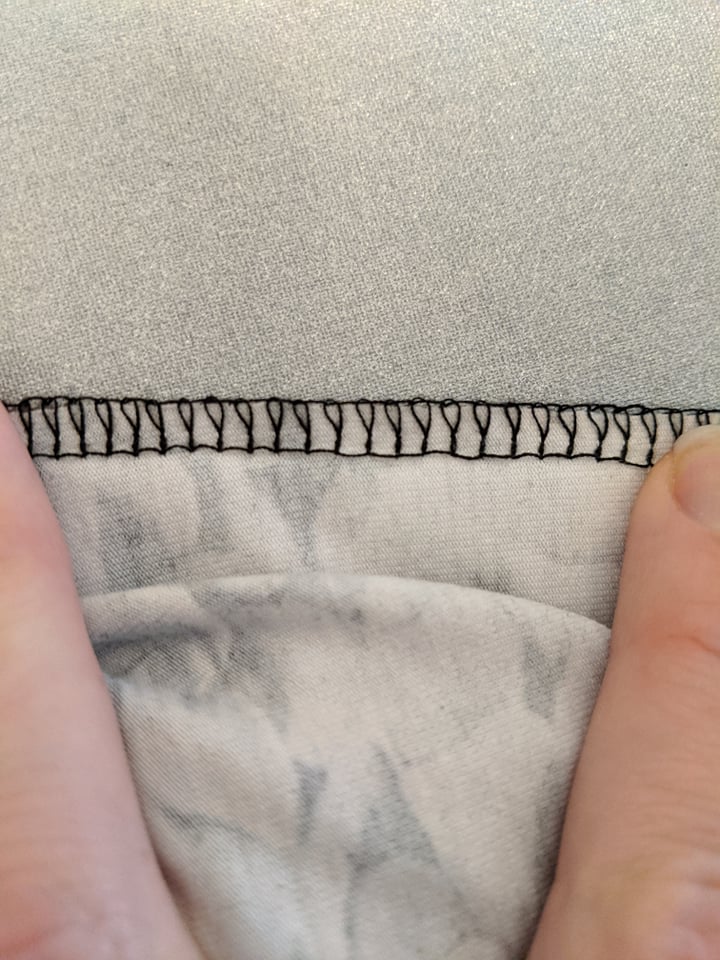 A fantastic friend walked me through it all and we took hours fiddling with the settings. We finally got it to look decent and off I went. Sewing up all the things! However, when I tried to use different types of fabric things would devolve and I would end up having to mess with the settings more.  I decided to go to a sewing shop and take a private lesson.  I HIGHLY recommend this if you can do it. I learned so much. It turned out that my knife was too far away and not cutting properly and that's why the loops were off.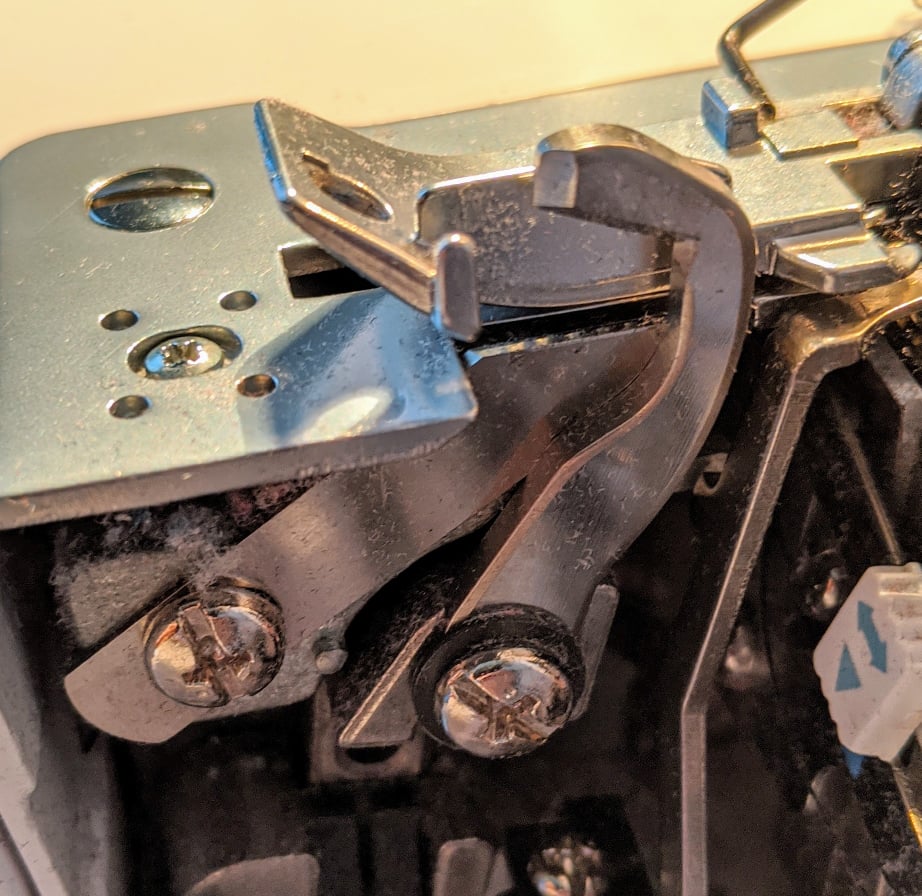 This serger works best when the settings are on all 4s.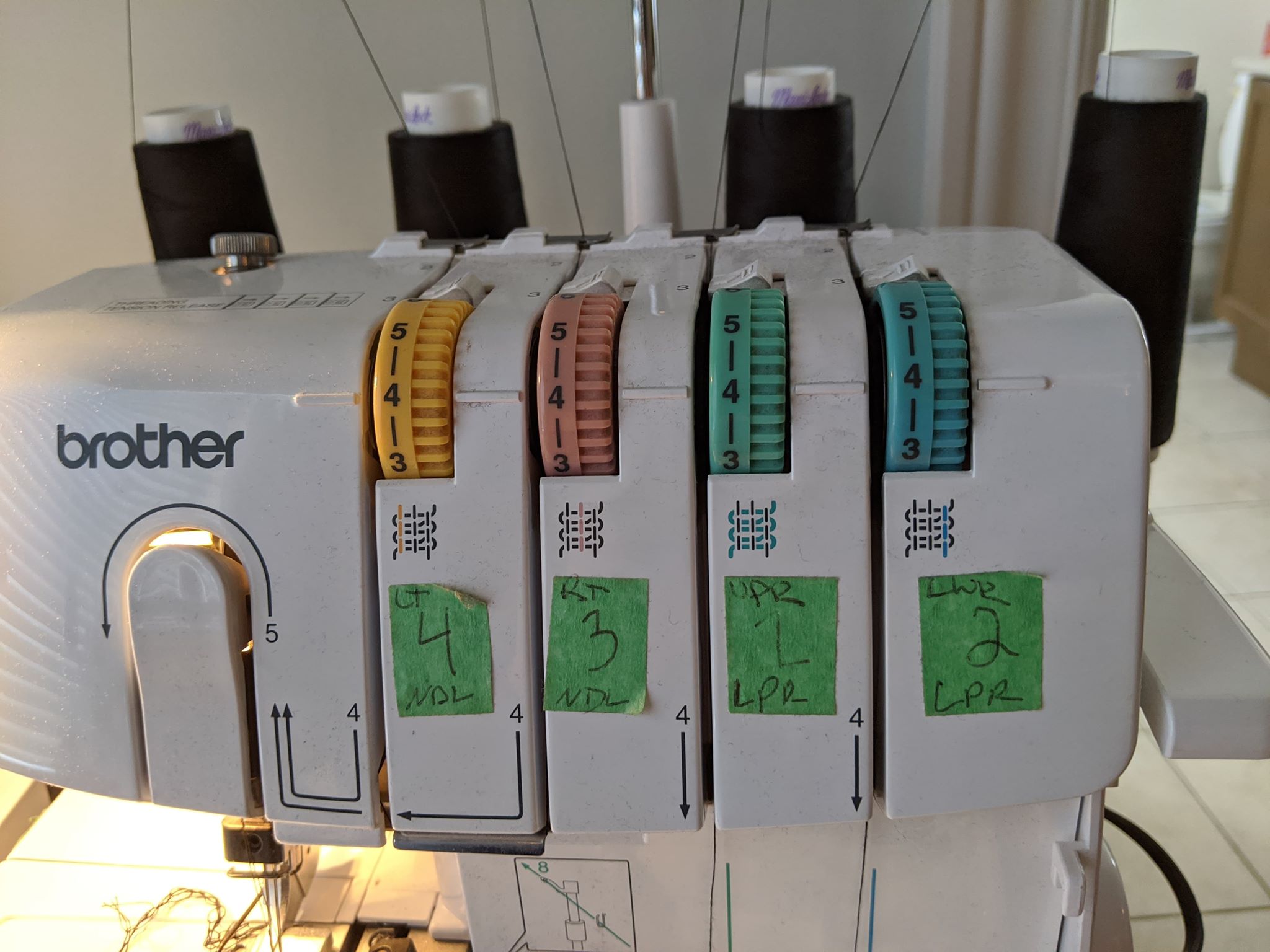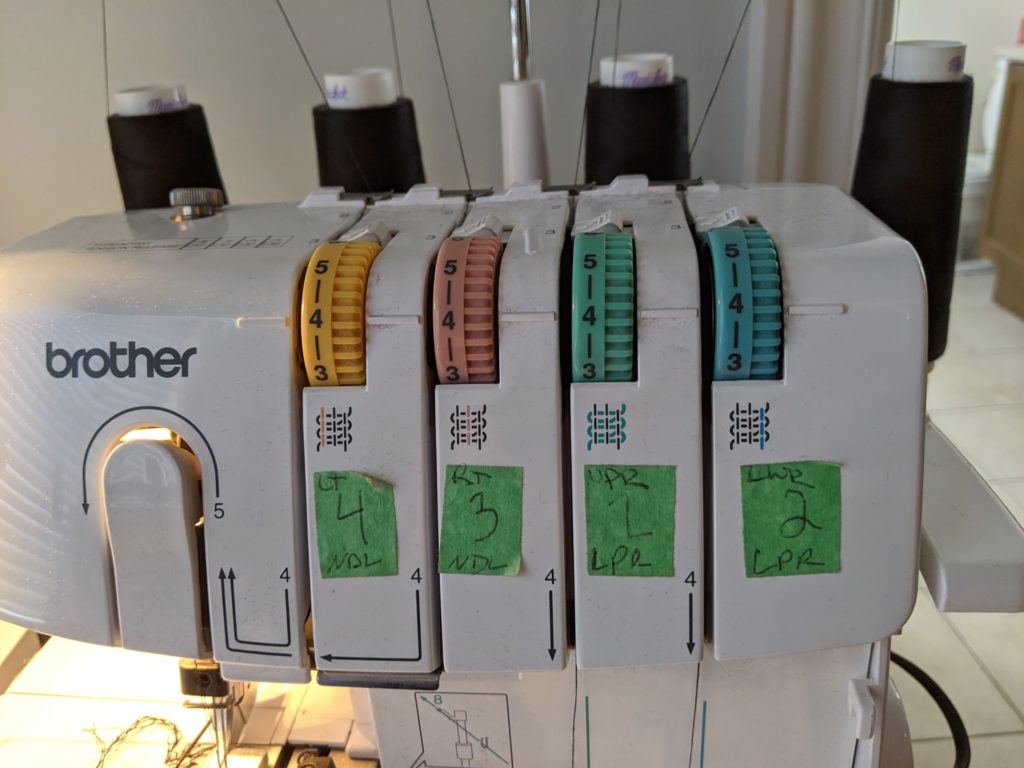 However, different fabric bases definitely require different settings. It's always a good idea to try on a scrap before you start your project.
Ok, let's get to the knitty gritty of it. How easy is the serger to thread? There are a lot of YouTube videos to walk you through this process.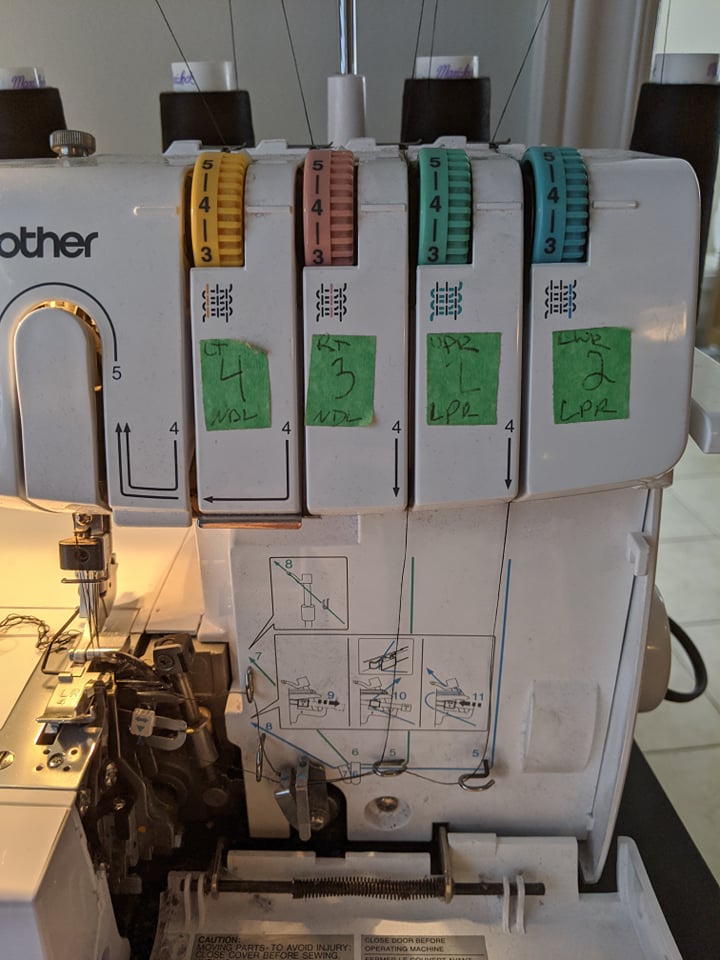 In my opinion, once you do it twice, you'll have no problem. The only slightly tricky part can be getting the thread to fit right in this little area for the lower looper.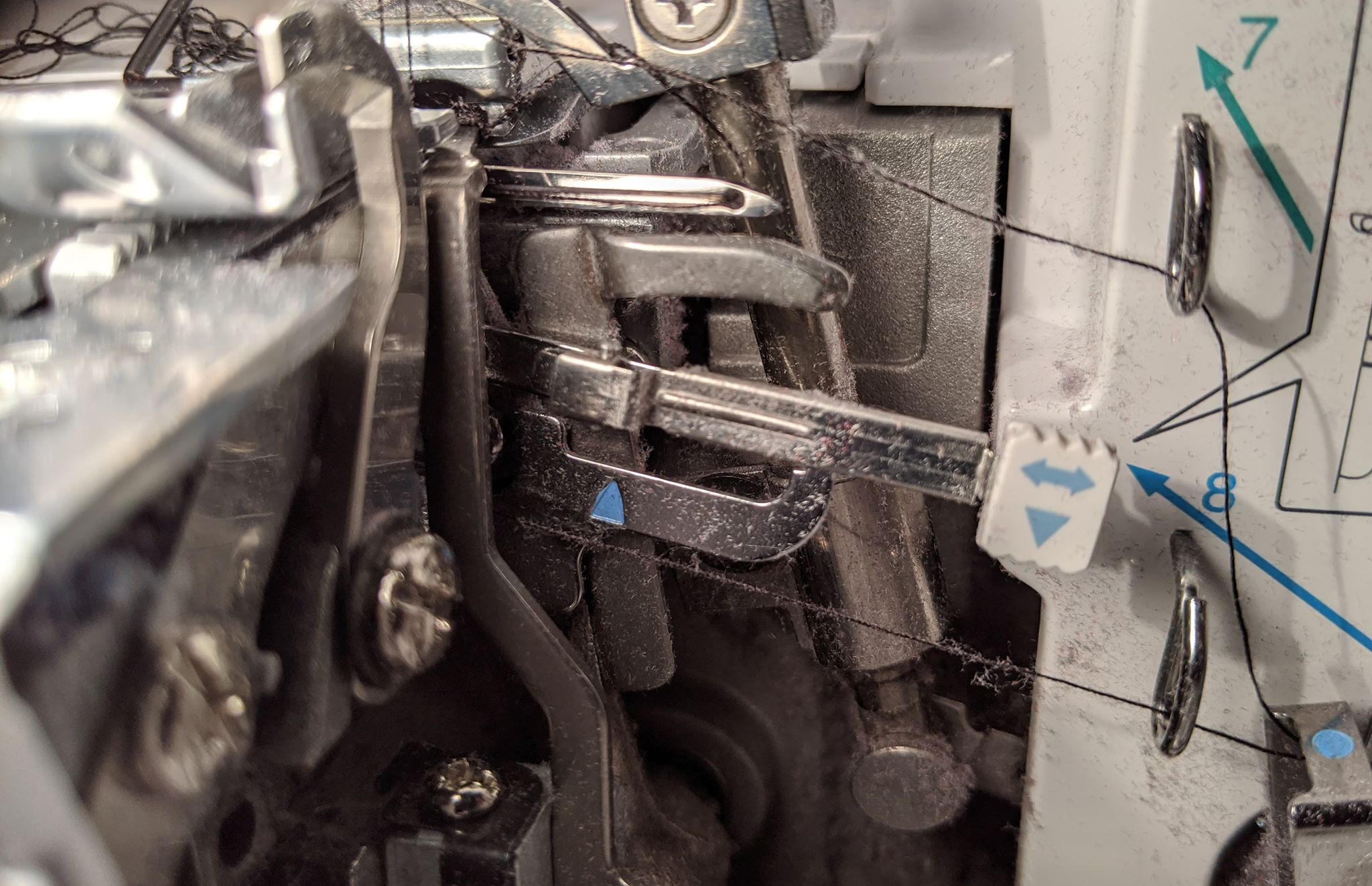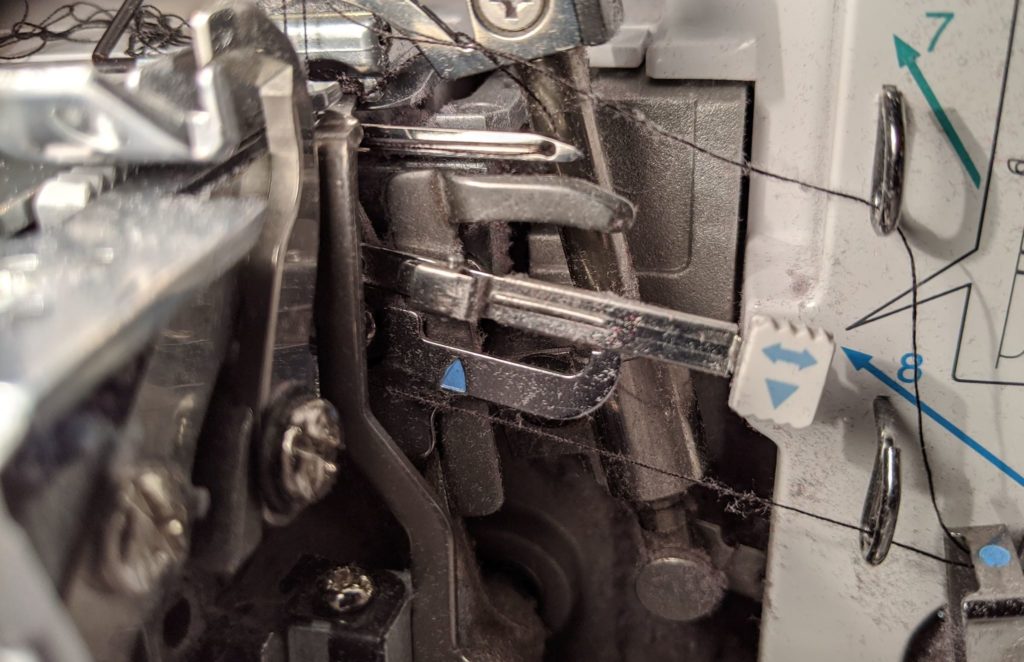 The serger comes with tweezers that are super helpful in manipulating the thread around all the areas.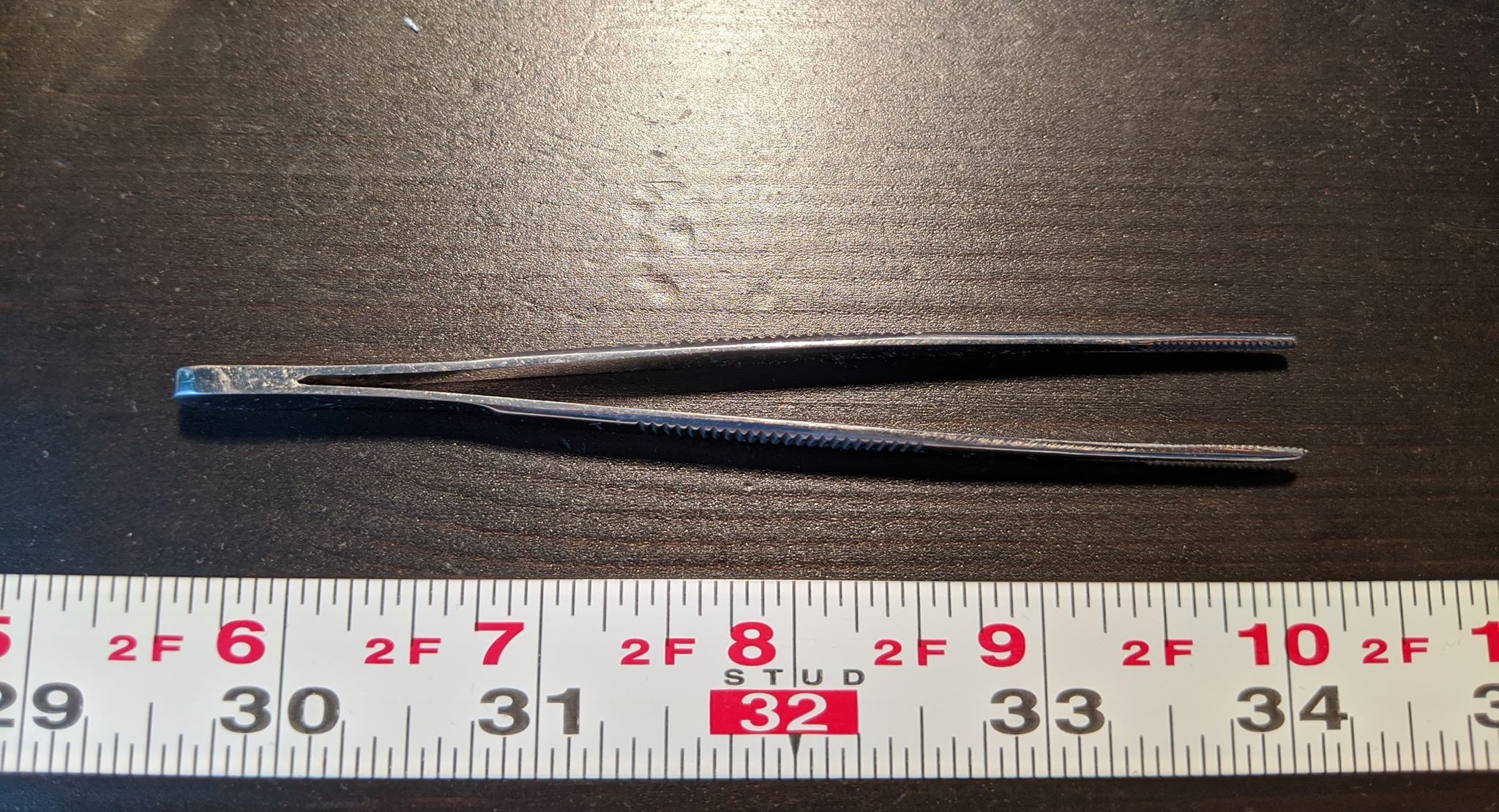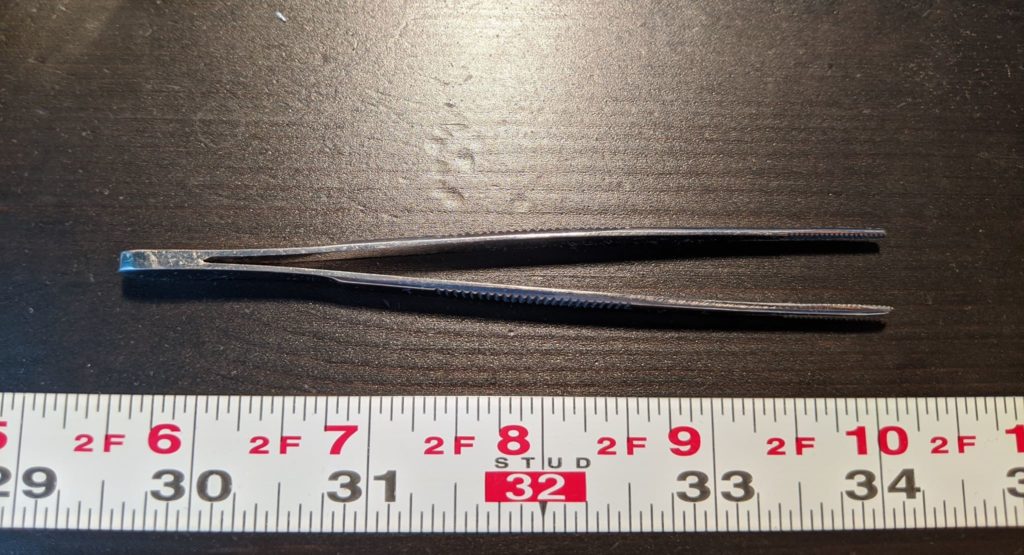 The other thing that I really like about this serger is that it takes regular needles. You don't need to buy anything special. These are the ones I use. I buy them from Cleaners Supply (for Canadians), I think the American version is Wawak.
Confession time: I have never had this machine serviced and I have never changed the knife. I know. I'm a terrible machine owner. But it's the only one I have and I can't imagine being without it for any length of time. I even take it on vacation with me! So considering my terrible ownership and the fact that I use it almost every day, I would say it's still running really well.
The only issue I had was that once, suddenly, the knife stopped engaging. I had disengaged it and it wouldn't go back. My local shop was going to be two weeks before they could fix it so I had my husband take a look at it. It turned out a spring had broken. He was able to replace it and the part that hooked into it from his stash of pinball machine parts. This was about a year ago and it's been going strong ever since. Thanks, husband!
Does it handle a lot of thick fabric well?  I find that if I have more than three layers of Cotton Lycra or two layers of fleece or sweater knit, it struggles. I have to use the hand crank and go very slowly. Needles have definitely been broken many a time. I do think that if I changed the knife, it would help. A sharper knife would go through the fabric better. That's next on my list of things to do!
How loud is it? To be honest, I don't know. I've been using it for so long that whatever sound it makes, I'm used to it. I have it sitting on the table with nothing underneath. I'm sure if you put it on a mat it would muffle the sound.
Here is a video of a quick serge I did, just so you can see how it works and what it sounds like.
Overall, I am really happy with this serger. It's been a workhorse and despite my mistreatment of it hasn't caused me many problems.  I hope this little review was helpful. If you have an questions at all, feel free to tag me or ask on my Instagram.
See you next time!
Marta