Calgary Cardigan Option Comparison
By Bri Shirley from The Lilac Needle
*Some links are affiliates 
Hello and happy almost fall! You know what that means? CARDIGANS! This time around, I wanted to focus on a specific cardigan pattern and show all the options it comes with. The Calgary Cardigan is the pattern of choice today and it sure does have some options! Sometimes it takes seeing all the options side by side to know what you want to make! Usually I will go through the Pattern Niche page searching for each option specifically but that can take time. Because of that, I decided to make a roundup post and make all options of this amazing cardigan so you can see what each looks like in one place! 
Collar Type:
Standard Collar – Does not flip over like two of the other collars, but gives more of a cocoon cardigan look.
Short Collar – Will flip over at the bust for a more structured look. I will definitely wear this piece to work and this collar gives off a blazer feel.
Long Collar – Will flip over at the waist for a more long/flowy look. Something I can still wear to work but also wear around the house. 
Square Collar – This collar is definitely more suited to a more structured fabric (like my scuba here) as you will want to be able to see the corner point at the bust.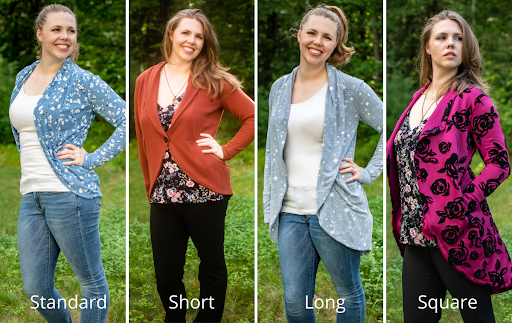 Lengths:
Hip – The first two images below are both hip length. Notice that the Orange Cardigan is a little bit longer, this is due to the weight of the fabric I used in this case. Both fall right around the hip area. 
Tunic – A longer length that is in the third image below. Again the fabric is a bit heavier so it is being stretched just a little bit longer than where the tunic length usually falls for me. 
*Knee – I was unable to make a true knee length this time around but it falls relatively similar to the Square Collar length. 
Square Collar – That's right! The unique collar option comes with its own length due to the way the collar is constructed. I found this length to be just slightly longer than the knee length when cutting.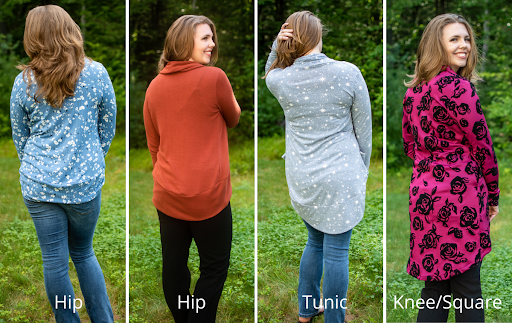 Pockets:
Inseam (comes with the pattern) – I always appreciate a pattern that has pockets as an option. For the Calgary Cardigan, the pockets included are great inseam pockets which are large enough to hold my Iphone 11 plus comfortably.
Slouchy Pocket (hack) – I'm so happy that this slouchy pocket was made as a hack! The instructions to create this pocket were so easy to follow too! Definitely recommend trying this hack if you have this pattern. Slouchy Pocket Hack-Calgary Cardigan – Pattern Niche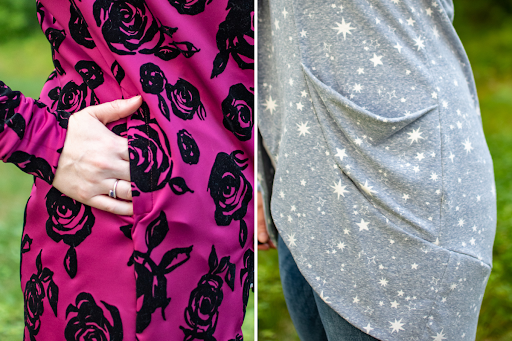 Optional:
Button: While there are button and buttonhole placements on the pattern, I highly recommend you try the cardigan on prior to adding both to ensure the placement is right for you. I placed my button closer to the edge of my collar to give a looser fit as that is my preference.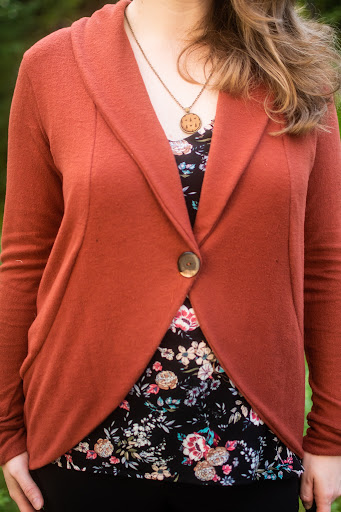 Fabric Types:
This pattern works very well with a variety of different fabrics. Note that the material you use may affect the drape of the finished garment. I tried to pick a variety of different fabrics to show how the drape can be different between them. The first two are the more relaxed/drapy fabrics, while the second group has a bit more structure and are thicker. 
Rib Knit – This is a lightweight rib knit made of 87% Poly, 13% Spandex that has 4 way stretch. Very lightweight and has great drape. 
Tri-Blend Jersey – This soft blue knit has amazing drape which was perfect for the long collar. It is made from 49%Polyester 36%Cotton 12%Rayon 3% Spandex and has 4-way stretch.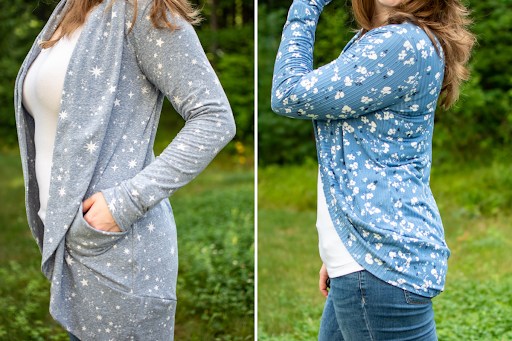 Alpaca Brushed Sweater knit – This fabric is so soft! It is a medium weight (200Gsm) sweater knit that is made from 68% Poly/29% Rayon/3% Spandex. 4 way stretch. 
Scuba – (The one I used ended up not being very stretchy) this had the minimum stretch required so it fit but it is snug in the arms. I would recommend sizing up, at least in the arms, if you have a less stretchy fabric that is at the minimum required stretch. In this case this Scuba was 40% stretch. Notice that with more structure the collar and the bottom of the piece is not as flowy as the other garments? This is exactly the look I was going for! 94% Poly 6%Spandex. 4 way stretch. 40%horizontal/10% vertical. 250gsm.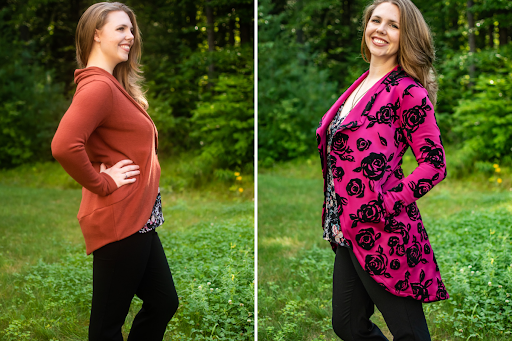 I have to say I am loving my Tunic with slouchy pockets these days but all of them will be getting plenty of love this fall! I hope this post helped you to decide which options you want to make using the Calgary Cardigan Pattern!
We would love to see what options you chose for your Calgary Cardigan. Share your makes in our Facebook group or on Instagram #patternniche