Perfect PATTERN NICHE Patterns for Beginner Garment Sewists
By Katelynn from Sewing from Scratch on YouTube
We've all been there as new garment sewists – scrolling the sewing facebook groups we just joined or searching Pinterest or Instagram for alllllllll the inspo. It's incredibly motivating, but also overwhelming. How do we know what pattern to buy? Will the sizes work for me? What kind of fabric do I use? What the heck is a DARTED BODICE?!
Social media is an incredible tool, but it can also give us this false sense of failure before we even get started on a project! Remember, we all started from zero.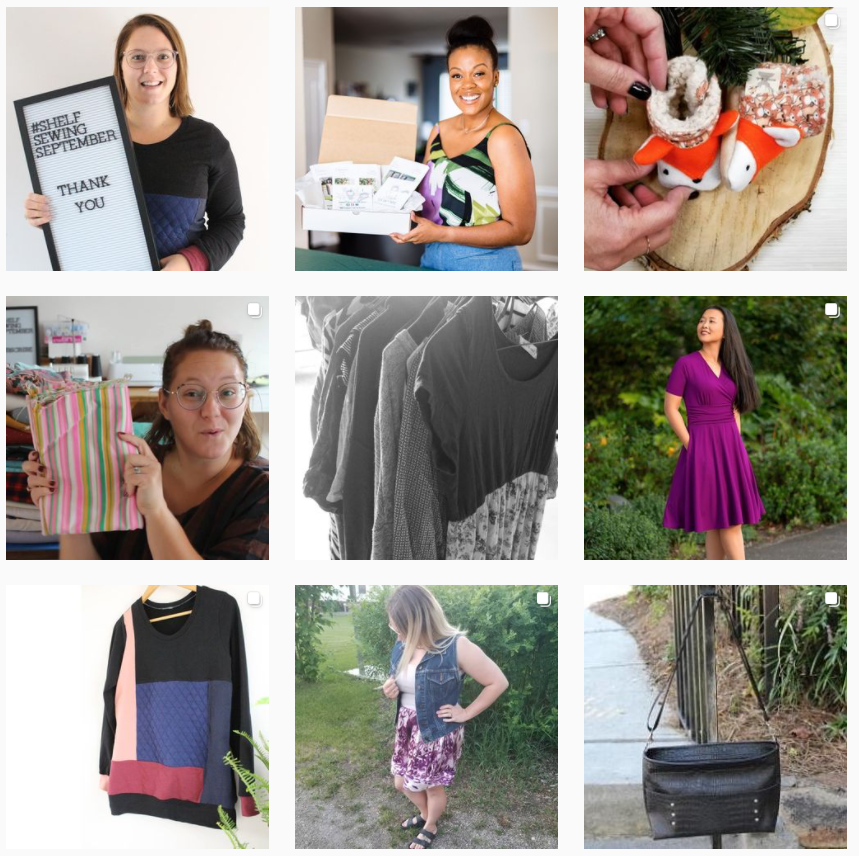 Today we're going to take a look at the Pattern Niche designs and chat about the ones that are great for those of you brand new to make your own clothes! The good news? There's lots of options. The bad news? You have to decide which one to try first!
TOPS
Let's start with shirts, since it seems to be what everyone wants to make when they first start out. 
The Streamline Tee
It doesn't get much easier than a basic raglan! You'll have so much fun choosing fabrics for this one, you'll end up planning multiple shirts. The Streamline is a slim-fit style with short, ¾ and long sleeve options. The sleeves and bodice are hemmed, but that's the trickiest part of the whole make. You'll have this whipped up in no time!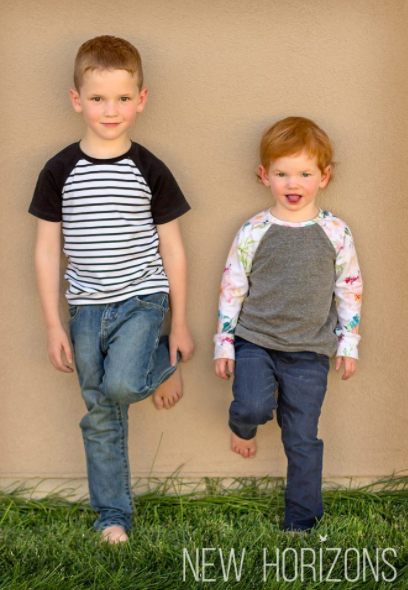 The Streamline comes in child sizes 6m, 12m, 18m, 24m, 2t, 3t, 4t, 5t, 6, 7, 8, 10, 12, 14, 16 for $9.95. 
The recommended fabrics are knits with great stretch. I'd opt for a nice, t-shirt weight cotton lycra. The Fabric Snob has a scrumptious cotton/poly/spandex line titled Boyfriend Wash that weighs in at 180GSM. Great for that worn-in feel.
The Riviera Raglan
If you're looking for a raglan with ladies sizing, you'll need to choose the Riviera. It has loads of options including a henley, thumbholes, hood, slit neck and handkerchief hem, just to name a few! This is a pattern that you will find yourself coming back to time and time again.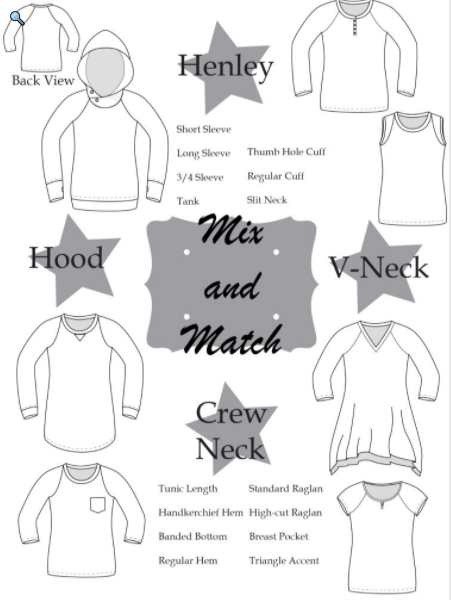 The Riviera sizing starts at xx-small and extends up to 3x (51.5" bust) and is listed at $10.95.
This design would be great for a wide variety of knit fabrics, depending on what look you're going for. For a nice basic tee, I'd recommend the same Boyfriend Wash Solids as I did for the Streamline.
The Dublin Dolman
If you're looking for a basic tee with minimal effort this is the choice for you. It features a dropped dolman shoulder and sleeve, meaning the top is all one piece! No separate sleeve pieces to cut meaning you can get away with using less fabric. The bottom has an option to add a hem band for a quick and easy finish, as do the sleeves. As your skills progress you can venture into the hemmed version, and maybe even add some of the many other design elements this one has to offer.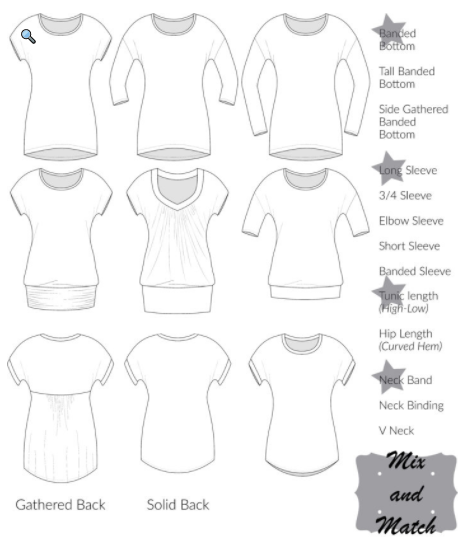 You'll want to use knit fabrics (stretchy). I'd recommend something fairly stable since it's easier to work with. I'd personally recommend a nice mid-weight cotton/lycra (spandex) blend (95%/5%) around 230GSM as a great starter fabric.
Pattern Niche offers this pattern in Ladies sizes  xx-small, x-small, 4, 6, 8, 10, 12, 14, 16, 18, 20, 22, 24, 26 for $10.95USD as well as a children's version in sizes 6-12m, 12-18m, 18-24m, 2t, 3t 4t, 5t, 6 7 8 10 12 14 16. Includes 18″ doll size, also for $10.95USD. OR you can purchase both patterns as a bundle for $17.50.
The Bellevue
A step up from the Dublin is the Bellevue. This is another pattern with easy dolman sleeves, this top boasts a sassy off-the-shoulder option and simple banded hem. Comes with two sleeve lengths and two bodice lengths to mix and match for many different versions.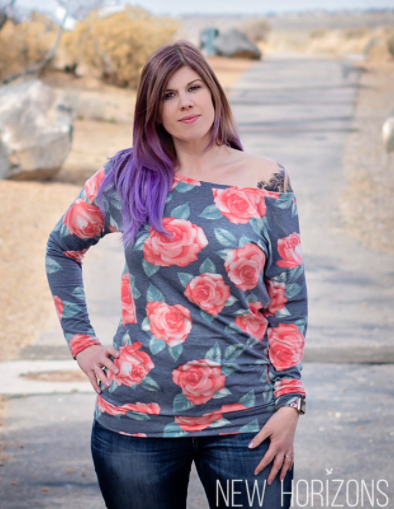 This pattern comes in adult sizes xx-small, x-small, 4, 6, 8, 10, 12, 14, 16, 18, 20, 22, 24, 26 (up to 51.5" bust) and is $9.95.
Choose a knit fabric with at least 35% stretch and great recovery (how well it springs back into shape). You'll probably want to find something with spandex/lycra to get that perfect stretch without it getting stretched out. 
The Dover Dolman
One last dolman, because they're so stinkin' easy! This one is a great option to dress up or down and is the first woven pattern on our list, meaning the possibilities are virtually endless for fabric choices. My favourite features are the bubble sleeves, waist tie and curved hem. I also love that it can be a shirt, a tunic or a dress! So many options in one one pattern. Oh, and did I mention it has a high-low option?!
The Dover comes in sizes xx-small, x-small, 4, 6, 8, 10, 12, 14, 16, 18, 20, 22, 24, 26, 28, 30 (up to a 55.5" bust, 57.5" hip) with quite a bit of positive ease built in. That means it's fairly loose fitting. The cost on this one is also $9.95.
As mentioned, this pattern is made for woven fabrics. That means materials with little to no stretch, so it's also great for those knit pieces with virtually no stretch. I think this one would be so adorable in a nice plaid or chambray for a classic shirt dress look.
The Key West Tank
A cute, swing-y top perfect for the hot summer we're all looking forward to. This top is great for beginners because of the high impact it offers with simple design details. You'll be able to finish the neck and arm openings with bands or bindings, dependent on your comfort level and style preferences. The pattern offers two lengths, cropped or full, with a hemmed bottom. But I think it'd be great left raw if you're still uneasy about hemming. A cute little pocket option allows you to play with fabric choices and add serious personality to your new make.  Overall, a perfect gateway pattern to practice your new skill.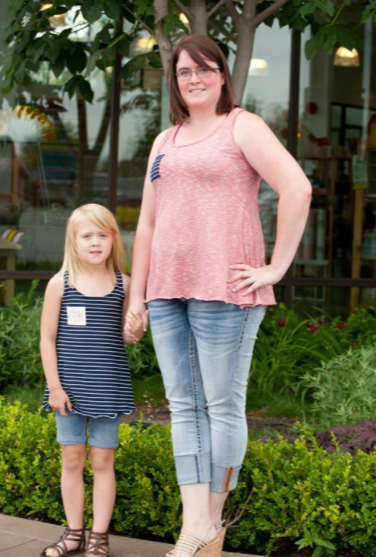 The listing recommends knit fabrics with at least 35% stretch. I would personally opt for a lighter-weight material for that fun flowy effect. If you're feeling adventurous, try a nice bamboo jersey. It's similar in sew-ability to cotton lycra, but not as stiff. You'll notice the weight is more than CL, but don't let that fool you. It is heavier, but has so much more pretty drape to it.
The Key West comes in child sizes 12-18m up to 16, as well as adult xxs – 3x. AND. Maybe it's best feature – it's totally FREE.
Olympia
If standing out is your game, you HAVE to try this one. It's a beautiful, open-side hoodie-type design perfect for showcasing your new talent. It has a few more details than the other patterns we've talked about which means you'll get even more sewing practice and even more punch to your make. Choose between hooded or not and 2 different lengths. The adorable patched on kangaroo pocket adds a serious level of function, but could be easily omitted for an extra quick make.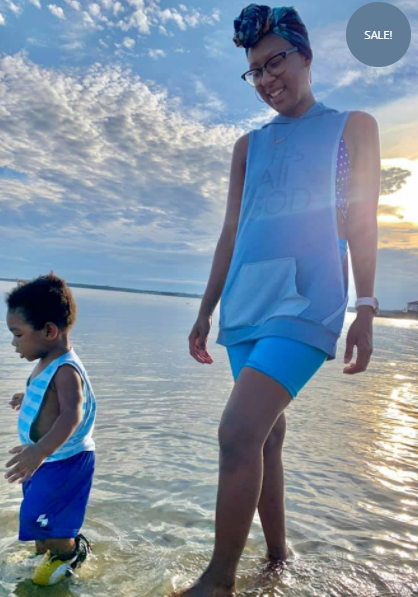 The recommended fabrics for this one is also knits, this time with at least 25% stretch. If I were to make one, I'd choose something with a bit more heft. Depending on what you want to use it for, maybe find a nice cotton or bamboo french terry or a luxurious bamboo or tencel fleece.
You can find this design in adult sizes xx-small, x-small, 4, 6, 8, 10, 12, 14, 16, 18, 20, 22, 24, 26, 28, 30, as well as child's sizes 6-12 month up to 16. Each size range is $9.95, or you can purchase both as a bundle for $16.50
The Kauai Cover Up
Our final beginner friendly top pattern on this list is the Kauai Cover Up. This is a great starter for those finer, more delicate fabrics. Style it over a bathing suit, everyday outfit or even loungewear for an added touch of luxe. This design has options for length, hem style, drawstring waist and even side splits. The easy dolman style of it makes it a quick and easy sew, while still being able to practice some great sewing techniques.
The Kauai was made with very light wovens in mind, but could be made with something a bit heavier as an outerwear piece or house jacket, too. I see an ethereal version floating down the sunset-kissed beach, so I'd lean toward a light crepe, challis or georgette. Maybe even a gauze.
The sizing on this is marketed as adults 00-30 (up to a 55.5" bust), and is a roomy, unstructured fit, especially if you don't want it to close all the way. Oh, and I haven't even mentioned the best part. IT'S FREE!
DRESSES & SKIRTS
Tahiti Tank Dress
This adorable split-hem tank dress can be as simple or as elevated as you choose! Decide between standard tank back and racerback, curved or straight hem, front pocket, side sash, knee or maxi length. So. many. Options! Neck and arm openings are completed with bands for a quick and easy finish. In fact, this entire make is quick and easy! I bet you can have a basic one made up in under an hour!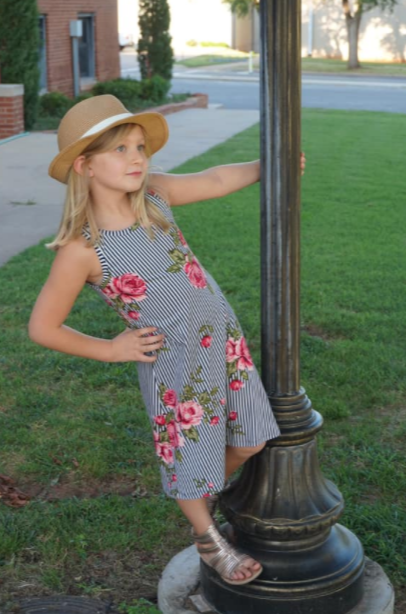 This is yet another knit pattern. This time you'll want to find a fabric with at least 50% stretch since it's a body-skimming style. I'd probably go for a light to medium weight option. Maybe in rayon to get that really beautiful draping and luxury feel.
The Tahiti comes in child sizes 12-18m up to 16 and is $9.95.
Pierside Pencil Skirt
The boss of comfortable skirts, the Pierside is a flattering, relaxed design featuring a tall yoga-style waistband, optional pockets, 3 length options and opportunity to use a curved hem!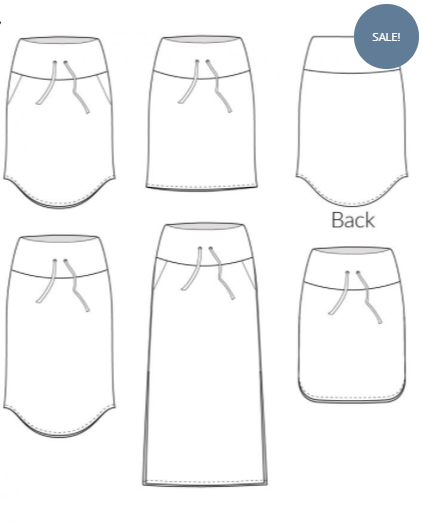 This pattern is a true Mama-and-Me favourite since it comes in child sizes 12-18m up to size 16, and adult sizes xx-small to 26 (53.5" hip). And can be purchased as a bundle for $16.50, or separately for $9.95.
Fabric suggestions include knits with at least 35% stretch. I think this would be really fun with stretch suede or faux leather. Just be sure to check the stretch percentage and adjust if necessary.
PANTS
Carita Joggers
Who doesn't love a great pair of joggers?! Pants might look intimidating, but they're actually a really great place to start for beginners because there's little finishing details and sweats are super forgiving with fit.This style offers a higher, yoga-style waistband, fun rounded slash pockets, and capri or full length options. Cuffed leg bottoms means a quick and easy finish.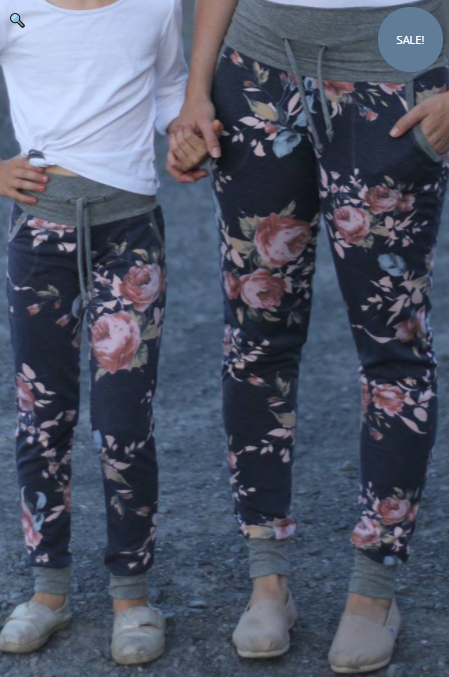 Once again you're going to want to opt for a nice stretch knit fabric. Something with at least 35% stretch. You could really have a lot of fun here, depending what look you're going for. I'd choose a nice heavy sweat knit like bamboo or tencel fleece for some cozy lounge pants. Smooth and light cotton or bamboo lycra for sleepwear. Or even some sexy, drapey rayon or polyester for a dressed up pair.
Sizing for the Caritas are childrens 12-18m, 18-24m, 2t, 3t, 4t, 5t, 6, 7, 8, 10, 12, 14, 16. and adults sizes xx-small, x-small, 4, 6, 8, 10, 12, 14, 16, 18, 20, 22, 24, 26 (up to 53.5" hip). Each size range is available for $9.95 or you can bundle up and save a few bucks.
Portlander Pants
If you're looking for something a little more office appropriate, check out the Portlanders. This style also features the tall waistband and pockets, but it's a wide leg design allowing for a bit more polished look while still being UBER comfortable. This pattern is also one of the only ones on this list featuring a shorts option, allowing you to use it all year round.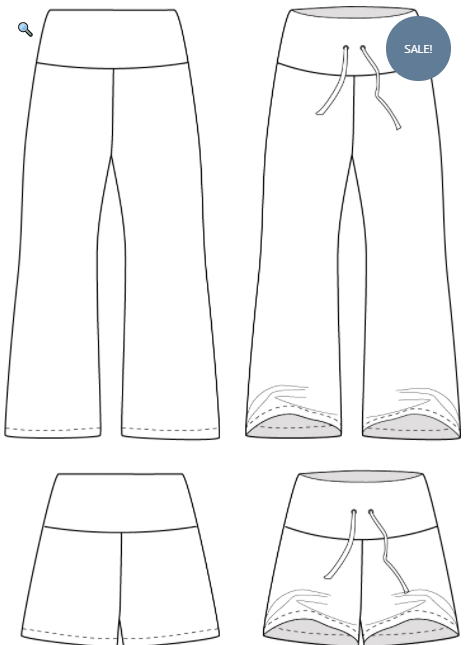 Fabric requirements are the same as the Caritas. If it's polished pair you're after, I'd recommend a solid colour in something a little more stable like a ponte or liverpool – just be sure to check the stretch percentage and adjust your pattern accordingly if necessary. 
This one comes in kids sizes 12-18m up to 16 and adults sizes xx-small, x-small, 4, 6, 8, 10, 12, 14, 16, 18, 20, 22, 24, 26 (up to 53.5" hip) in two separate patterns for $9.95 each, or as a bundle for $16.50
Lanai Loungers
I find this design so versatile! A woven casual pant perfect to use a pajamas or some fabulous goodwear bottoms. This pattern offers a tapered and straight leg option, as well as shorts cut line. Of course it has side pockets, but also some cute back patch pockets if you feel like taking that next step.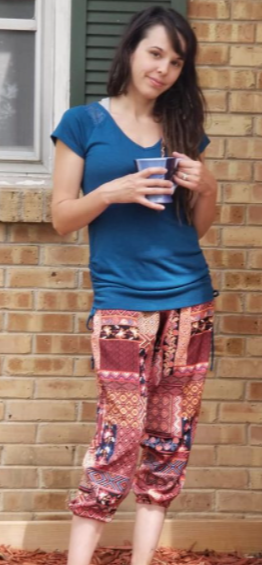 Again, the options are essentially endless on fabric choices here. I'd probably choose a nice light or mid-weight linen for daywear, or a cozy cotton flannel for pjs. You'd also be able to use a stable knit fabric for this design.
The Lanais are available in adult size 00 up to 30 (up to 57.5" hip) for $9.95 or as a bundle with the Maui Tank for $16.50
What did I tell ya? So many options. Which one will you choose first?
Make sure you head over to our Facebook Group or Instagram #patternnichedesigns #patternnice