Do you love the Key West tank? Do you love the Telluride? Then this is perfect for you.
I took the Telluride sleeves and put them on the Key West tank! WHAT??? Yep, that's what I did 🙂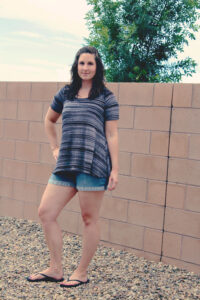 To achieve this look grab both the Key West Tank and the Telluride . Don't forget that the Key West is free with the coupon code in New Horizons Patterns Facebook group.
You will need the bodice and neck band from the Key West, the top bodice (for the tee and henley option), and the sleeves from the Telluride.
Put your Key west bodice back on top of  your fabric lining it up with the fold. Now place the Telluride back bodice on top of that, matching the pattern pieces at the armpits.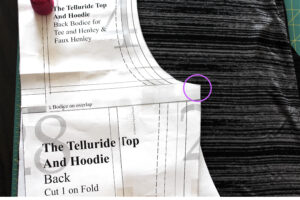 I cut out the arm hole first, then removed the Telluride pattern piece and finished cutting out the Key West hem, side, shoulder, and neckline.
Now do all these steps for the front piece as well.
Then cut out the rest of your pieces.
I added 2″ to my sleeve length because I didn't add the arm band.
Next attach the front and back bodice pieces together at the should seams.
Then sew on the neck band.
Add your sleeves.
Sew the side seams in an L shape to include the sleeves.
Finally, hem the sleeves and bottom bodice and you're done! Fast and Easy.
Now admire your awesome mashup skills and rock its awesomeness!