Easter!  Spring!  Warm Weather!  It's all so refreshing after a winter of cozy sweaters and heavy coats.  New Horizons clearly rocks the cozy hoodies and winter patterns, but it also has some awesome patterns for warm weather.  When planning new spring dresses for Easter this year I wanted dresses that feel like Spring!  Light and flowy and cool.  The Boardwalk dress is perfect for creating just that kind of dress!
But we all know that fabric choice can make or break a garment, right?  So, I decided to make my girls Easter dresses in two different fabrics to see how the fabric effects the pattern.  I selected some solid mauve rayon challis and a dusty pink stretch poplin with glittering gold pluses.  These two fabrics are on opposite sides of the fabric spectrum.  Even though both are woven fabrics, they have drastically different drapes and so behave differently.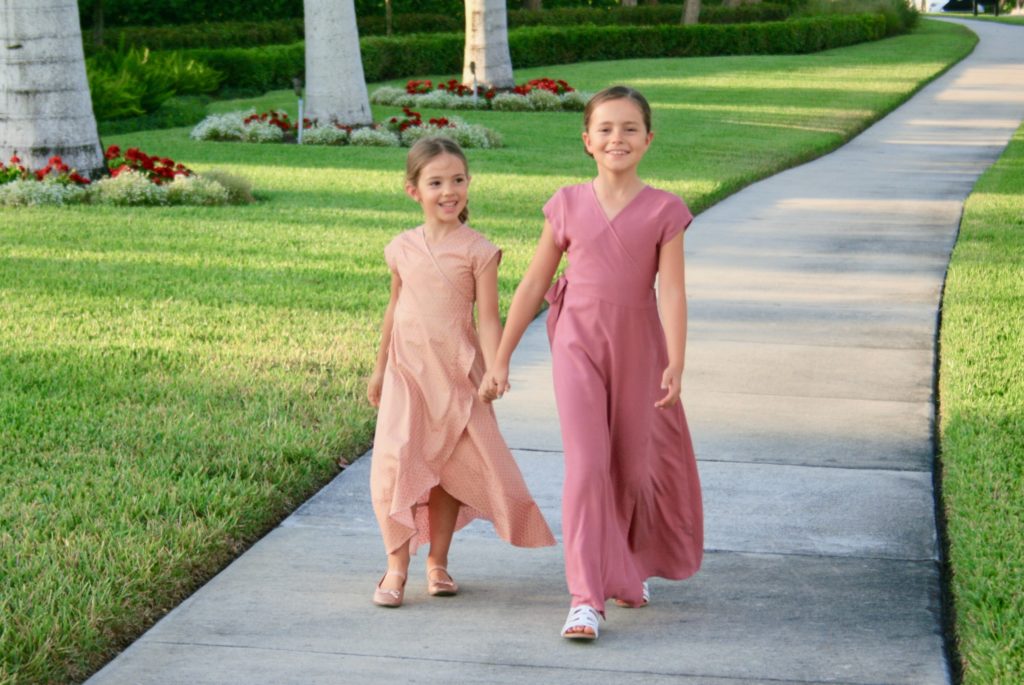 Rayon Challis is pretty new to me, and I've become a bit obsessed with it.  It is lightweight yet opaque and has incredible drape without being clingy.  It looks and feels delicate, which is quite lovely to wear.  On the down side, it frays, tends to wrinkle, and can be tricky to cut and sew because it slides and distorts easily.  Work through those challenges though and you've got a really dreamy dress.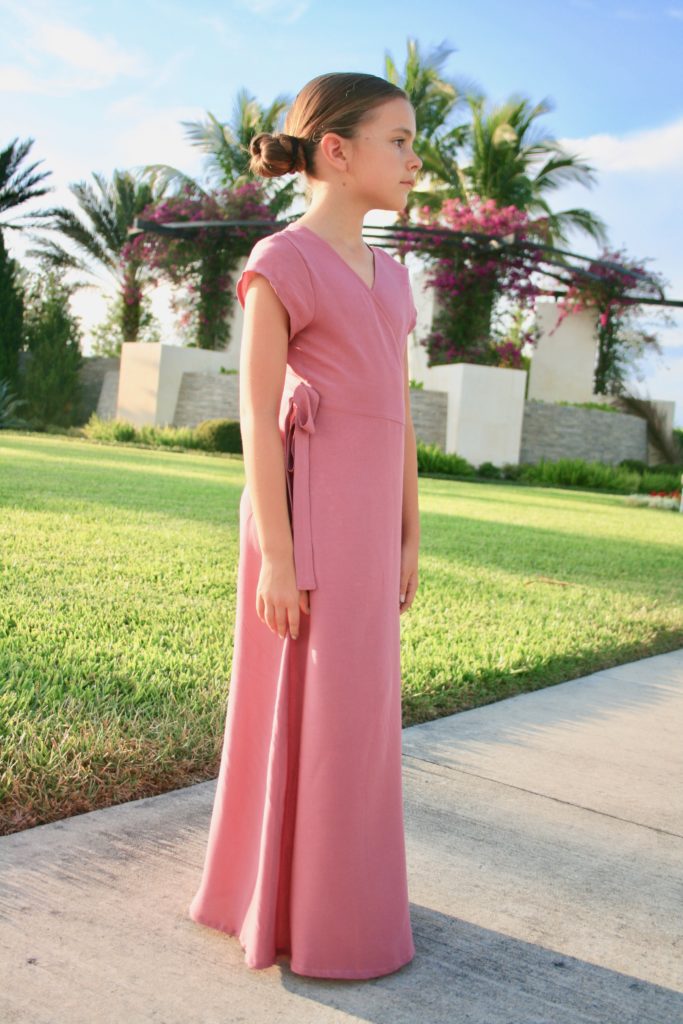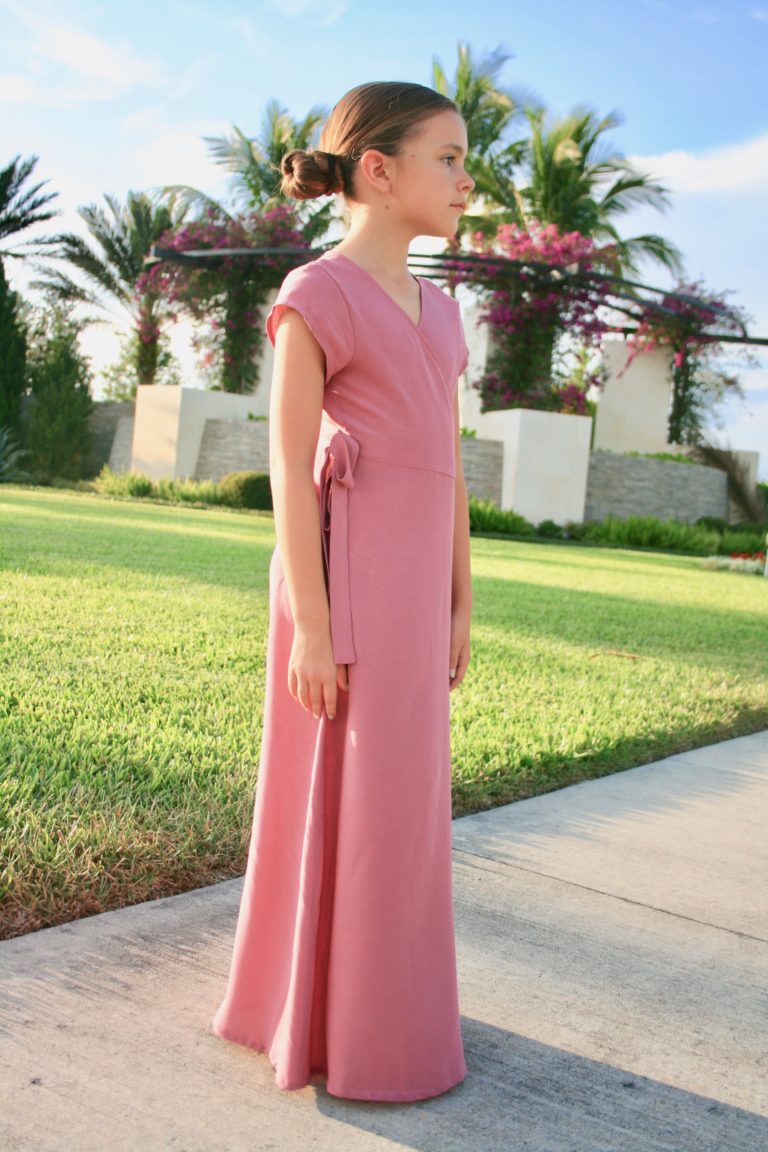 This rayon challis is like wearing water!  It flows and drapes and moves gorgeously.  In the wind and while walking it just ripples and flows!  See all the soft folds?  At times it looks like is dripping.  My daughter is seriously in heaven!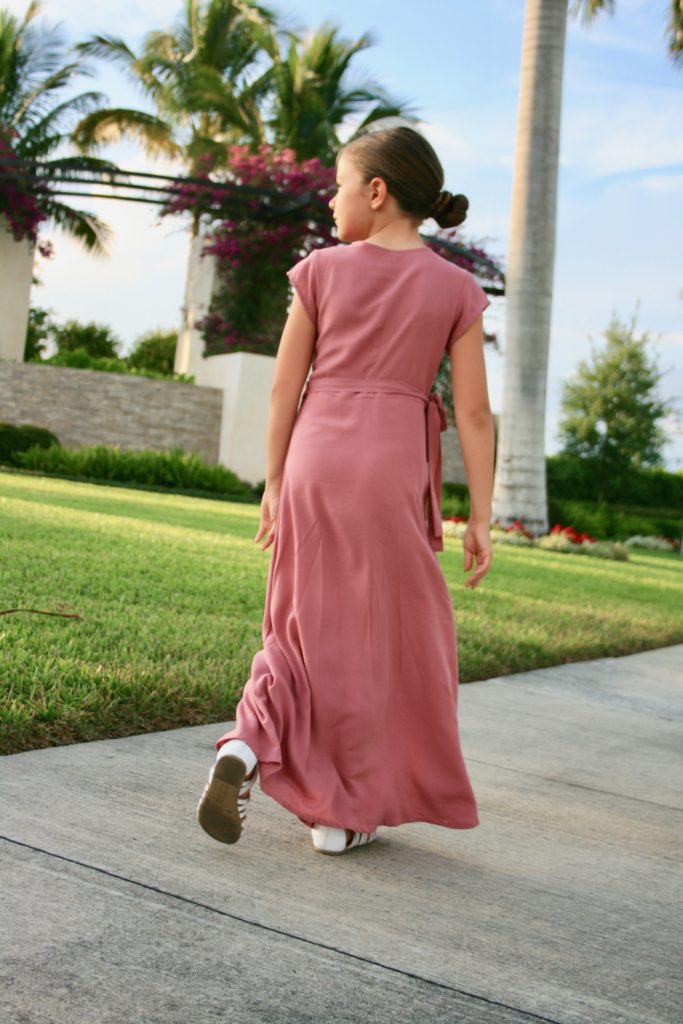 Stretch poplin, on the other hand, is delightful to sew with!  It stays where you want, keeps its shape, and it holds up to washes wonderfully.  This isn't a particularly heavy fabric, but it is crisp and doesn't naturally mold to the body.  Because the Boardwalk Dress has a fitted bodice, you don't see much of the impact of that different drape until you get to the skirt.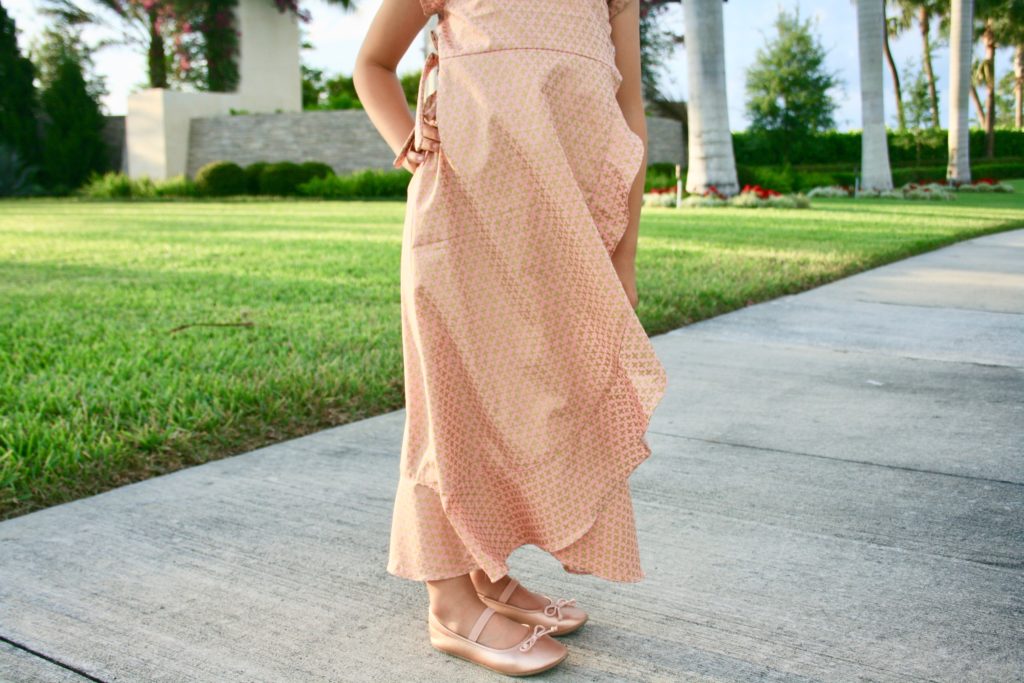 The crisp poplin makes the dress stand away from my daughter's body instead of hanging straight down and flowing around it.  Notice that the skirt only has a couple folds and they are large and prominent.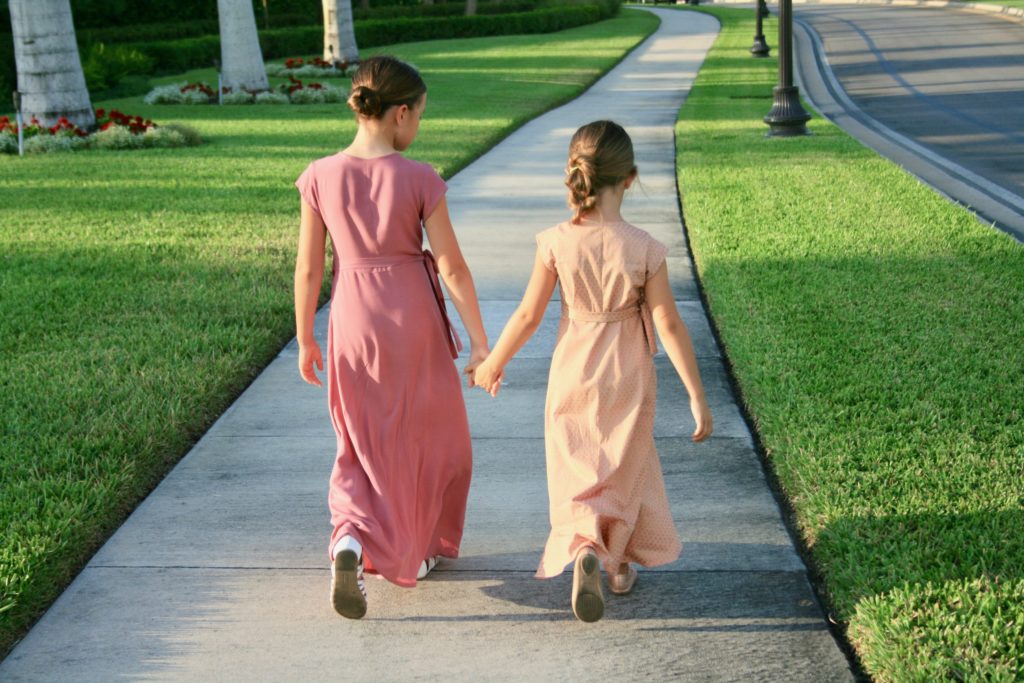 Surprisingly, I love both dresses even though the fabrics behave so differently.  I knew I'd love the rayon challis dress.  But I was pretty much sewing the poplin one for education/information purposes.  And I didn't think it would get much wear because it would be too stiff.  However, I think this stretch Poplin is perfect for my younger daughter.  While it doesn't flow, it doesn't wrinkle as easily.  It is also hardy and can stand some abuse without ripping or tearing.  Plus, I chose to add the flounce to this poplin version and I think it makes a big difference.  It adds an illusion of movement even though the fabric really doesn't have much natural movement.  I don't think I would like the dress in poplin quite as much without the flounce.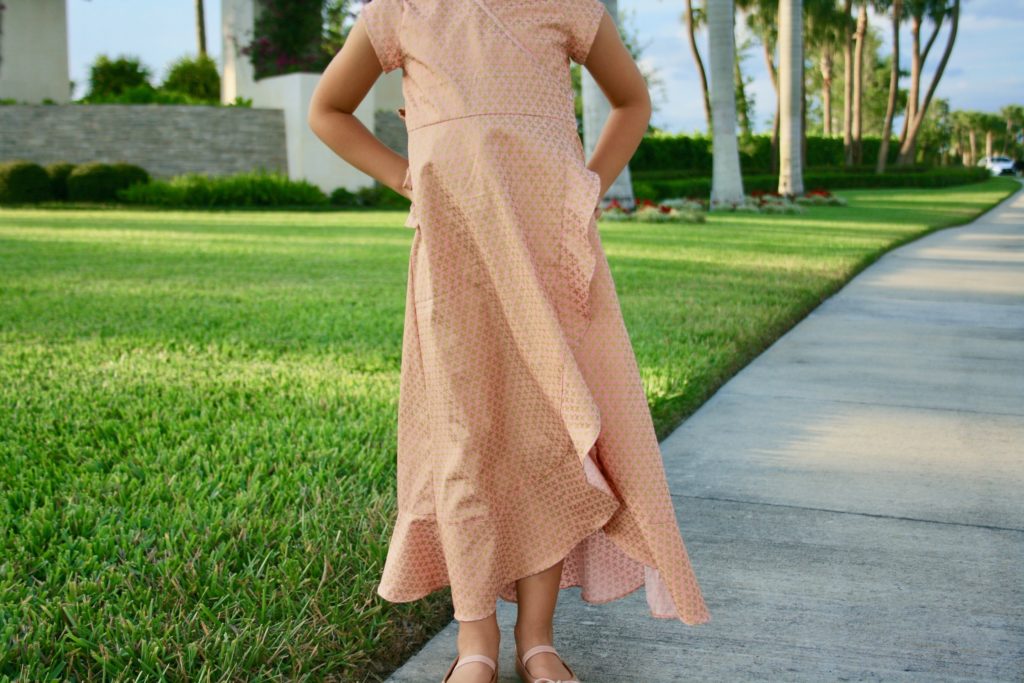 Rayon Challis makes my older daughter's dress have a sophisticated feel.  She is completely in love with it!  How it flows, how it feels, and how long it is.  I think she even used the word "perfect".  I can see the sparkle in her eyes that says she feels very grown up and elegant!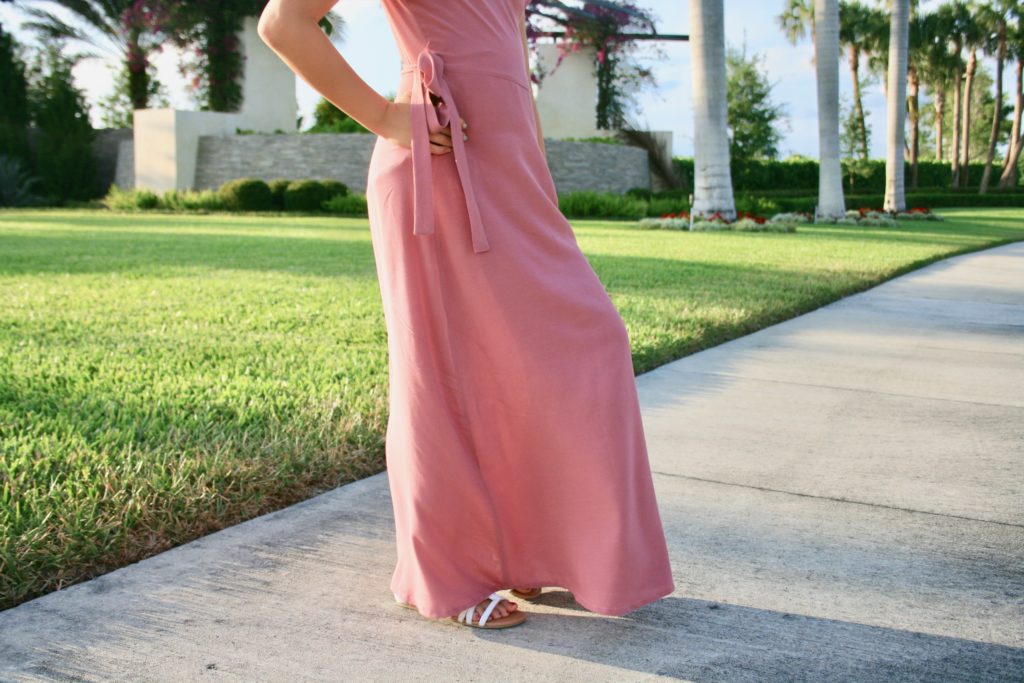 So, here's my advice when you are selecting your fabric.  Think about whether you want the dress to flow or have structure.  Fabrics with more drape will have more flow and create a more sophisticated dress but are harder to sew.  Fabrics with less drape will stand away from the body, more like a tent.  But it will handle little girl play and sew up easily.
And now few tips for sewing with lightweight fabrics like rayon challis in case that's the route you choose:
Cut your fabric out in a large area.  If your table isn't big enough use the floor!
Take extra care to get the grain running straight so you can cut your pieces out with the grain.  Don't let the fabric hang off your cutting area because the fabric will distort and the grain won't stay straight.
Use sharp scissors and cut your pattern piece and fabric out at the same time.  I like to trace my pattern onto tracing/tissue paper, lay my fabric out on my rotary cutting board, lay the traced pieces on top of the fabric, and hold the pieces down with weights.  Then I use a small rotary cutter to cut out the pattern and fabric at the same time.  If my piece is larger than my rotary mat, I cut as much as I can with the rotary cutter and switch to my sharpest scissors to get the last bit.
Choose a small size needle.  Smaller needles will go through the fabric easier without pushing the fabric into the machine.
Shorten your stitch length.  I didn't for my rayon challis, but when the weave gets thinner and lighter, this will help keep your seams together instead of pulling out.
Use sharp pins or clips.  Lightweight fabric snags and frays easily.
Handle your pattern pieces as little as possible and finish seams as soon as you can.  I finished the edges of the fabric right after sewing each seam, but not before.  The lightweight fabric will likely fold up on itself as you zig-zag.  If I zig zag before sewing the seam, it's harder to sew with an accurate seam allowance.  But if you wait too long to finish the seams, your fabric will fray and come apart more.
Let the machine pull the fabric.  Resist pushing or pulling the fabric so you don't distort it.  If necessary, hold the thread tails when starting a seam to get the fabric moving and discourage the machine from eating the fabric.
Use a walking foot.  It will help move the two layers of fabric evenly through the machine.
Hang the dress up for at least a day and even up the hem before hemming.  I like to have my model wear it and stand on a stool while I even out the hem.  If your model is very little and won't stand still you can try to even it up while it is hanging on the hanger or lay it out and use the pattern pieces to even up the hem.
For the curved hems, consider making a rolled hem.  A rolled hem foot can make a rolled hem a breeze.
Good luck!  Share pictures of your beautiful Easter makes!
And one last picture.  This pose was entirely their own idea.  They decided to make a heart with their arms and legs!  Every photoshoot needs a bit of fun, right?  I guess we can call it love for spring, love for sun, and love for our new Easter Boardwalk Dresses!