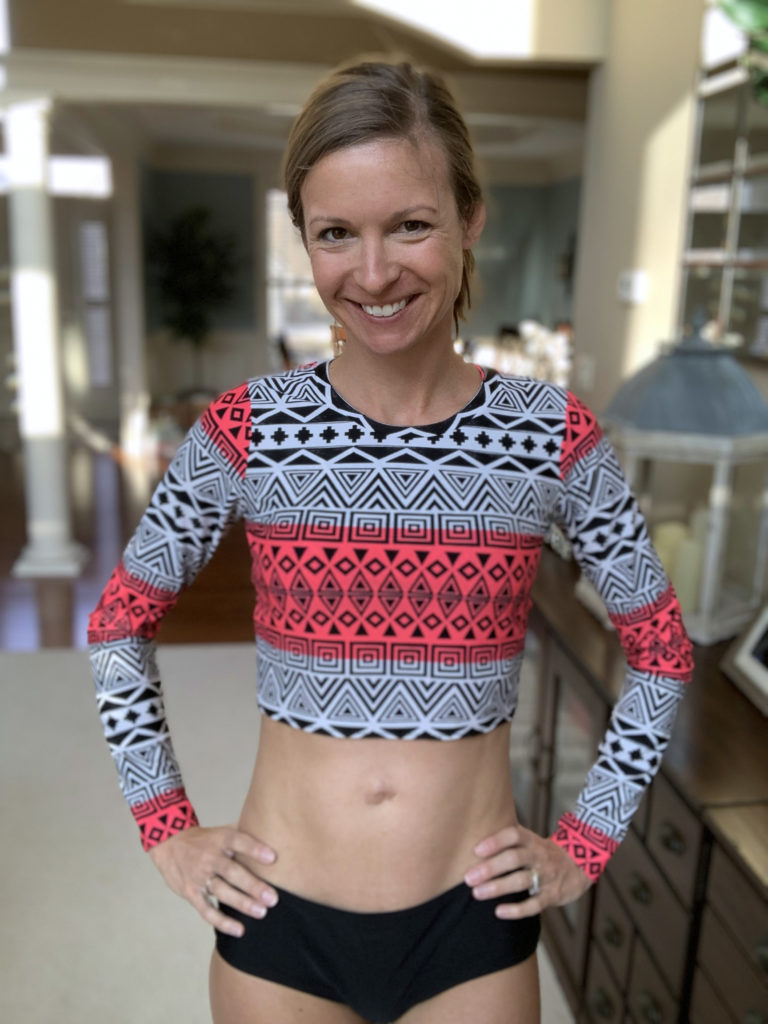 Hi all! Jody from Argyle + Pearls here with a pair of new hacks for you!  I am continually in awe of the perfect fit I get from all the New Horizon's patterns that I try, and I love to try and make the most out of them in new and different ways. Today, I'm hacking two wardrobe staple patterns into swimwear!  Aside from your usual sewing supplies, you'll need your modified pattern pieces that I'll go over below, swim fabric and swim lining, cotton swimwear elastic (I use both ¼" and 3/8" widths), and an "S" hook for the bathing suit closure.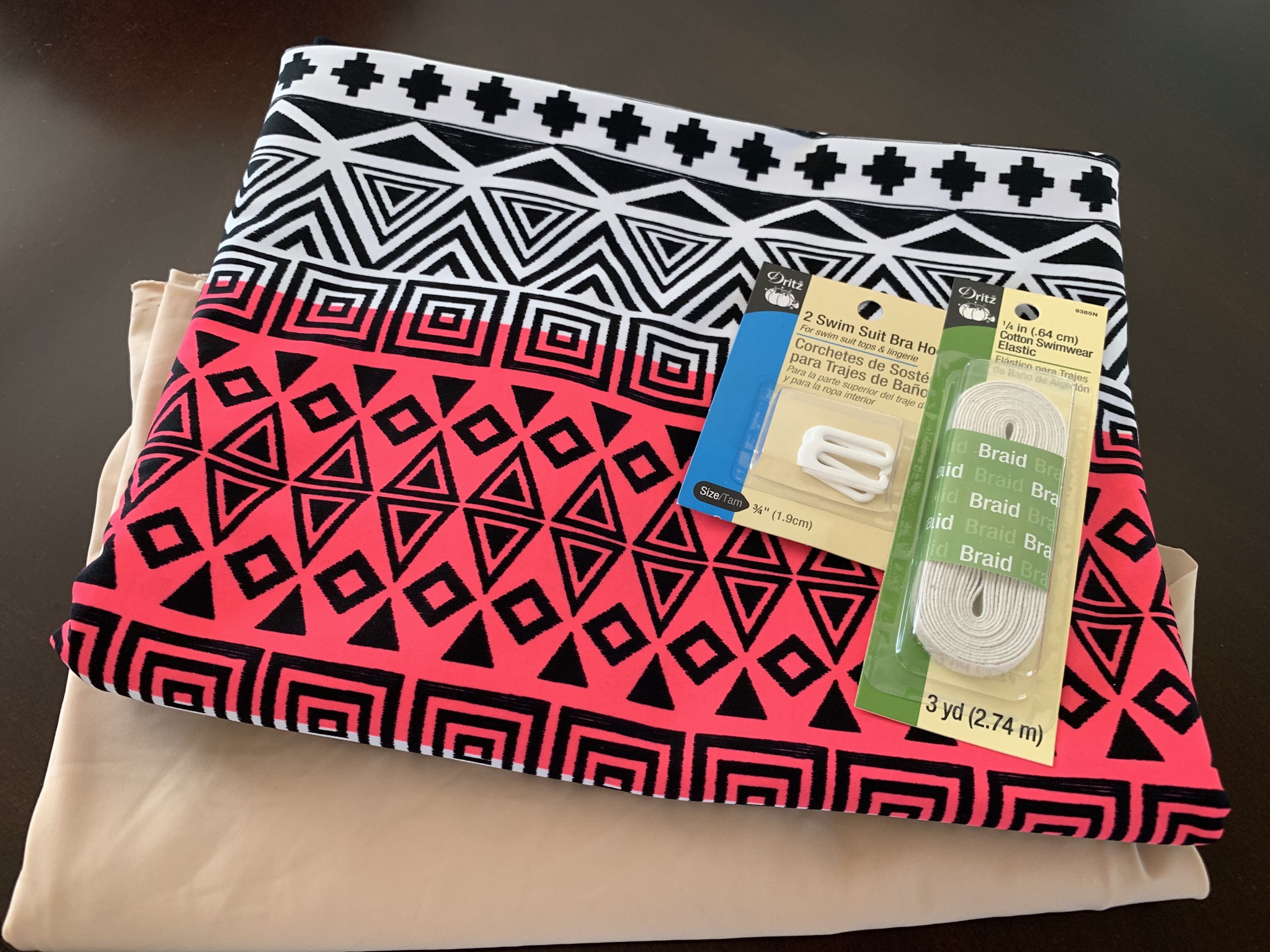 First up is a super cute but functional bikini top! Sarah's post from the fall on hacking the Marbella tank into a bralette got my wheels spinning.  I love the shape of the triangle cut out view of the lace back Marbella, so I decided to give it a shot making it all out of swim fabric and seeing how it would work as a bathing suit top. Verdict: I love it!
I knew I would need to make a few adjustments to have this work, but it really didn't take all that many changes.  The first step is determining how long you want your bikini top. You could most certainly leave it tank length and have this be a tankini swimsuit (but you'd still want to add some underbust elastic for support!) or you can crop it all the way to the underbust and have it be a bikini.  Sarah's post on the bralettte hack gives excellent instructions on measuring for where to crop your pattern pieces. Reiterating what she says, it's always easier to have too much length and chop it off later, but it's more difficult to fix if you cut it too short! Make sure you leave enough hem allowance!
Next up is raising the neckline and widening the straps a bit.  Raising the neckline all around was personal preference for more coverage in the front, but you will want the back neckline to be higher so you can add the s-hook closure.  I widened the straps about ½" to be able to easily accommodate the swim elastic into the hems there. You can see the darker line is my new pattern piece that I drew raising the neckline and widening the straps. The lighter line is the original pattern piece outline for reference so you can see the adjustments clearly. Make sure you also widen the strap on the front bodice piece so it matches. (not shown) I also slightly changed the angle on the back diagonal to meet right at the center point as the back pieces will no longer be crossing over each other, but closing with a hook instead.
When cutting your fabric, you will want to cut your front bodice, back bodice and 2 mirror images of this adjusted bodice top from both your main AND lining fabrics.  I like to add removable cups to my swimsuits, so I cut out a little crescent from the lining side seams like this: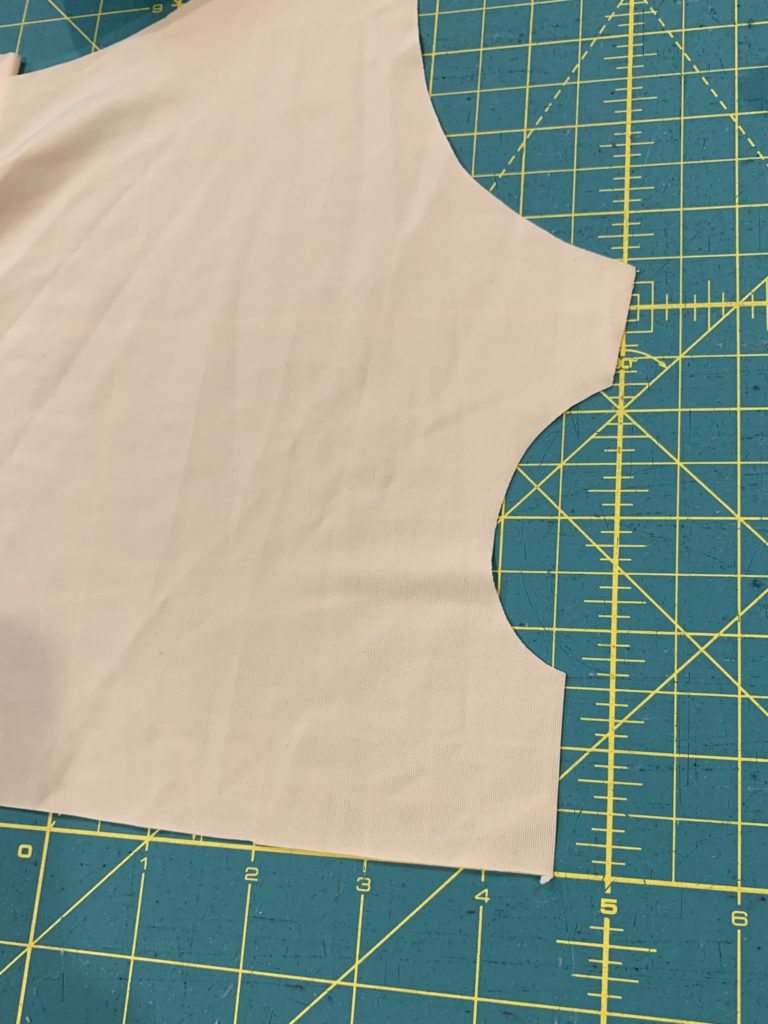 You don't need to worry about finishing the edges of the removable cup cut out as it's a knit and won't fray.  After you've cut your pieces, you'll want to create your combined back piece by adding the triangle pieces to the bottom bodice.  The first step to this is hemming the inside edges of your top pieces.  Using swim elastic to hem it gives it a nice stable finish.
I used ¼" swim elastic just shorter than my piece, leaving space at the top and bottom for those seams to reduce bulk at those points. Lay your lining on the wrong side of your top bodice piece and place the swim elastic along the angled edge of the lining side.  Zig Zag or serge this elastic along the straight edge, then fold over the hem to the wrong side and stitch in place from the right side. Make sure when hemming these you use a stretch stitch of sorts. You can coverstitch, use a double needle or do a wide zig zag (which is what I prefer to do). You can then baste along the neckline and armsyce of your pieces if you wish to hold your lining and main fabric together.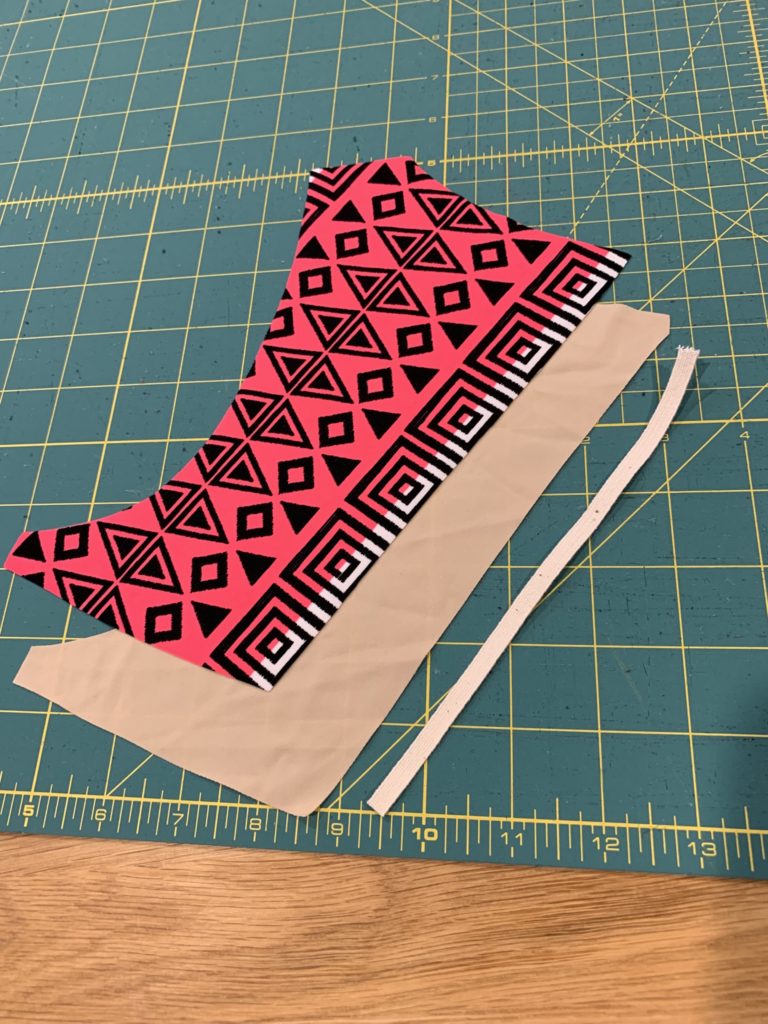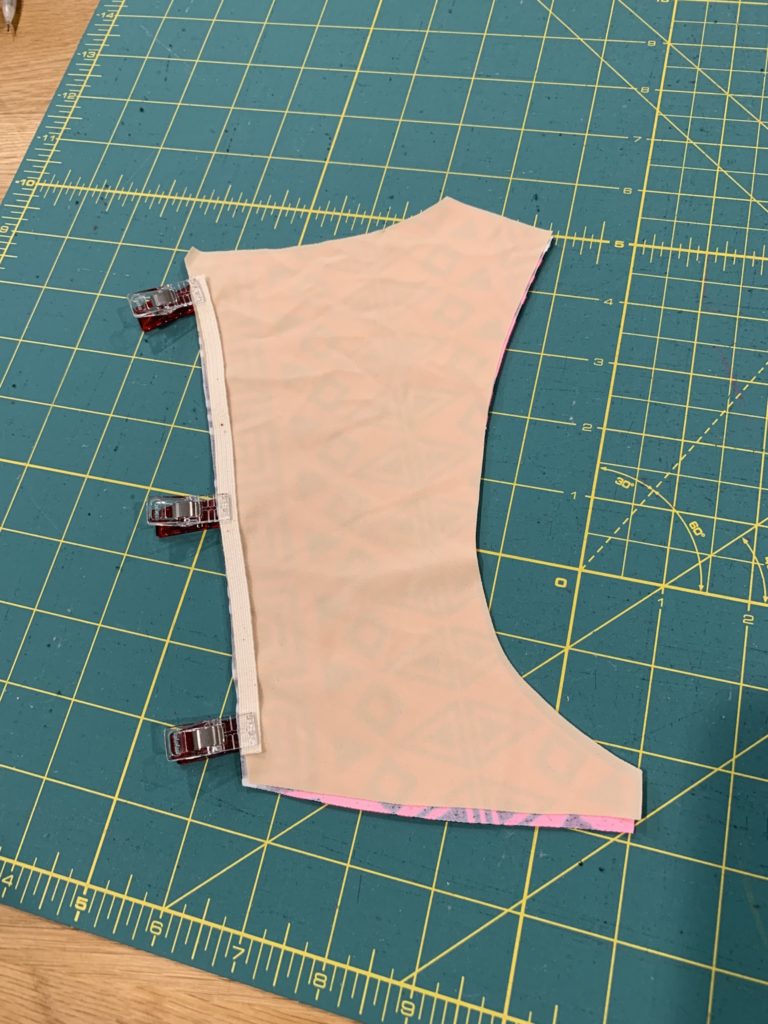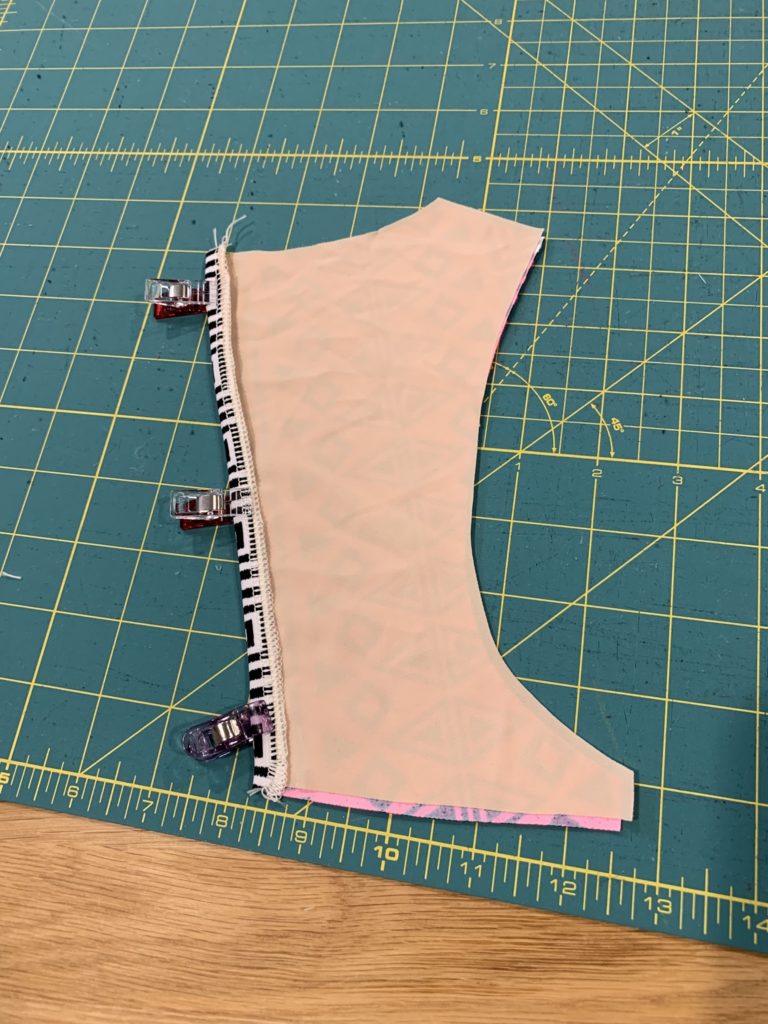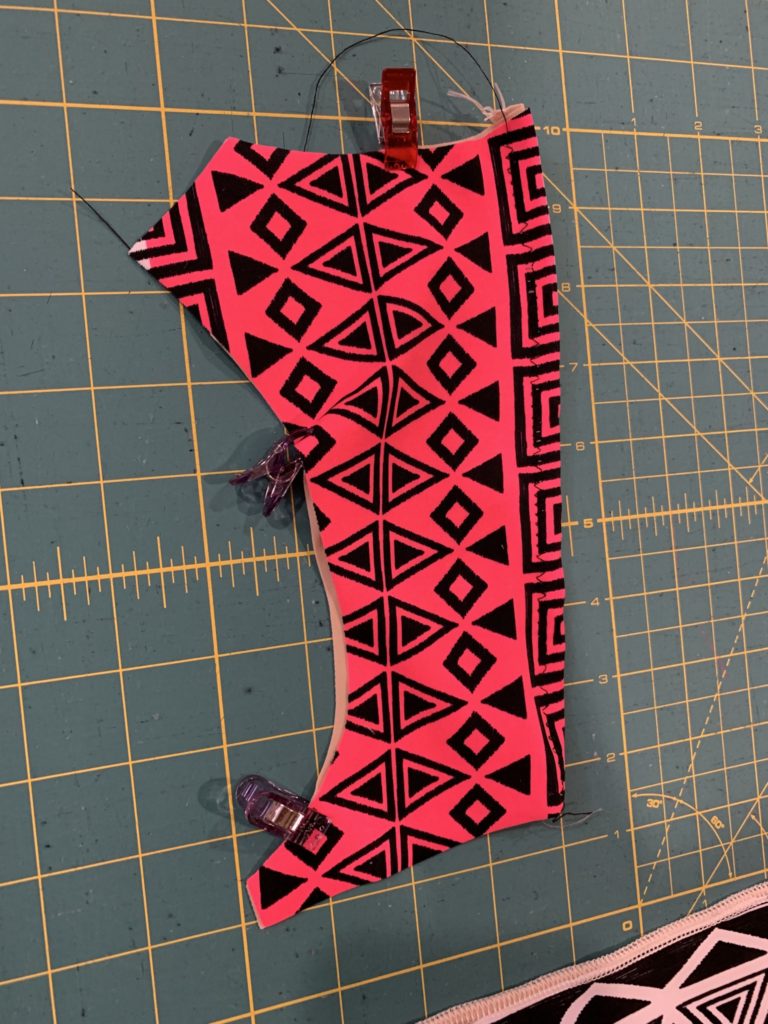 Now you will be attaching your bodice top pieces to your bodice bottom piece, like you normally would with lace on the original tank pattern. You will first want to stabilize the top of the back bodice bottom piece with swim elastic.  Cut a piece of elastic just shorter than the top of the bodice top edge, again leaving space at each side seam to reduce bulk there too.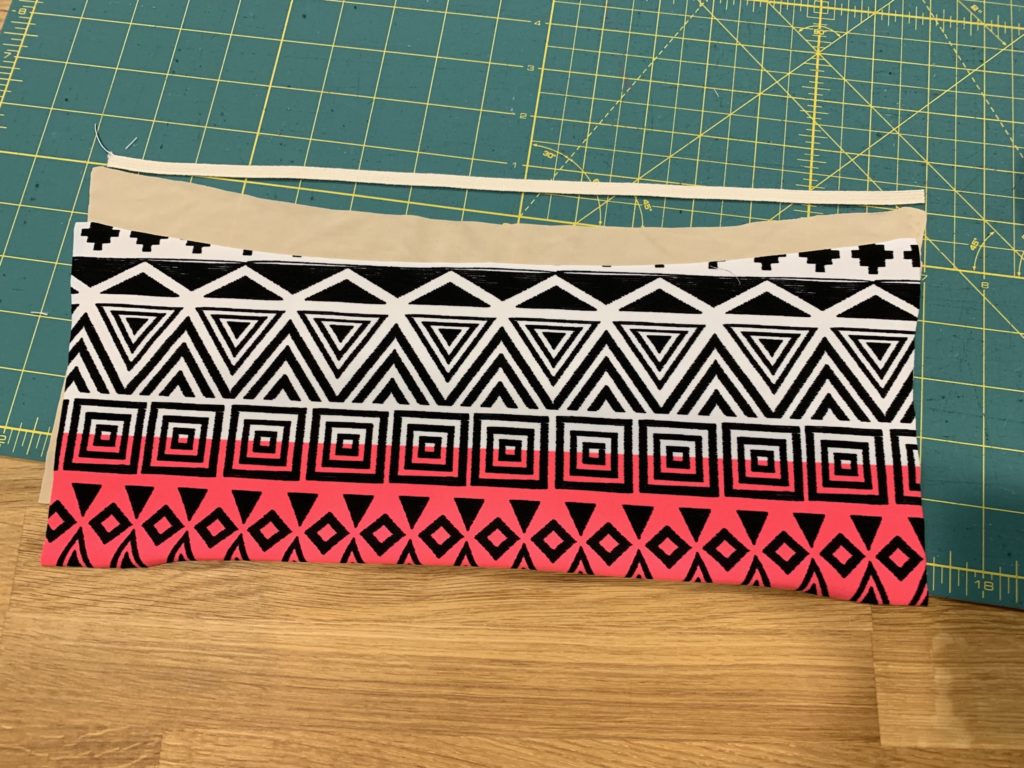 Just as you did with the top bodice pieces, place your lining against the wrong side of the main fabric, and Zig Zag or Serge the elastic to the top of the bodice on the lining side.  Do not fold over and hem here yet as we will first need to attach the top bodice pieces.  Lay those two pieces on the bottom bodice right sides together as shown and stitch in place.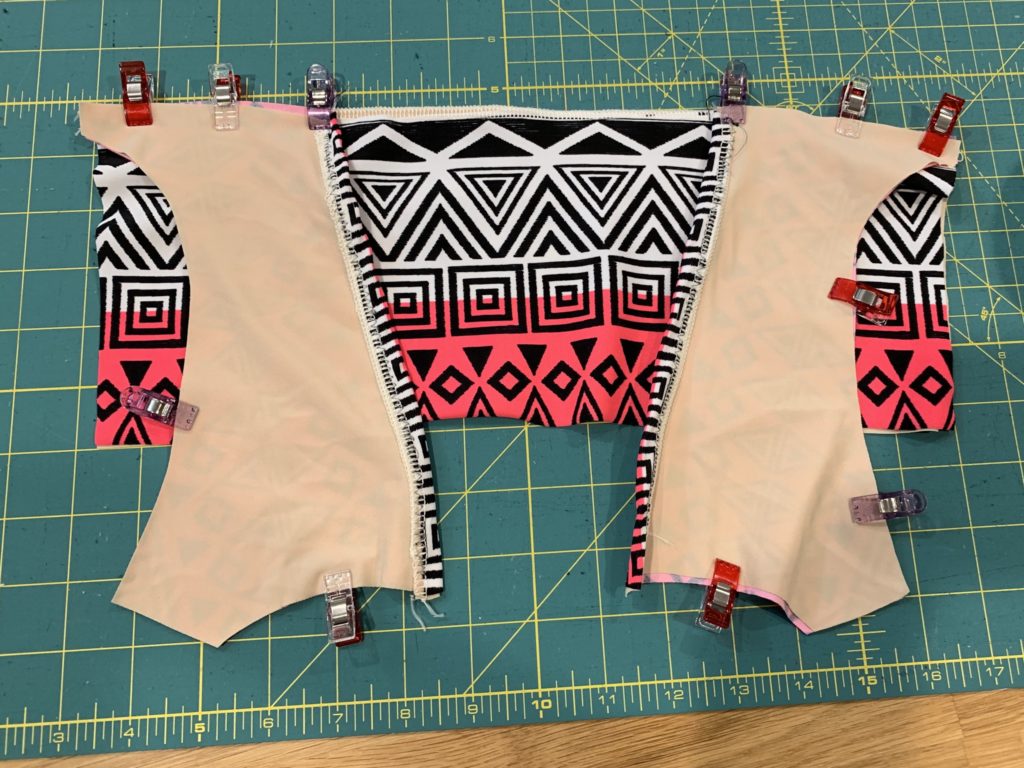 Now you can flip the top bodice pieces up, and the seam allowance down, and hem in place, securing the hem around the elastic you sewed on previously.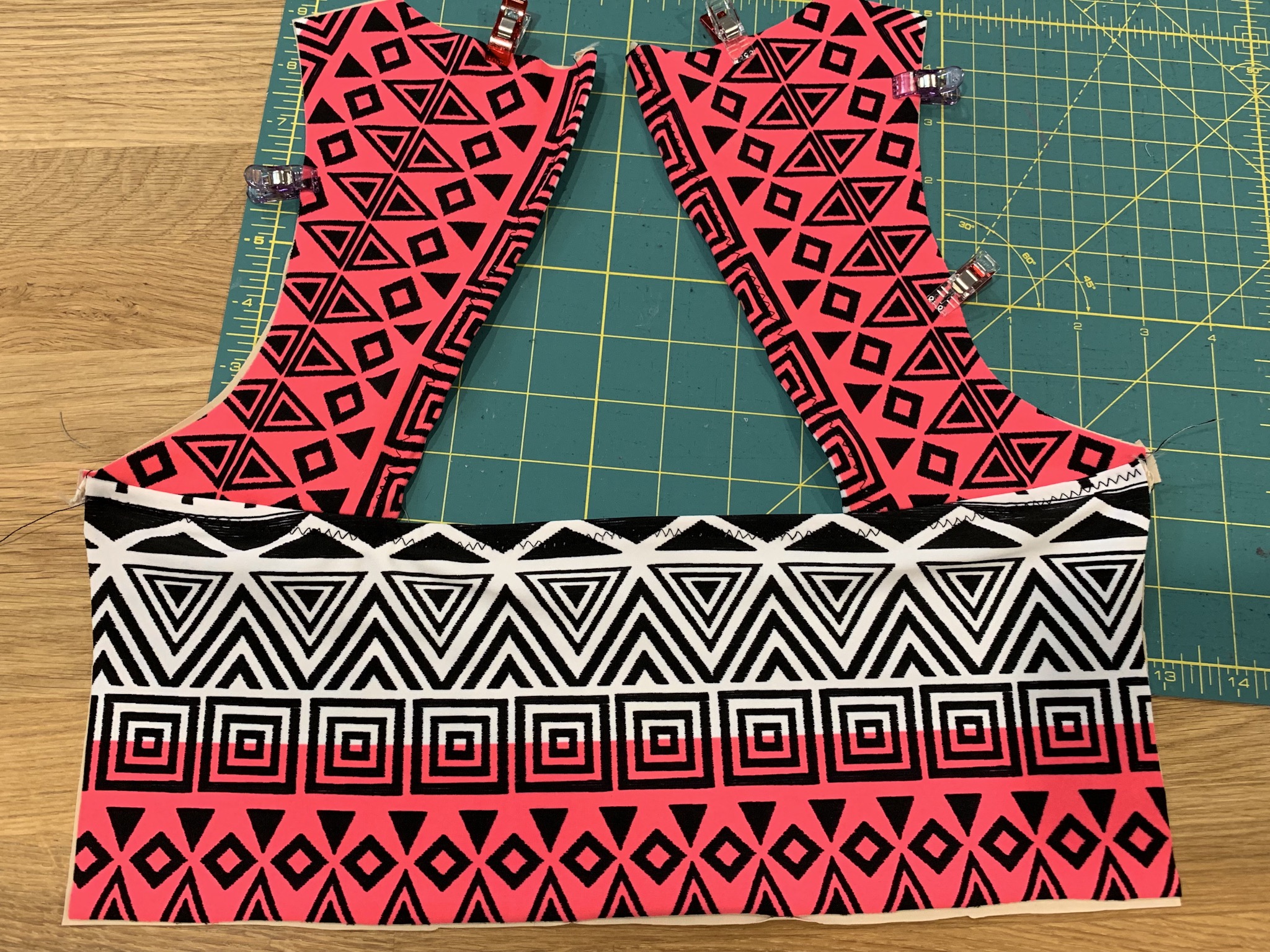 Next up is attaching the front and back bodice pieces.  You will want to sandwich your back bodice piece (which has already been lined by the previous step) in between the front main and lining pieces.  Lay your front lining piece on your table right side up, next place your back bodice piece, right side up on top of the front lining, then finally place your front bodice piece right side down on top.  Line up your side seams and shoulder seams and sew or serge in place. (I serged the side seams, but used my sewing machine for the shoulder seams so I could open them and fold the seam flat to reduce bulk with hemming) when you turn it the right way, your side and shoulder seams will be enclosed in the lining if you sandwiched them in the correct way! (which again is front lining, back piece right side up, front piece right side down)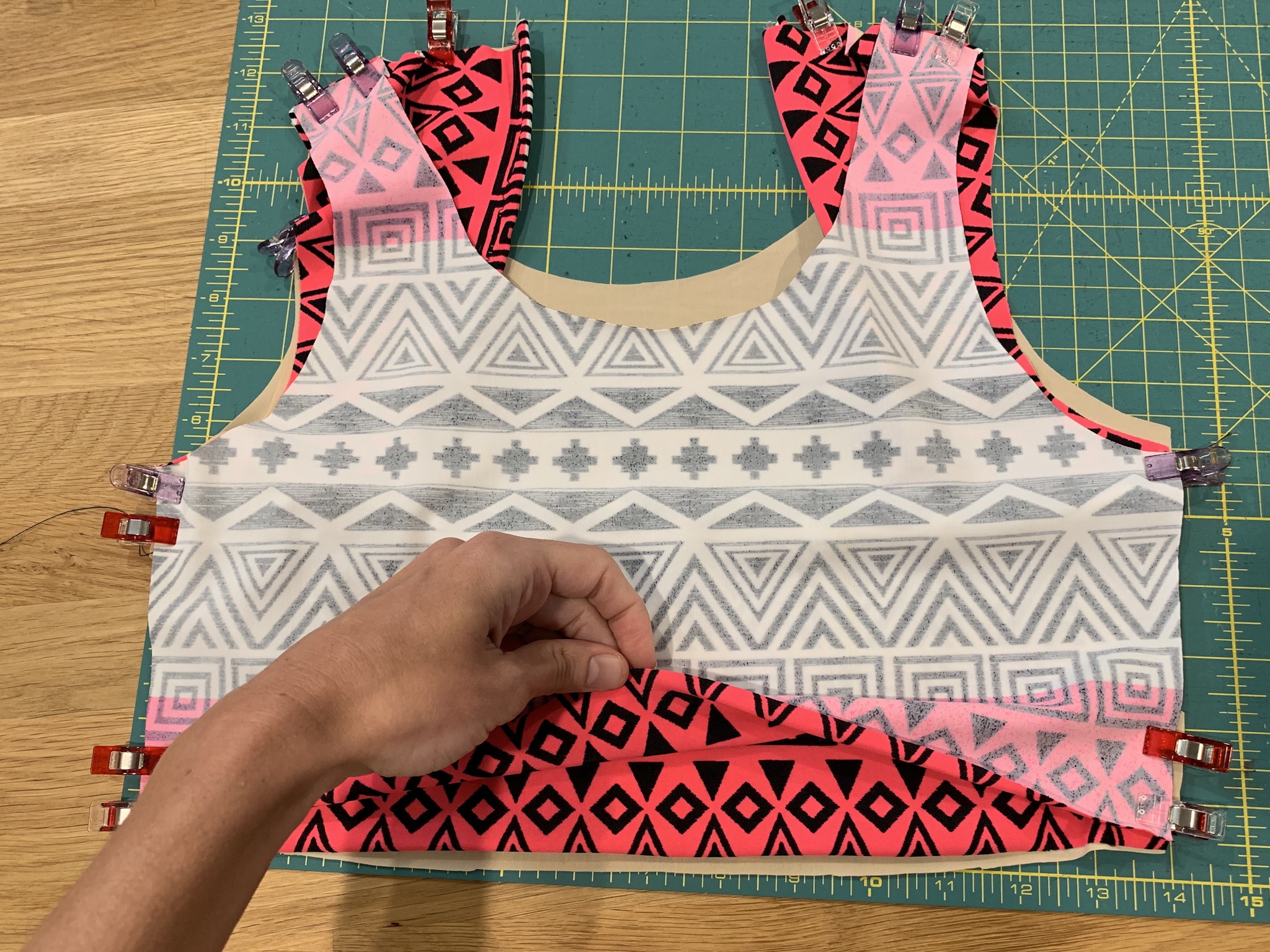 Your next step will be hemming your armsyce and neckline.  Repeat the steps you have done on other hems, attaching elastic along the edge of the lining side, then folding the hem over and stitching in place.  You will want your elastic to be just shorter than the openings so you stretch ever so slightly when attaching.  Leave some space at each end of the neckline elastic to reduce the bulk there as you will be attaching an S hook there in the last step.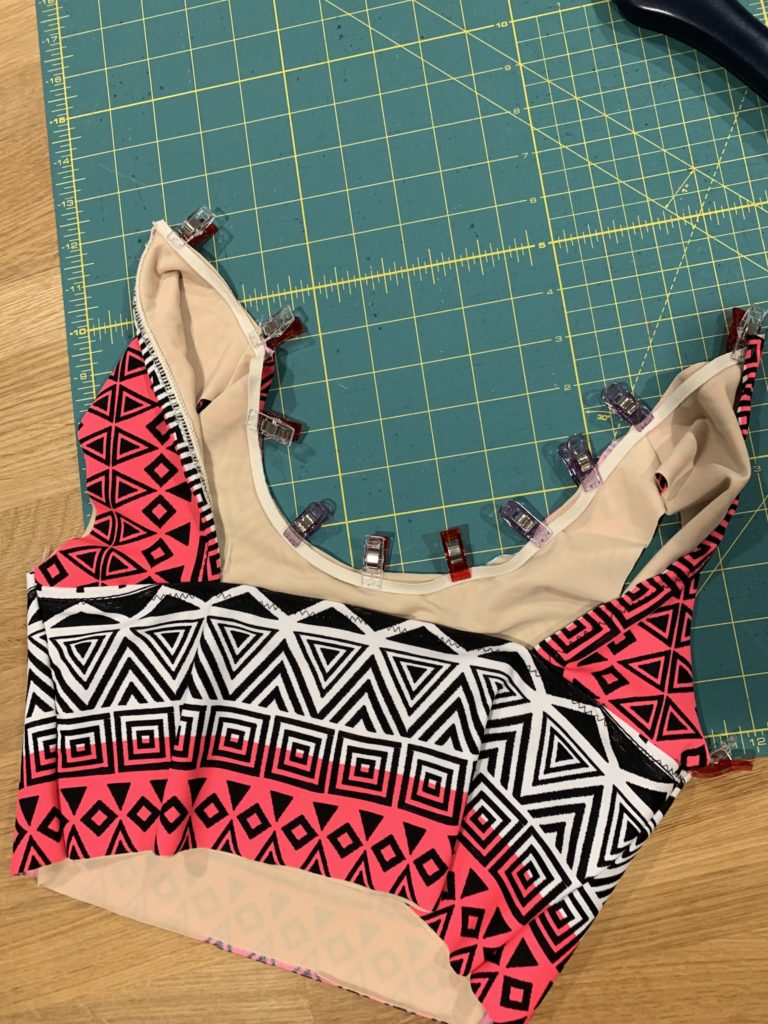 Finally, you will need to add your underbust/bottom edge elastic.  I used 3/8" elastic here, but you may want thicker elastic depending on how much support you are going for.  This elastic is going to be stretched more than the previous elastic you attached.  I measured my bodice bottom, and took about 85% of that to get my elastic length.  I wrapped it around my underbust where it would sit to make sure it was comfortable.  You will need to stretch this elastic evenly as you attach it, then fold over and hem as you previously did. (Making sure to also stretch slightly to smooth out the wrinkles when hemming)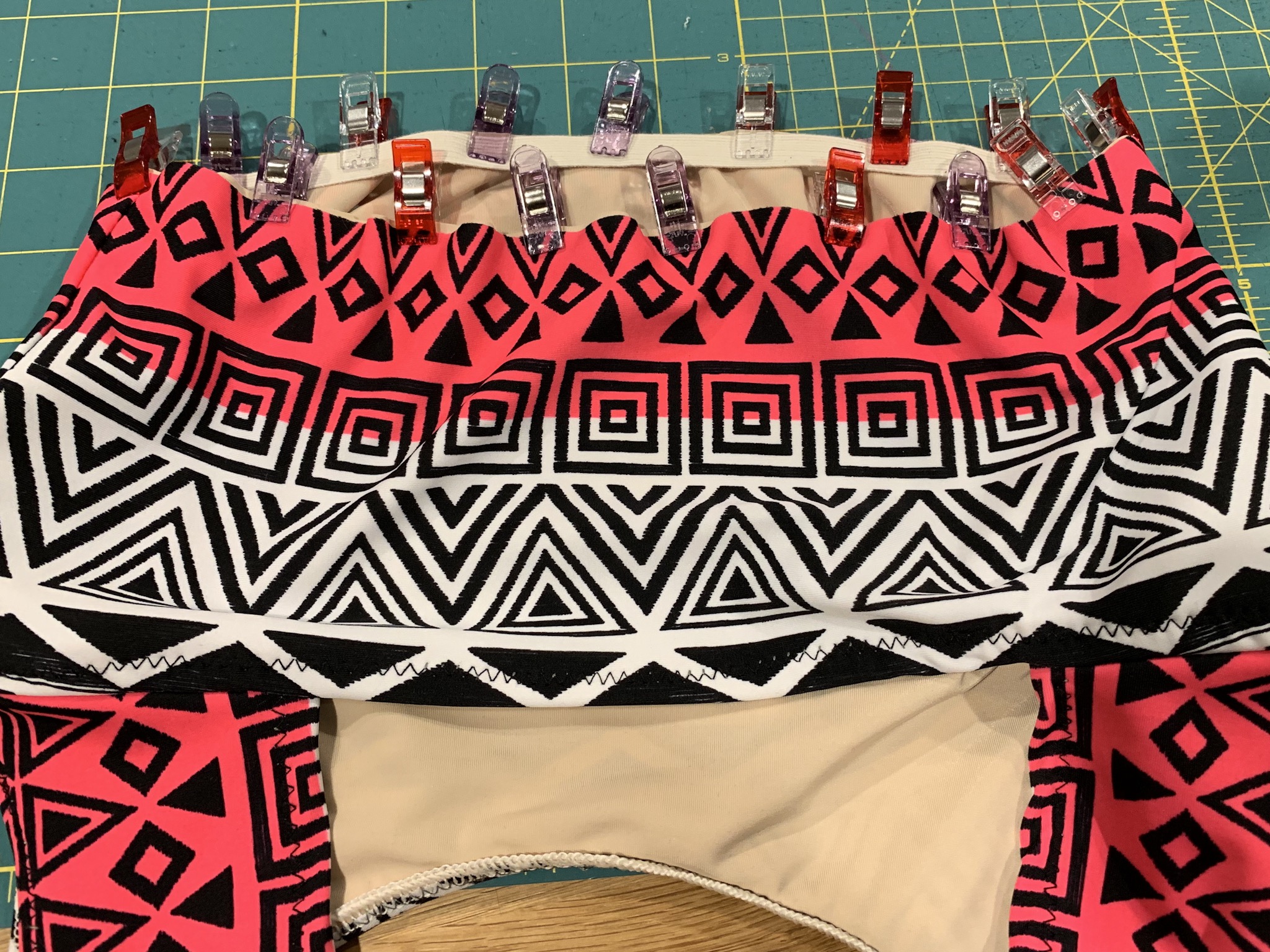 The very last thing to do is attach the S hook to the back.  You will feed the corner of your back bodice through the S hook, making sure the hook points down, fold over the little corner, and secure it with a few lines of stitching. On the opposite side of the bodice, you will create a little loop for the hook to slide down onto, but folding over the corner to the backside and securing with a couple rows of stitches.  Make sure the hook feels secure in the loop, or else add some stitches tightening the loop.  Once its all done, its time to head to the beach or pool and test it out!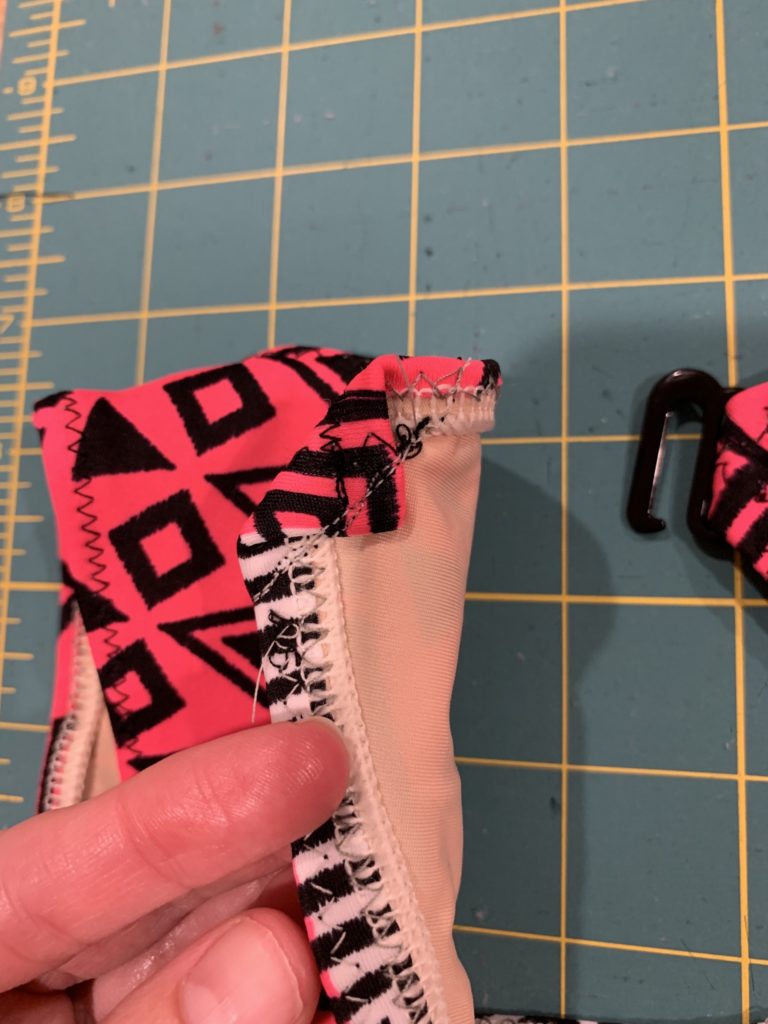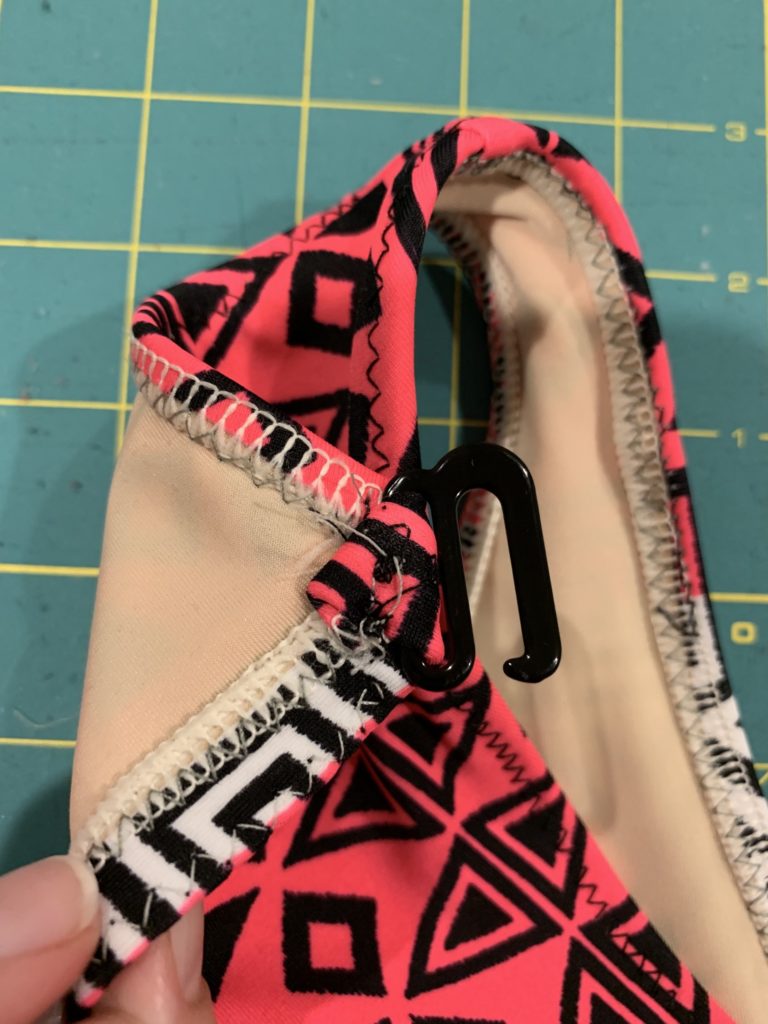 The other pattern I have to share a little hack with you today is the New Orleans Tee, and with one super simple adjustment I was able to turn it into a rashguard. I admit, I've never worn a rashguard before, but with skin cancer being pretty prevalent in my family, I've started taking more precautions. A cute layering piece to protect my shoulders and chest is exactly what I need and the fit of the New Orleans is just what I was going for.  I opted for a crop length rashguard, so I chopped my pattern at the "lengthen/shorten" line. You can leave it full length if you'd like or crop it to your desired length. Just make sure you allow enough length to add elastic and hem the bottom edge of your shirt. Remember, its always easiest to allow a little extra length that you can chop off later if you are unsure how long to make it.
I started with my measured size for the New Orleans, but graded in the waist one size to have that be even more fitted.  You will cut your front, back, mirrored sleeves and neckband per the pattern, assemble per the instructions, hem the sleeves, and then stop before hemming the bottom.  You will want to add swimwear elastic along the bottom edge to give a secure hem.  I went with ¼" elastic here as It isn't offering support for the bust, its just to keep it in place when swimming or splashing in the waves!  You will want your elastic just shorter than your bottom edge of the rashguard, and stretch slightly as you attach it to the lining side.  Fold over the hem to the wrong side, and stitch in place.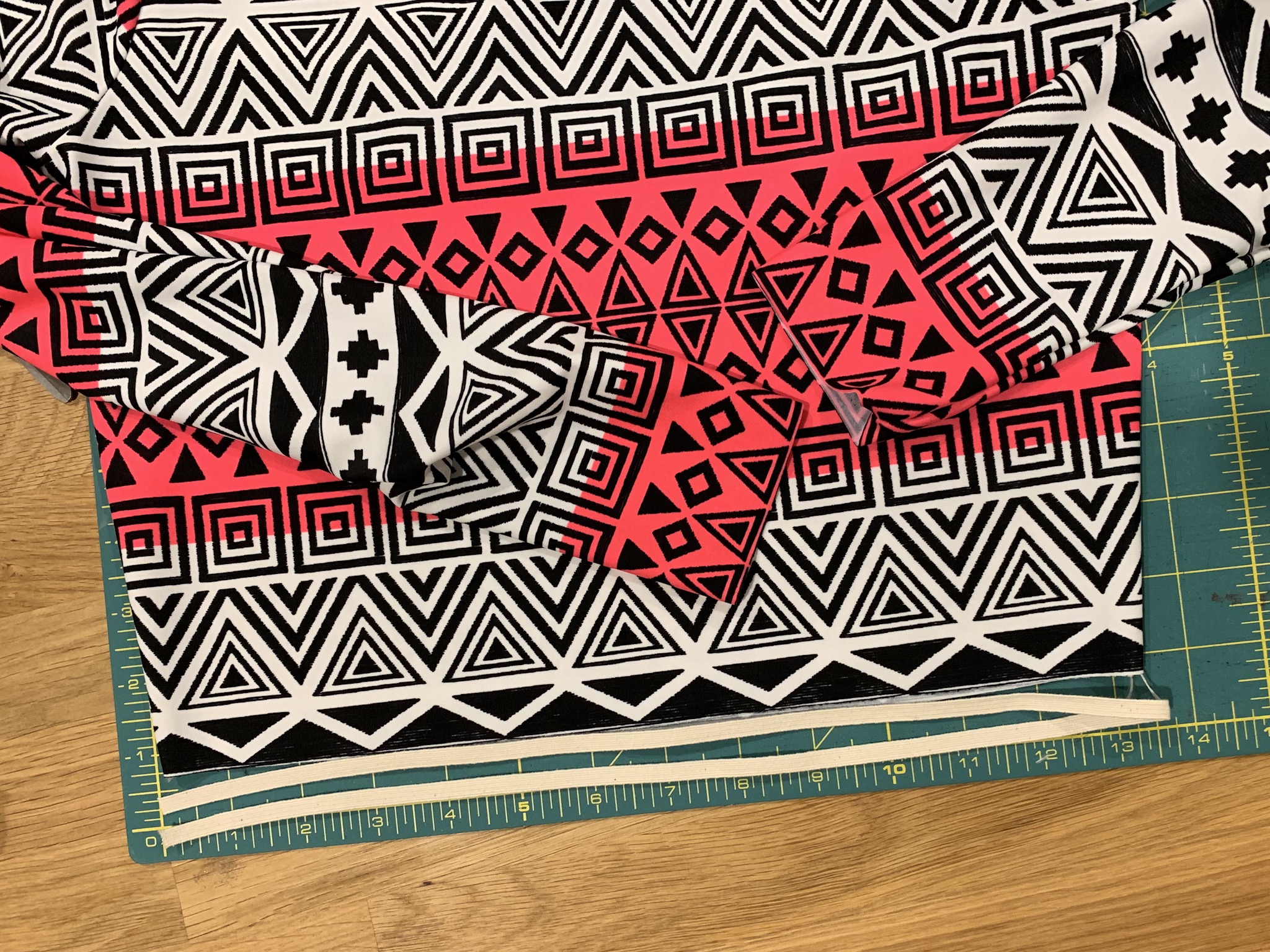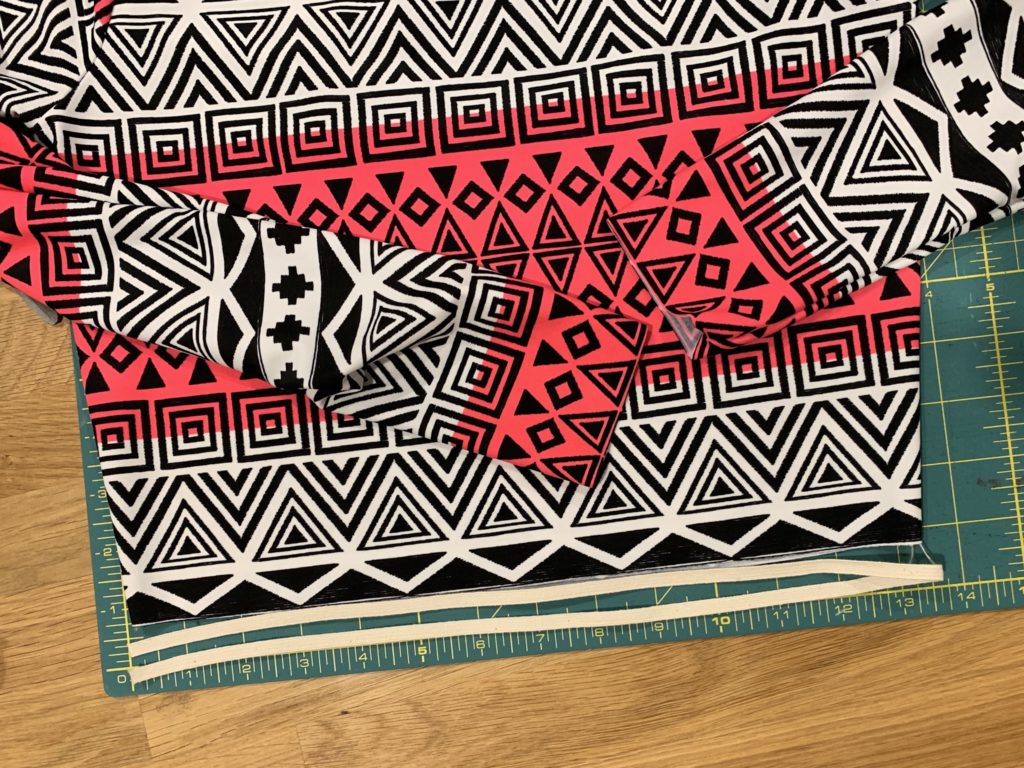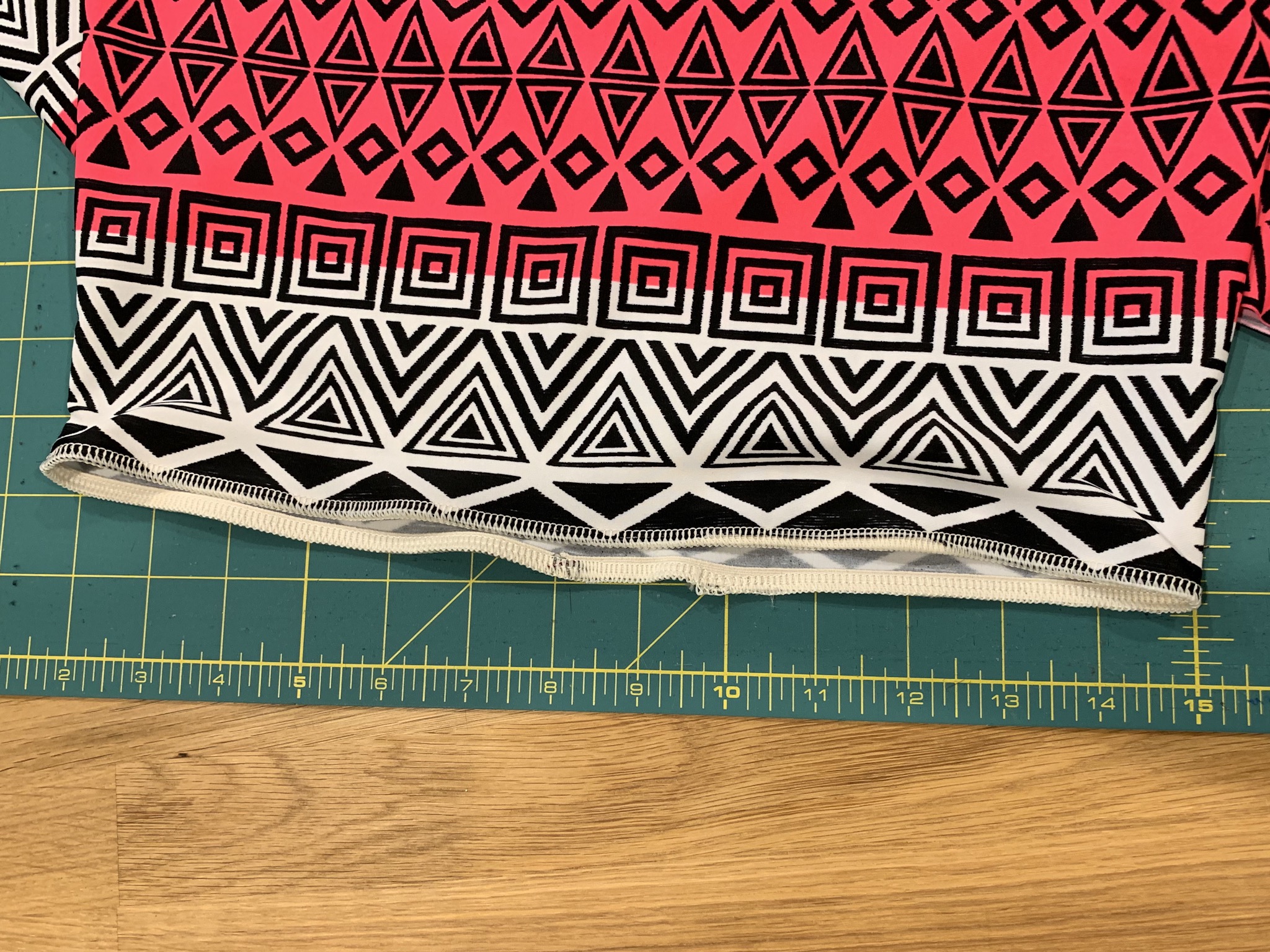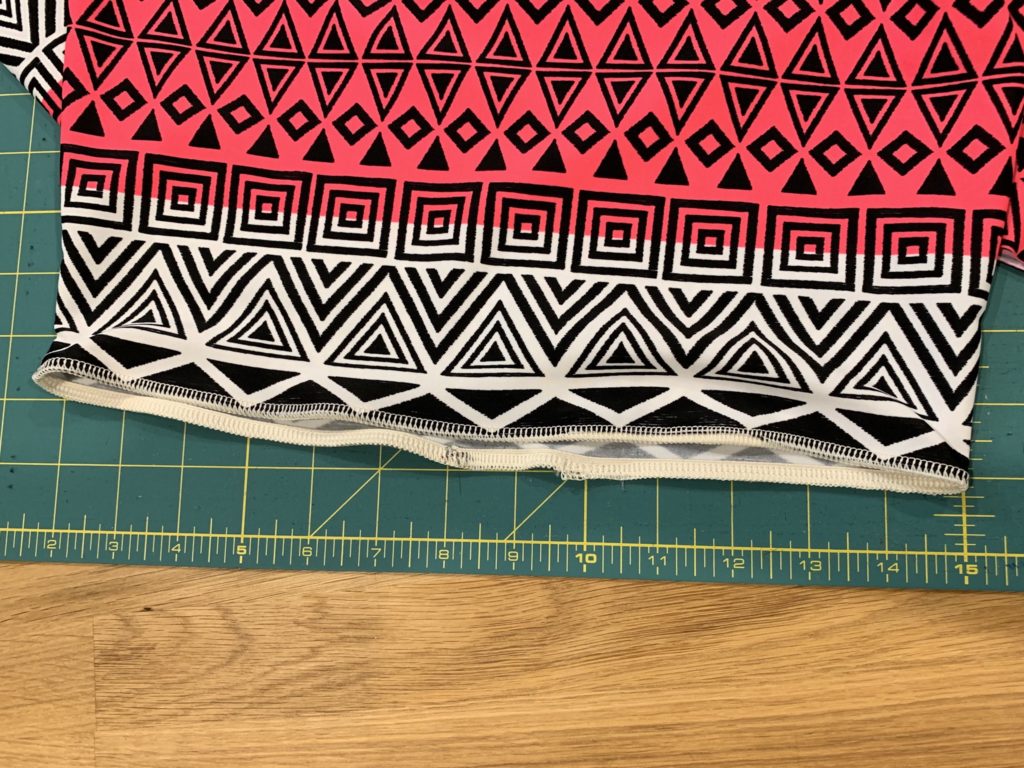 Now you've got a completed rashguard to layer over your Marbella bikini!
If you tackle this hack, be sure to share in the facebook group so we can all see your awesome work!  Happy Sewing, my friends!
Jody