Who wants to spice up their Christmas sewing a little? Here is a fun, quick and easy mod you can make to the Elevation Hoodie to get into the holiday spirit! Tammie will show you how she achieved this cute Reindeer hoodie and also how to remove color blocking from the Elevation hoodie.
I made the following changes/mods:
I added a neckband instead of a hood
I added appliqué to make the reindeer face
I merged some of the color blocked pieces – the sleeves I merged pieces – and B and I merged all the back pieces for a solid back (I can do a quick post on that if you'd like!)
What you'll need:
All of the normal pieces to complete the Elevation Hoodie (I used a Neckband cut at 85% of the neck opening in lieu of the hood pieces)
Pieces for appliqué – either fabric pieces or HTV

2 antlers
2 eyes
2 ears
A nose
Steps:
I like to try to gather my pieces first, but in this case, I found it's better to make the shirt front first so you can visualize how big to make the face pieces.
So, sew the front pieces A, B and C together according to the pattern instructions. Use a darker brown for piece A and a lighter tan or brown for piece B. I also used the darker brown for C. Then we need to make the appliqué pieces!
For the antlers, I used a free printable template from here: https://goo.gl/images/9qNnfV
Use the template to cut 4 antlers (2 mirror image sets).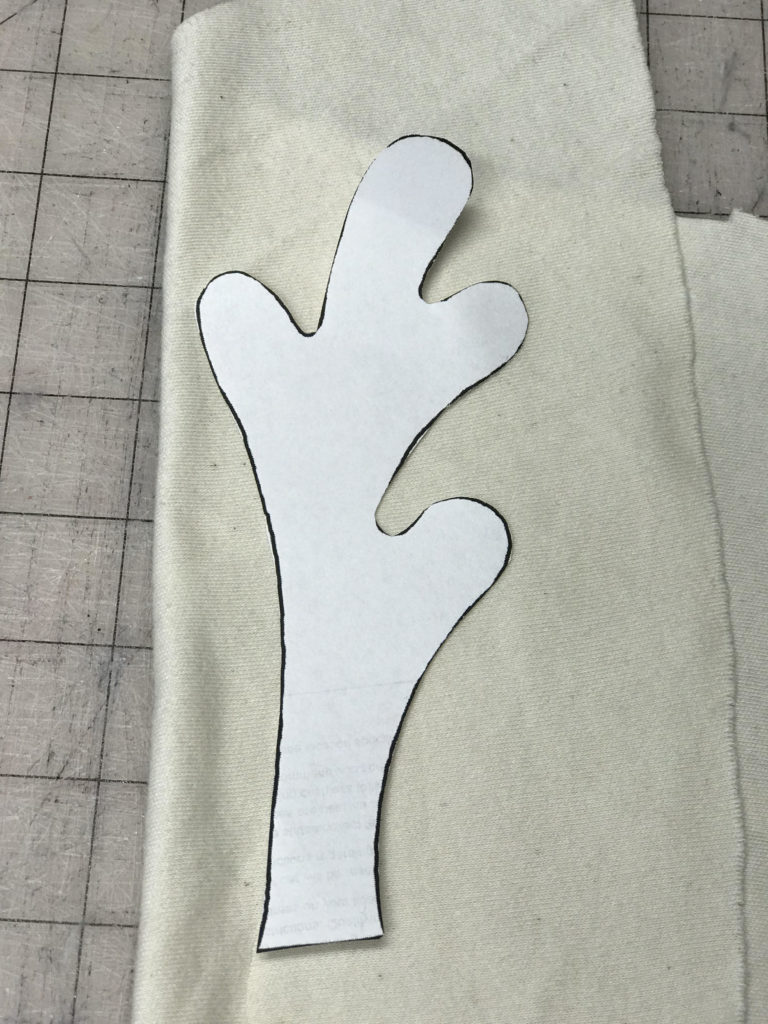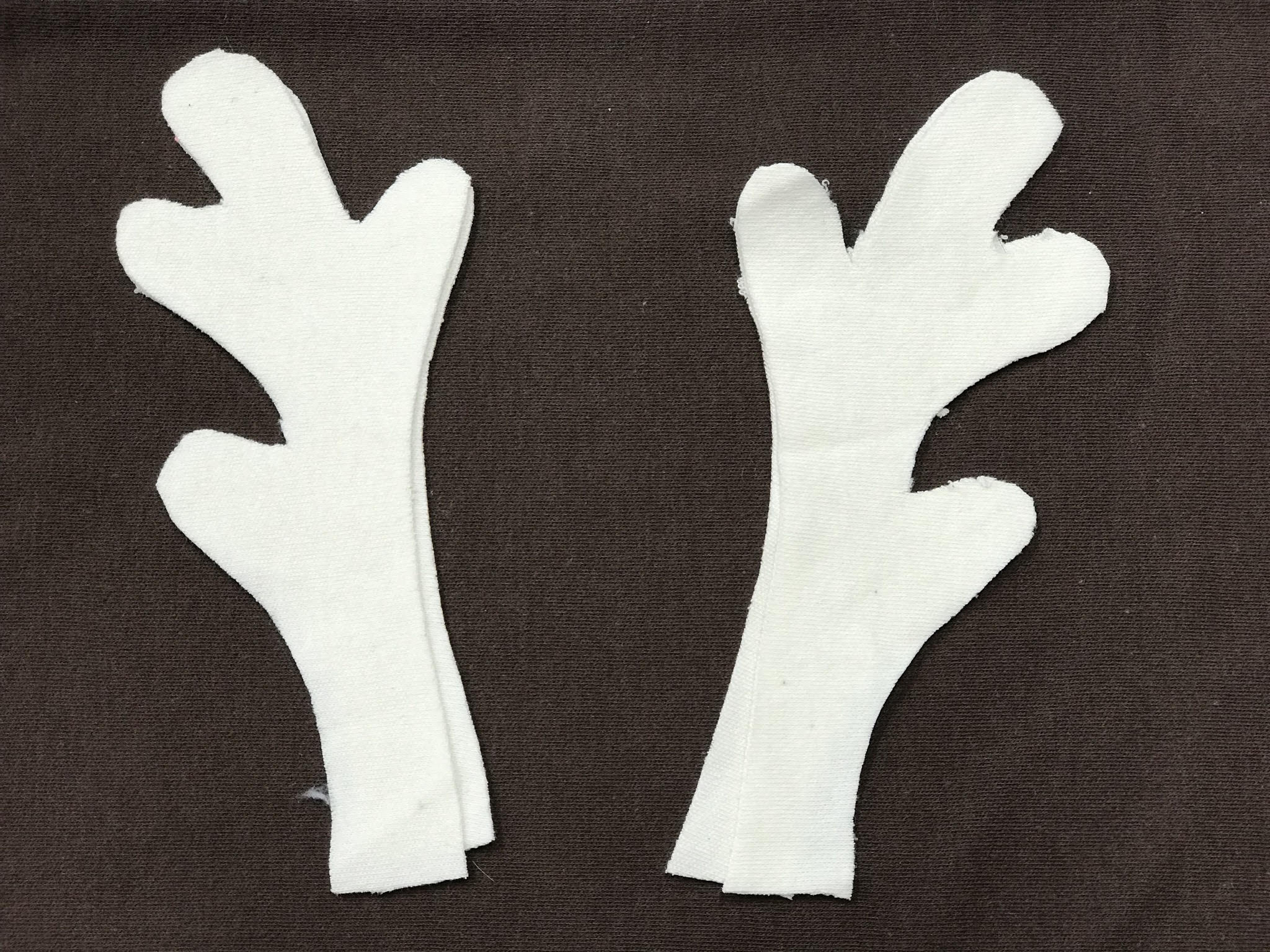 Sew each pair together. (If you want to make them stand up, you can use a thick interfacing here before you sew, alternatively, you can cut a piece of foam to stuff in at a later step.)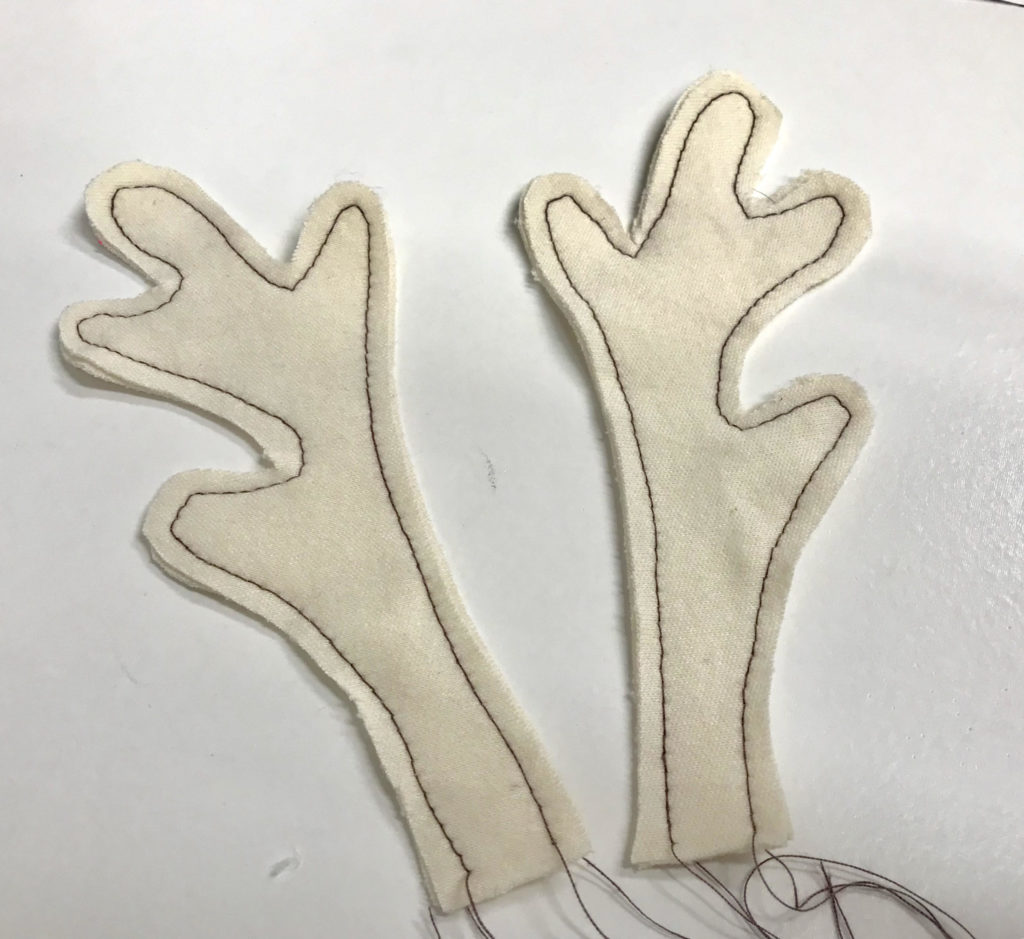 Then flip them inside out…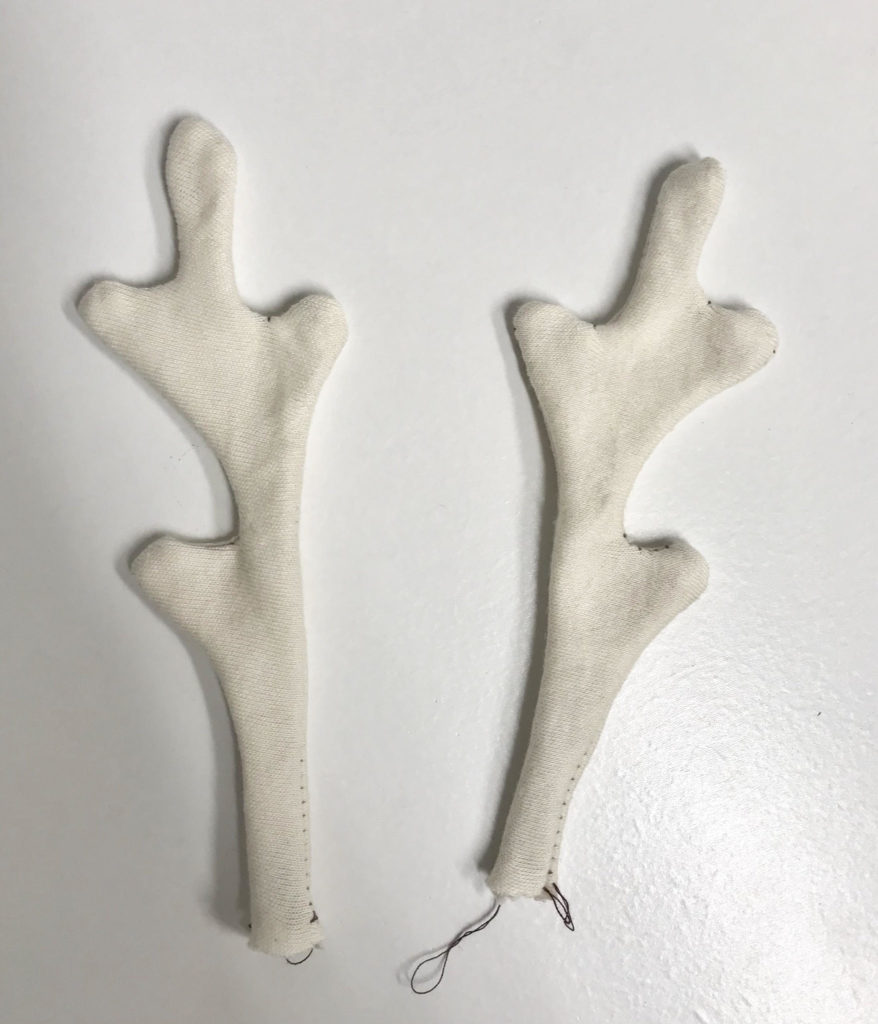 Give them a good press and then you're good to go!
For the ears, I cut about 2.25" x 2.25" half-moon shaped pieces and then added a little lighter colored middle to add some depth.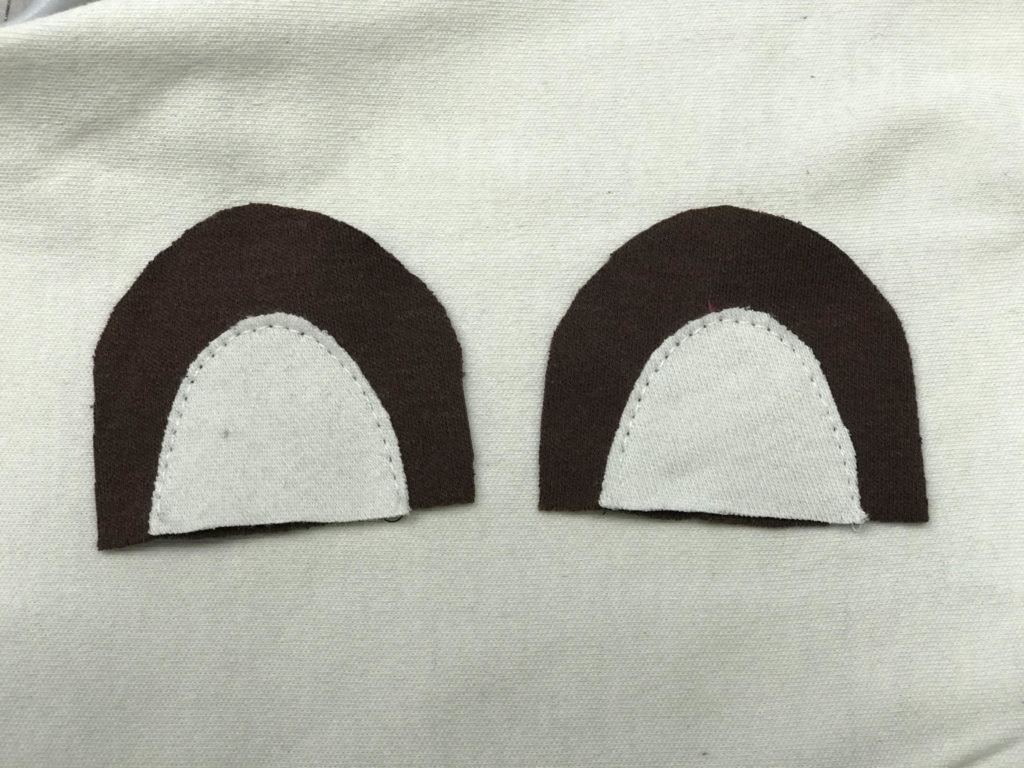 Here they are side by side for a size reference: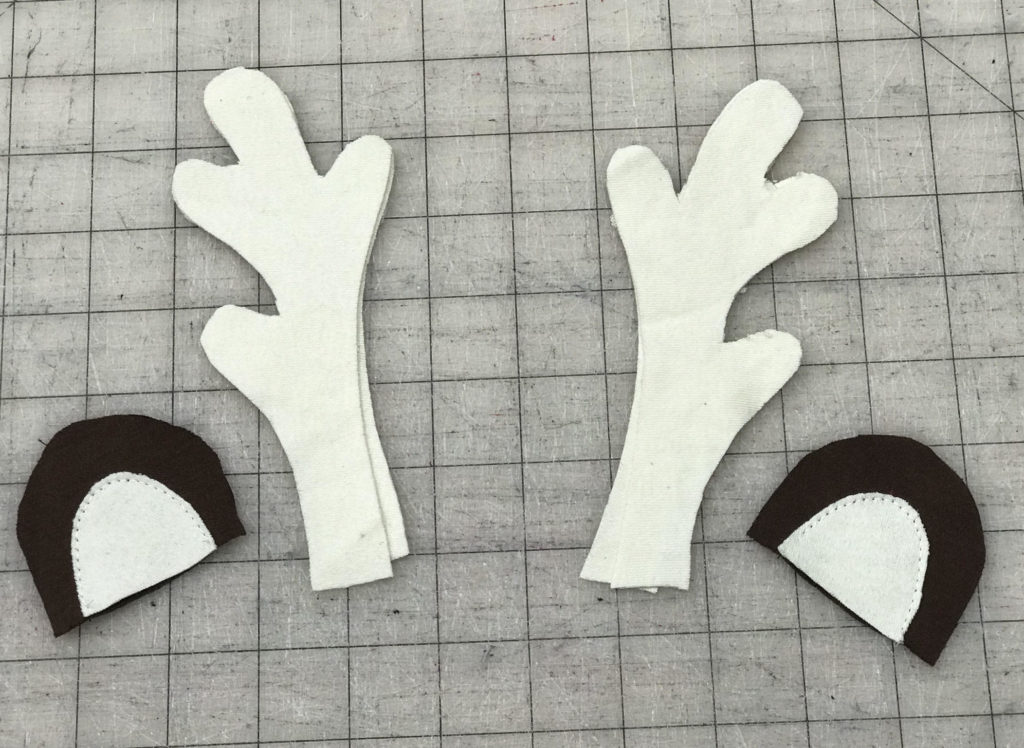 For the 2 eyes and nose I used my pattern weight (a washer from Lowe's ) as my size guide. I cut them all about the same size except for the nose I made it a little more oblong.
Here they are all together!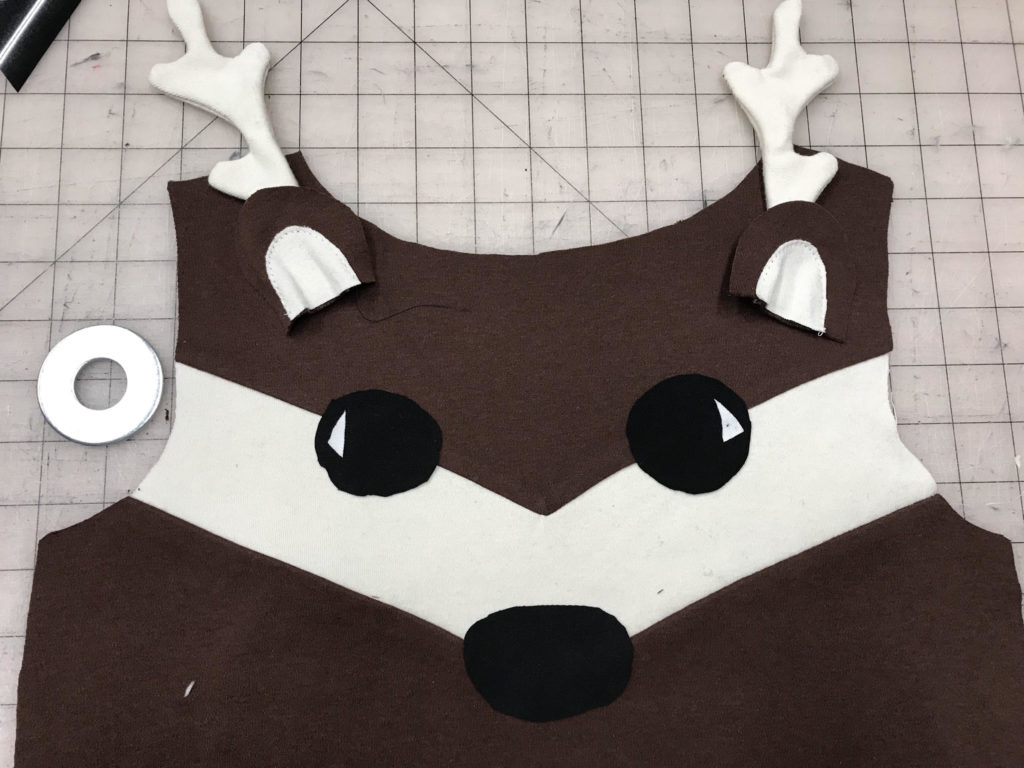 Pin all of the pieces in place except for the ears, those will go on last.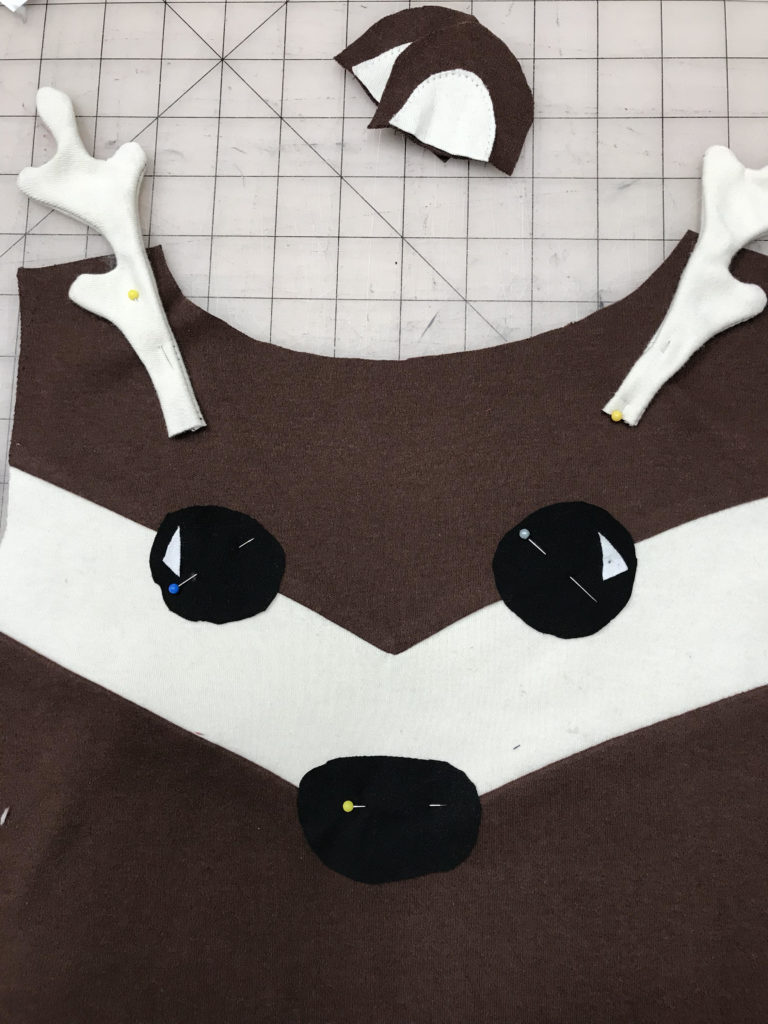 Sew all of the pieces in place. I use a straight stitch and stitch about 1/8" away from the edge all the way around the eyes and nose. For the antlers I only attached the sides as pictured below (make sure you leave room for the seam allowance to attach the shirt back and leave the bottom open if you plan to use a foam piece to hold it up):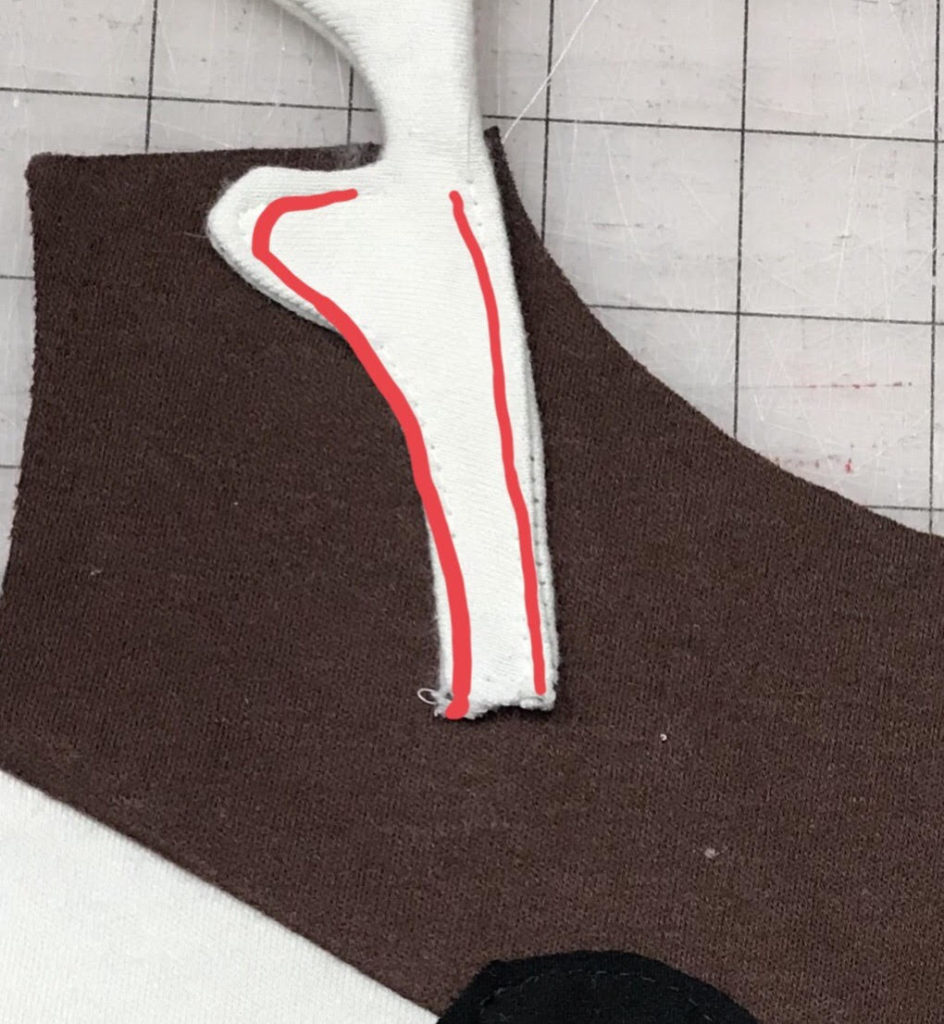 Cut a foam piece the length of the antler about 1/4" wide (make sure it is only as wide as your opening so it fits in!). Slide it in the antler, then add your ears! If you want to add a little depth to your eyes and nose, stitch on little white pieces as highlights.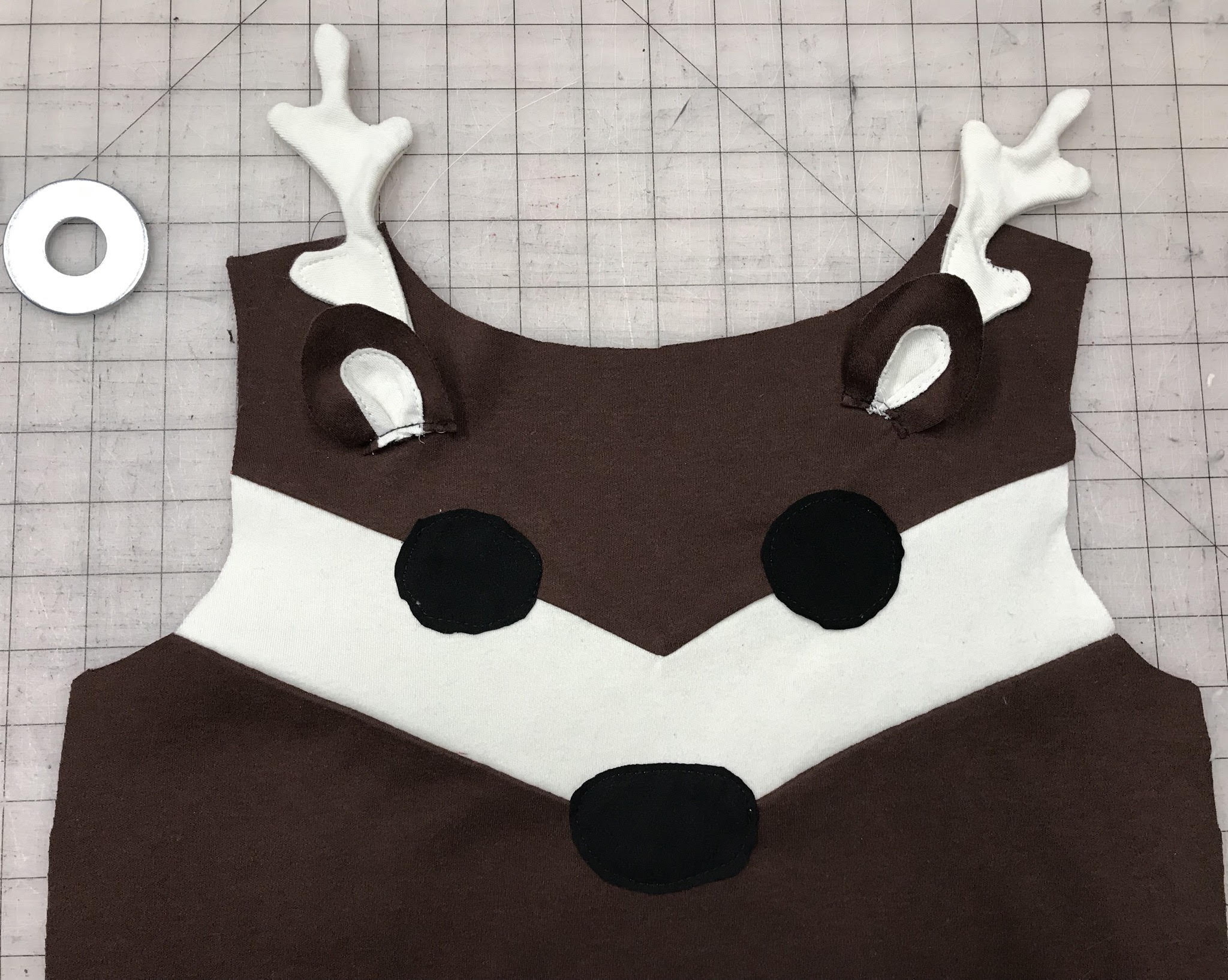 Now your front piece is complete! Finish the pattern per the instructions. Or if you want one like mine, leave off the hood and use a neckband that measures 85% of the neck opening! We also have instructions to removed the color blocking on the back below!
Voila! A reindeer!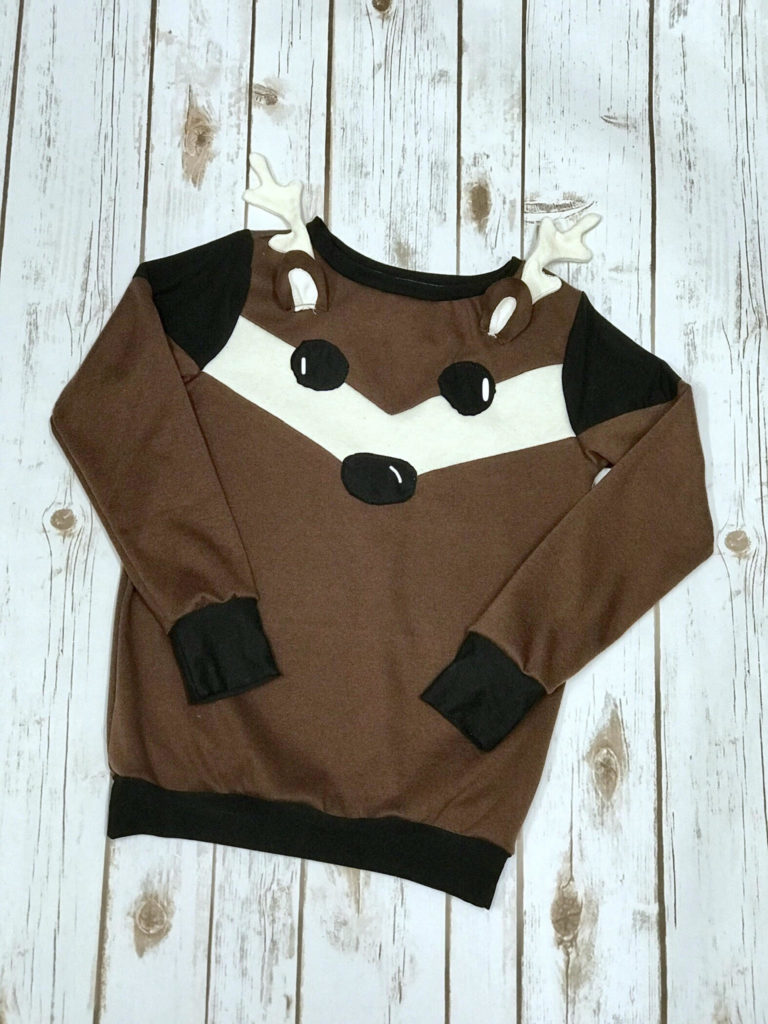 How to merge color blocked pieces: For this shirt I want to make a solid back on my elevation hoodie so I need to merge pieces A, B and C. To do this, you want to line them up, overlapping them by the amount of the seam allowance (3/8").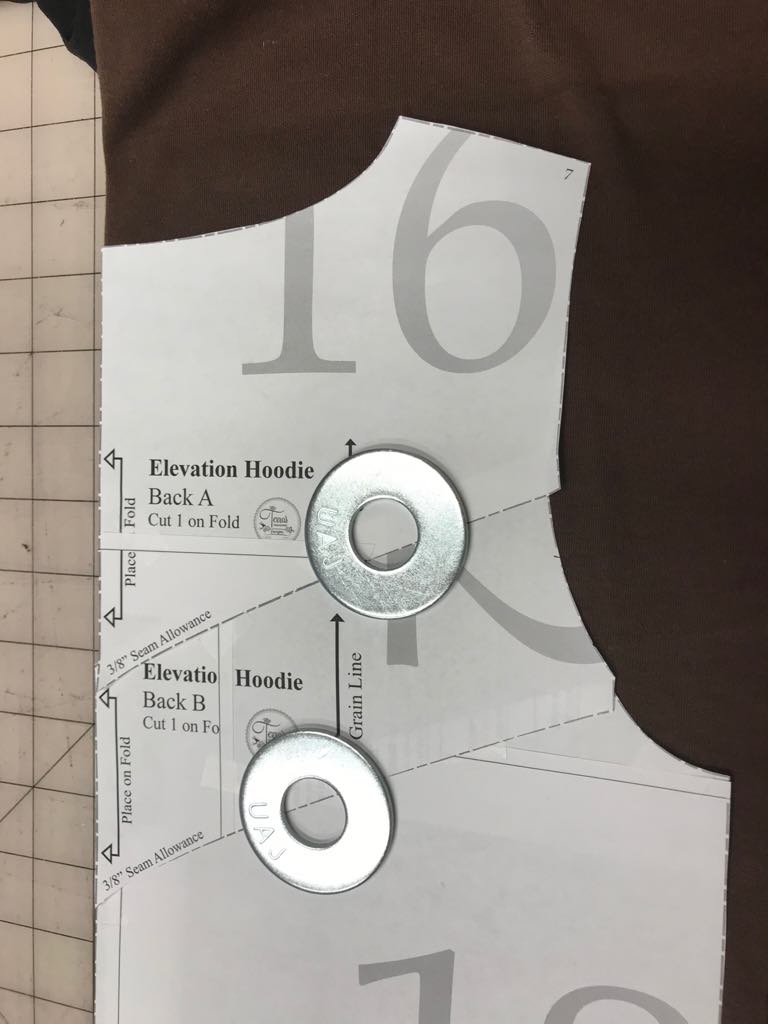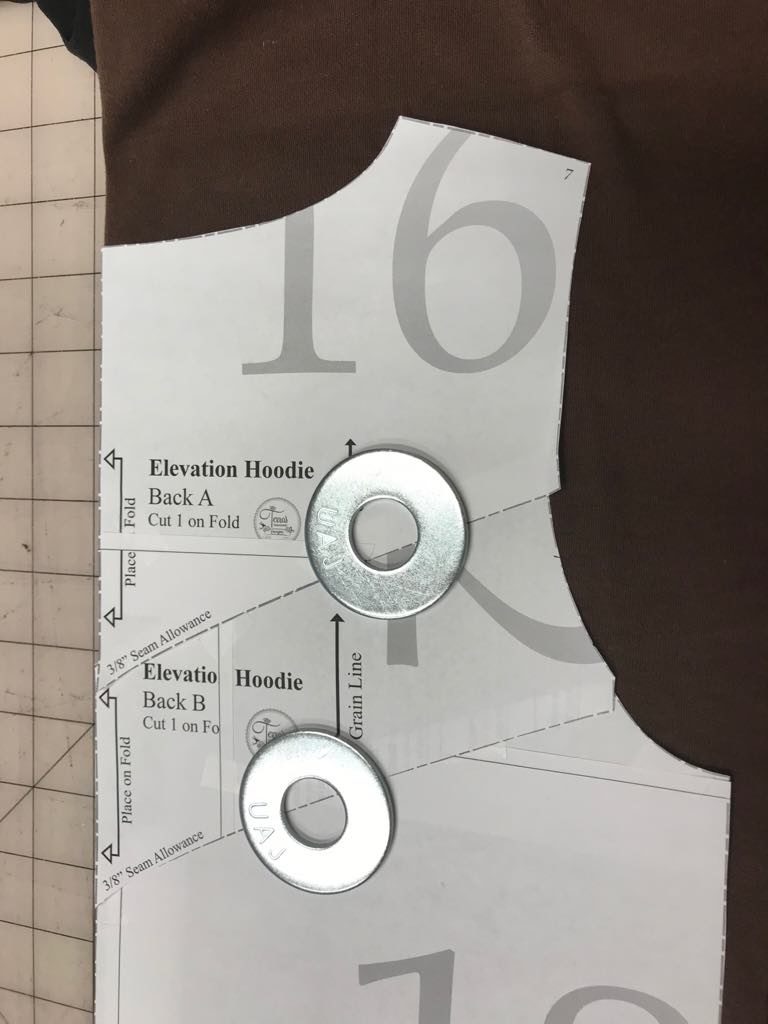 You will notice that the edges won't quite be smooth around the armscye. So, before you cut, I bend up the corners so that I can cut a smooth curve.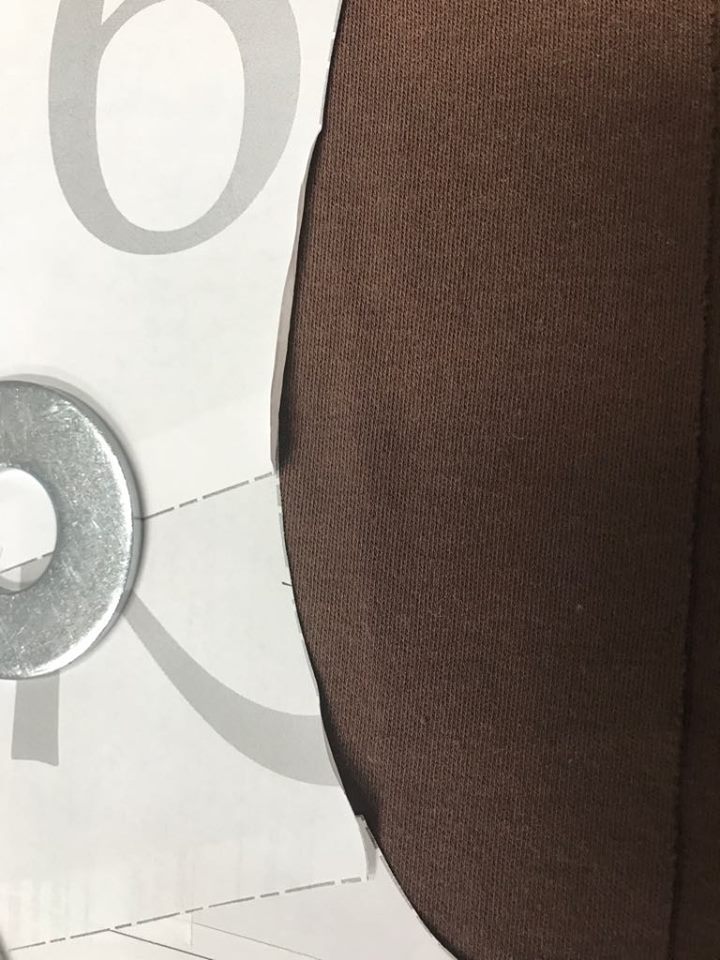 Then cut away as if it's a solid pattern piece and you are all set!