Hey there!  I'm Jillayne from Hazelnut Handmade and I'm excited to share the next post in the Beginner Sewing Series.  Today we're talking about Reading Patterns-specifically, what all the lines and marks on that sheet of paper mean!
First off, there are two main types of patterns in the modern sewing world.  'Paper patterns' are printed on tissue paper and purchased from a brick and mortar retail store such as Joann.  These patterns are almost exclusively produced by the 'Big 4' companies.  Simplicity, McCall's, Butterick, and Vogue. PDF patterns (such as those from New Horizon Designs) are purchased online and you download, print, and assemble the pages of the pattern yourself.  Patterns from independent designers, or Indie designers, are usually accessible as PDF patterns.
Once you understand what should be on a pattern, you can look for and identify the information you need to create a successful garment whether the pattern is 'paper' or 'PDF'.
Sizes
Almost all patterns come with multiple sizes.  Paper patterns usually have 3-4 sizes in an envelope and you have to make sure you buy the one that includes the size you need.  PDF patterns generally have a larger range of sizes.  You can usually tell one size from another by either a unique pattern of dashes and dots, unique colors, or a combination of both.  Additionally, your pattern may include a 'Key' as well as labeling each size line.  Similar to the key on a map, your pattern key will tell you which combination of dashes and dots or colors outlines which size.
PDF Patterns often offer a 'Layers' option where you can choose to print only the size or sizes you need.  This eliminates confusion over which line to follow-especially when the lines for each size overlap.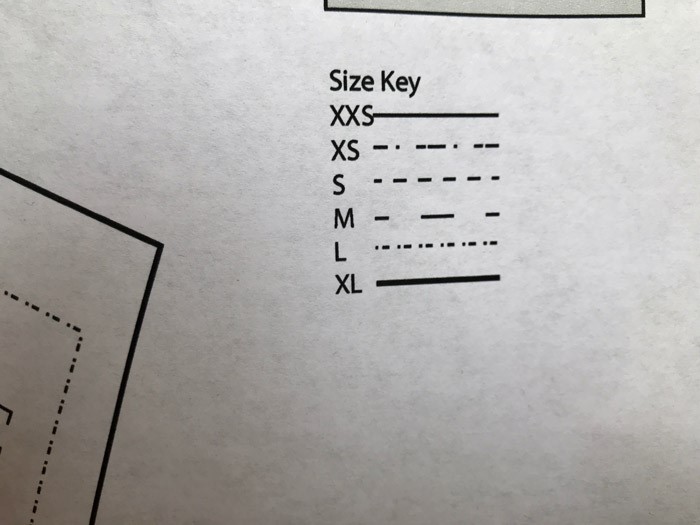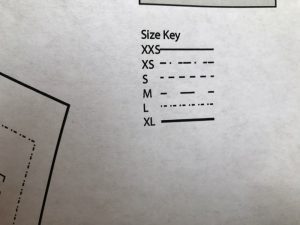 Pattern Piece Labels
Every Pattern Piece should clearly state the pattern's name, the pattern piece name, how many copies of the piece to cut out, and how you should orient the pattern piece when you are cutting them out.  For example, this pattern piece says cut on fold.  That means you need to align one of the edges (marked with a fold line) along the edge of your folded fabric.
Sometimes pattern pieces will also state the seam allowance and hem allowance you need to sew.  This information is also usually towards the beginning of the written instructions.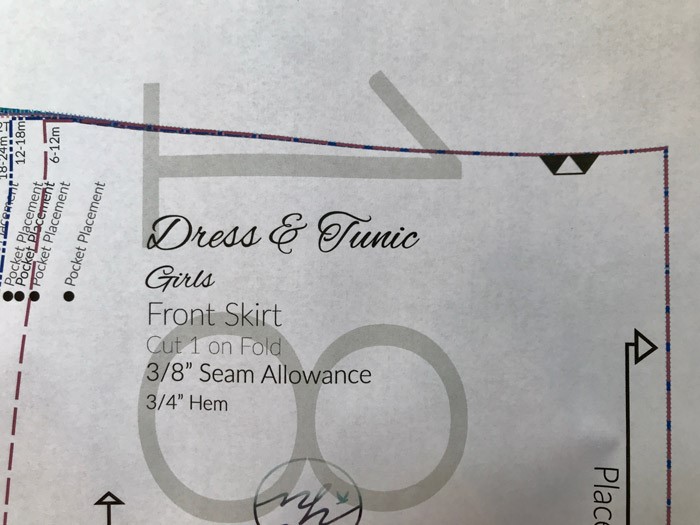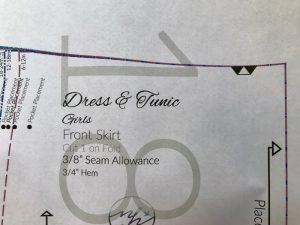 Grain Lines and Fold Lines 
The straight line in the middle of a pattern piece with an arrow on each end is called a grain line.  You use this to line your pattern piece up with the weave of your fabric.  Generally you can line the grain line up parallel to the selvage edge (factory produced edge) of your fabric and call it good.  However, sometimes fabric warps a little during washing so it's good to look at for the actual threads weaving the fabric and line the grain line up parallel to the ones running the length of the fabric.
Fold lines look a lot like grain lines.  They are placed right next to a straight edge of the pattern and the ends of the line are bent in 90 degree angles so the arrows point to the pattern edge.  They tell you that the pattern edge they point to need to be lined up along the folded edge of your fabric.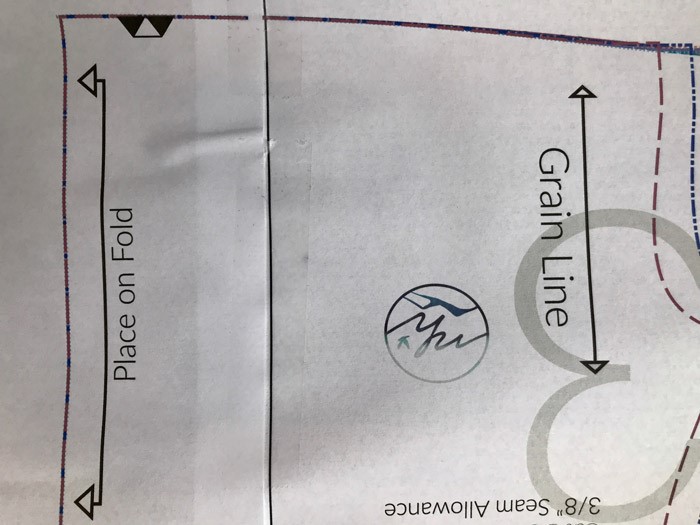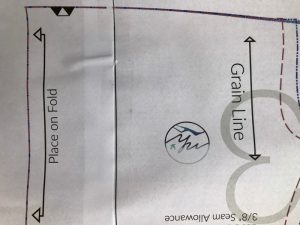 Lengthen/Shorten Lines
Lengthen/Shorten lines extend across a pattern from side to side and are usually perpendicular to the grain line.  This is where the designer suggests you alter the pattern for height if needed.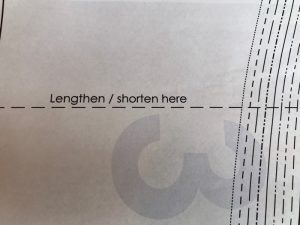 Notches
Notches are some of my favorite markings on a pattern.  Often they look like little triangles on the edge of the pattern.  (These can be seen in the grain line and fold line pictures above) Occasionally notches are designated with small lines perpendicular to the pattern edge.  (Pictured above) They can be one, two, or even three lines or triangles right next to each other.
Mark them on your pattern pieces as you cut the pattern pieces out.  My mom taught me to cut away from the pattern piece at the notches to make little bump outs that look like mountains or plateaus, but I often just make a small clip in the seam allowance for each triangle or line in the notch.
Notches help you line up your pattern pieces correctly when you are sewing them together.  So the notches that only have one line should match up when you put the two pattern pieces together.
Two of the most common places you'll see notches are on sleeves and armcyes (arm holes) to help you match the front of the sleeve with the front bodice and on bodice and skirts of a dress to match front bodice to front skirt and back bodice to back skirt.  Notches are also sometimes used to mark center front, center back, or the start and end of gathering.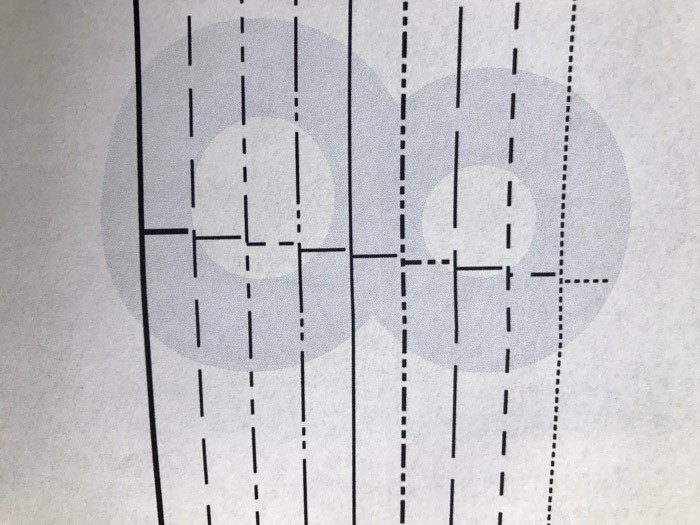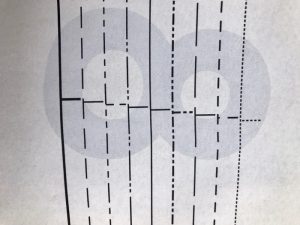 Other Markings
Depending on how complex and detailed your pattern is, you may see additional markings on the pattern pieces.  The markings usually designate where to fold or stitch to create pleats, pin tucks, and darts, or where to place details such as pockets, grommets, button holes, or buttons.  Drawing these markings on your pattern pieces with washable marking pencils will help you sew more accurately and evenly with a better end result.
Pleats
Pleat markings are usually perpendicular to the pattern edge and extend for 2-3 inches.  You generally match up the lines, creating folds in the fabric.  Then you sew next to the fabric edge, making the fabric stay folded in a pleat.  The pattern instructions will tell you which lines to match together.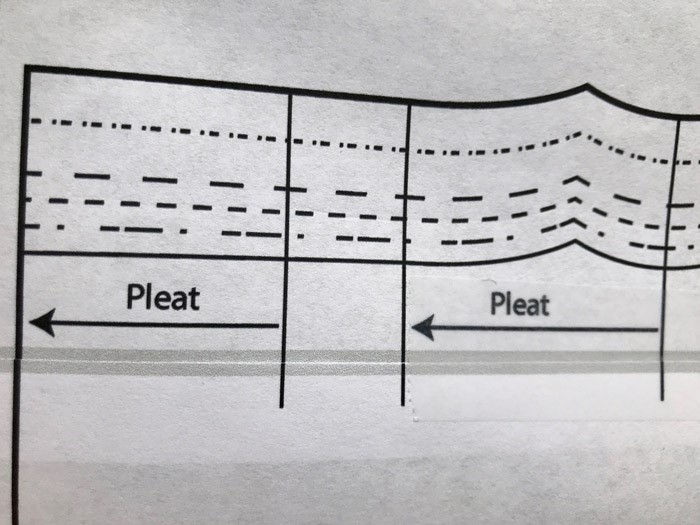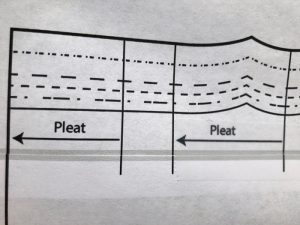 Darts
Dart markings usually look like long triangles extending from the pattern edge into the pattern piece and often have a small circle at the point.  Fold the fabric so the sides of the triangle match up and then sew along the marking.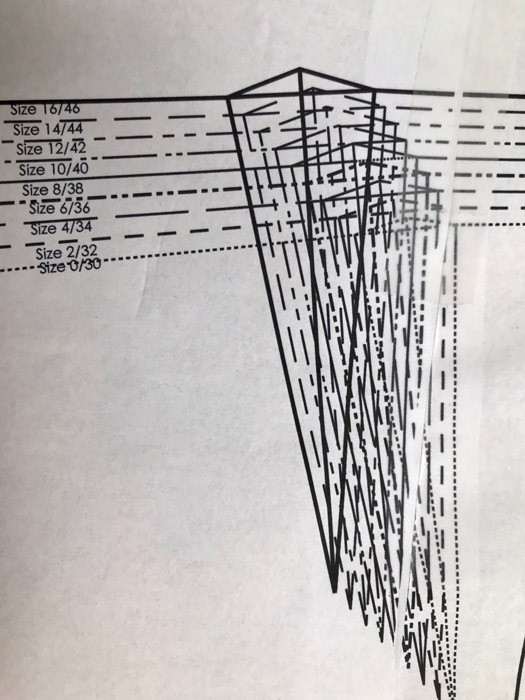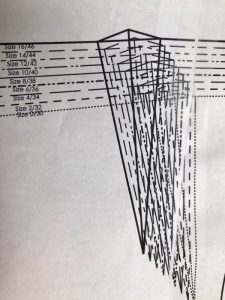 And that covers just about all the markings you'll see on your patterns!  Now you can look at your pattern with confidence and understand all the information it's trying to throw at you!
Jillayne