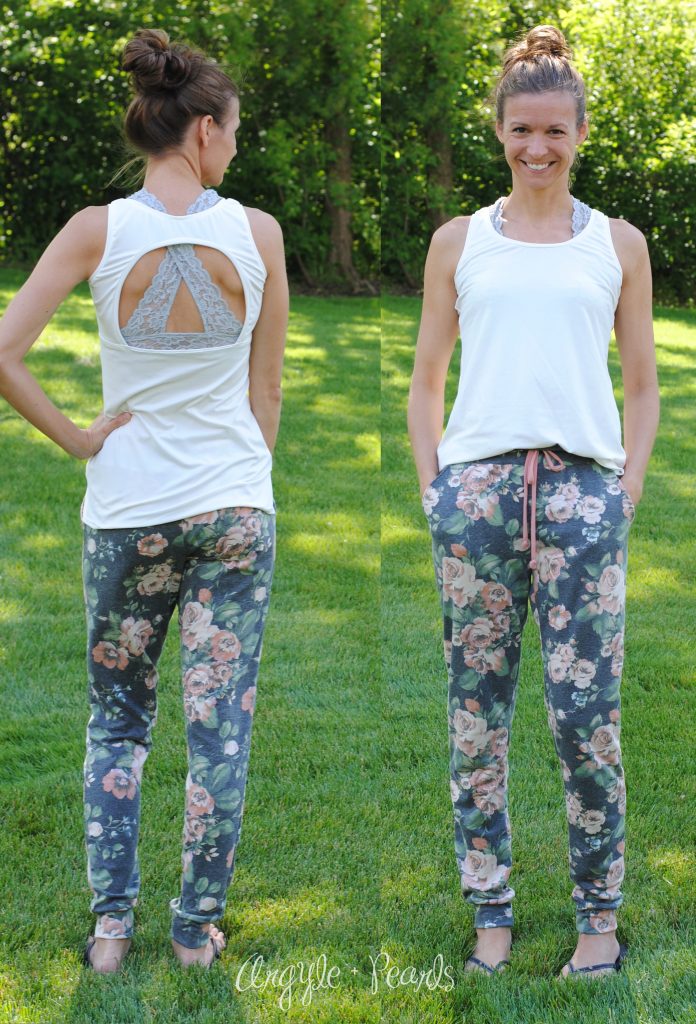 Jody from ArgyleandPearls is joining us again today for this amazing hack!
(The waistband and cuff pieces are now available in the files section of the Facebook group, so there's no need to do the math and create your own pieces!)
Jody: As soon as I made my first pants length Bayside Romper, I knew I had to try to hack it to make the pants into joggers.  It's a pretty simple hack, just requiring a small adjustment to the pattern pieces and adding a drawstring waistband and cuffs!  I will walk you through how to copy this hack yourself!
First, if you haven't already done so with the pattern pieces, you will want to adjust the length of the pants for your height.  I am 5'7" so I added some length to the pants at the "lengthen/shorten" line near the thigh.  I added 1.25" when I had made the romper, and loved the fit, so that is what I also went with when making my joggers. You'll want to measure the inseam and make the necessary adjustments for YOUR height, if necessary.
The next step will be to SHORTEN the rise of the pants.  I did this because the waist of the romper sits higher than where I would want a pair of pants to sit. I took out 1.5" at the "lengthen/shorten" line.  Since I didn't want to chop my pattern up as I do plan to make more rompers, I just folded it at the length/shorten line and put a little piece of tape to keep it in place while I cut my fabric.  To do this, draw a line ¾" above and ¾" below the lengthen/shorten line, then fold to make your lines meet, and tape in place. (or chop it and tape if you do not wish to re-use them for a romper!) Do this on both the front and back pattern pieces.
After you have adjusted the rise on your pattern pieces, you will cut and sew the pants pieces according to the pattern, stopping before you would normally attach the pants to the bodice. Instead, we are going to create a waistband. Remember when cutting to leave enough fabric for a waistband, or have a coordinate available for it!
Lay your newly constructed pants flat, and measure across. Mine is 18" across, so my total opening is 36".  Multiply this by 85% to get your waistband length.  My pants opening is roughly 30", so I cut a piece of my fabric 6" X 30" for my waistband.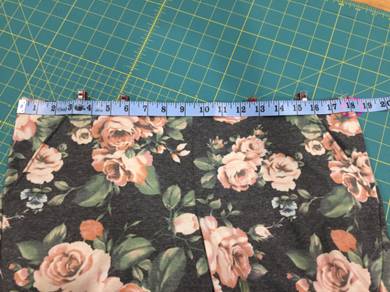 After you have cut your waistband piece, measure where to place your grommets or button-holes.  I placed a mark in the center of my piece, 1 ¾" up from the bottom.  From that spot, I marked my grommet places ¾" out to each side of the center.  Iron on some fusible interfacing to the backside to help reinforce your grommets or button holes, then go ahead and sew the buttonholes or place the grommets on the marks!
Fold your waistband in half right sides together and sew the short ends together creating a circle, then fold in half again placing wrongs sides together to make the waistband.
Next you will want to sew a couple casing lines to keep your drawstring in the middle of the waistband.  I sewed one line of stitching ¾" down from the edge, and another ¾" down from the first line (just make sure they are placed correctly with your grommets or buttonholes).  Just a tip, I like to use my zipper foot when sewing these casings, so that I can get closer to my grommets! I just used a lengthened straight stitch with wooly nylon in the bobbin.
Once you have sewn your drawstring casing, you will want to attach the waistband to the pants.  Place the waistband down over the pants, rights sides together, aligning the raw edges at the top, and also making sure your grommets or button-holes are against the right side of your pants!!! Stitch in place.
Next you will want to create your drawstring (or just use store bought cording or a shoelace if you prefer!)  I cut mine 1.5" by WOF, and folded it in half rights sides together.  I serged the entire thing, and used a safety pin to turn it the right way.  After I threaded it through my pants, I trimmed a bit off one end, tucked the ends in and tied knots to keep them from slipping through the grommets.
Lastly, You will either want to hem the bottoms, or create cuffs as I did.  To make the cuffs, you will measure across the bottom of your pant leg opening (just as you did for measuring for the waistband).  Mine was 5.25" across, so my total opening on the leg is 10.5".  Take 85% of that to come up with your cuff width.  Mine calculates out to roughly 9", so I cut my two cuffs each at 6" x 9".  Fold your cuffs in half width wise, and stitch in place.  Then fold the cuffs in half length wise wrong sides together, and slide them up onto the pant legs, aligning raw edges.  Stitch your cuff on, and you are all finished!