Carita Jogger Hacks 
By Katelynn from Sewing from Scratch
Hey! Today we're chatting all things Caritas. This is a great basic jogger pattern with a twist – a fun yoga waistband! The Carita Joggers come in adult & kid sizing, and is marketed as a female pattern, but we know anyone can rock these! You'll see how I adapted the pattern to suit both my daughter AND my son.
I've come up with 10 fun ideas to hack this pattern to take it from classic to unique. Let's check them out.
Adapting the Waistband
There's quite a few different things you could do to the waistband to make it look completely different. I chose to reduce the height of it, omitted the drawstrings, and added elastic for both of these pairs I made for my kiddos.
Side Cargo Pocket
Kids LOOOOOOOOVE collecting things, right? Let's embrace it and give them an extra place to put their goods with an adorable little side cargo pocket. This also adds a nice masculine/outdoorsy touch to the pants that we can all appreciate. Not into the traditional cargo pocket? There's loads of patch options to choose from.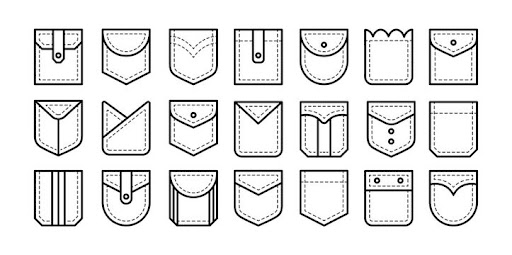 *image from Google
Chop them Off
The pattern comes with full length, and capri options, but why can't we go even shorter? I've seen quite a few Carita Shorts in our Facebook group. It's a super simple hack and a great way to get even more use out of a design. Simply cut it at your desired length, remembering to leave hem allowance. I'd also angle the hem allowance outwards to accomodate for a slight taper. Essentially, you want to mirror the bottom of the leg. I have a video about this on my own YouTube channel if you're wanting to get real precise.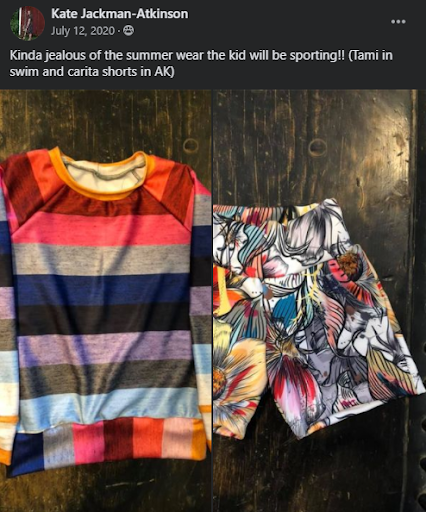 Ankle Elastic
Ok, ok, so it might be a bit… vintage. But I am just SO into ankle elastics on joggers lately. Yes, I am getting flashbacks to those taunts referring to "ankle biters", but now I realize I really don't give a hoot what anyone says. They cute. For this hack, I just omitted the cuff piece and extended the pant leg by 1" (the amount I wanted to fold up). I'm never too precise on length for my kids, since they grow like crazy. I then folded up the bottom, basted the hem leaving a gap, thread elastic through, stitched it together and then did a full coverstitch to close it all up. So. Dang. Fun.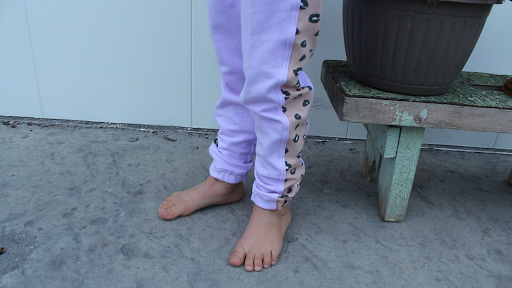 Grow-With-Me Cuffs
Raise your hand if your kids are con.stant.ly. outgrowing their clothes. Ya, mine too. Grow cuffs all you to make one pair of pants last through several growth spurts. Simply make the cuffs extra long and fold them up to accommodate shorter legs and unfold as your child stretches out. Ie. Get more bang for your fabric-buying buck!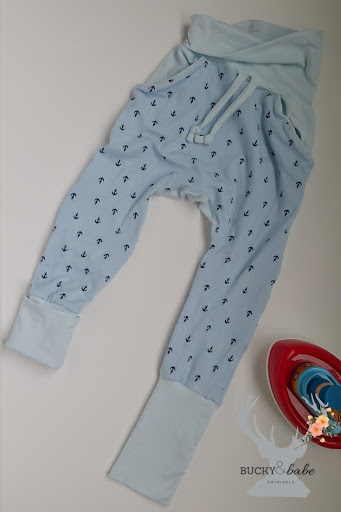 Add a Back Pocket. 
I mean.. Do we even need to get into the reasons? It's just so adorable. And easy! I just cut a little rectangle, ironed in the sides, topstitched it on, and Bob's my uncle. (He really is).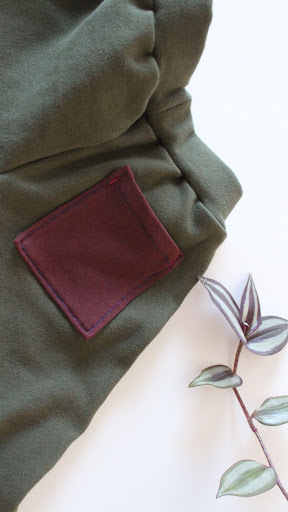 Throw on Some Knee Patches
You know, the kind that remind you of those sophisticated old man cardigans that seem to come and go through the fashion trends. Cut some ovals and topstitch them on. I think I'd use a nice zigzag stitch to reinforce it further. OR. if you have the 11th Hour Gear pattern, you can use the patches from there.
Get Stripey
I'm going to admit, this hack would be MUCH easier on a pair without the side-seam pockets, but I wanted to challenge myself. What I did was:
Cut out the pattern as normal

Determined I wanted my stripe to be 2.5" wide 

Cut 1" off the side seam of all 4 pant leg pieces (this allows for a ¼" SA)

Lined up the front/back side seam cut off pieces and placed them on the accent fabric to trace for the new piece (or just make a straight rectangle piece).

Add seam allowance to the sides and true pattern around pocket. We also need to add SA to the vertical part above the pocket.

Cut out my pieces and did some fancy magic to get that pocket aligned nicely.

Did a lot of topstitching and made it all look half decent.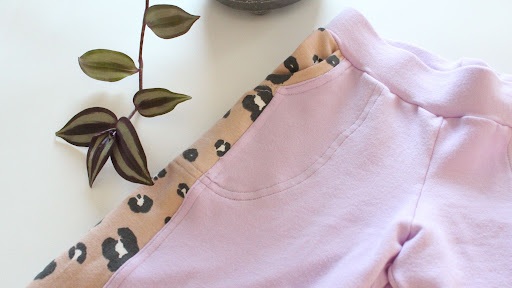 Pouch Pocket
I've seen quite a bit of this look in different patterns across the 'net (do people still say that?). Little kangaroo pockets on pants. It's definitely a statement and, again, kids love pockets! This would be as simple as drafting a pocket piece (ie. making up a shape on paper and adding seam allowance), and adding it into the front of the pants, hiding the edges in the side seams.
Reinforced Knees/Moto Patches
I chose to make these ones with pintucks, but you wouldn't have to. Just cut a piece of fabric to your desired size, lay it on top of the front pants leg and secure it on the top and bottom, then include it in the side seam. This adds an extra layer for those crawlers and play-harders. You could also do colourblocking to the same effect.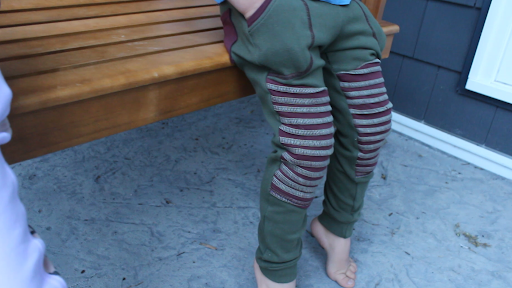 I hope this gave you some inspiration to level-up your next pair of Carita Joggers! Happy making!
What Carita jogger hacks do you want to try?
Make sure you check out our Facebook group and Instagram #patternniche