Hello! I'm Amanda from Deriving Mommyhood here with another installment of the Beginner Sewing Series to share some techniques I use for curved hems.
New Horizons has a lot of patterns where this is useful, like the Deer Creek Tunic, Dublin Dolman, Riviera Raglan, Bayside romper (skirt version), Lisse Hoodie, Pierside Pencil… there's more, I'm sure.
I love a good curved hem. Somehow it looks slimming, adds a little length to wear shirts over leggings or other tight bottoms, and when done well, makes my clothes look less homemade.
I've put together a list of tips below. All of these techniques I find useful, but I wouldn't necessarily use them all. It's important to have some ideas though if your first attempt doesn't go as planned. Choose what works, leave the rest behind!
There are a few tools I like to have to make a great curved hem. (Note: I'll be discussing sewing curved hems on knit/stretchy fabric exclusively here…I'll give some techniques for woven fabrics at the end)
1) Twin needle for my sewing machine. I buy the cheap packs off Amazon as I have not noticed a huge difference in quality to make splurging on them make sense. Plus, they come with a variety of sizes (use larger numbers for thicker fabrics, smaller for thinner). The second number on the pack tells you how widely they are spaced, smaller is closer together and larger is farther apart.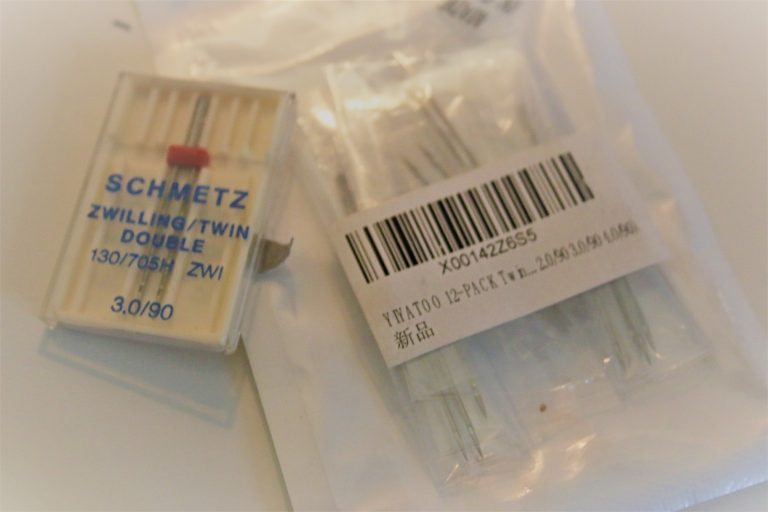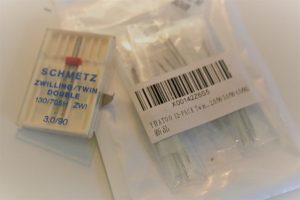 2) Hem tape. This is a fusible strip that serves two purposes, it holds the hem in place while you sew and it interfaces the fabric a little to make it more stable.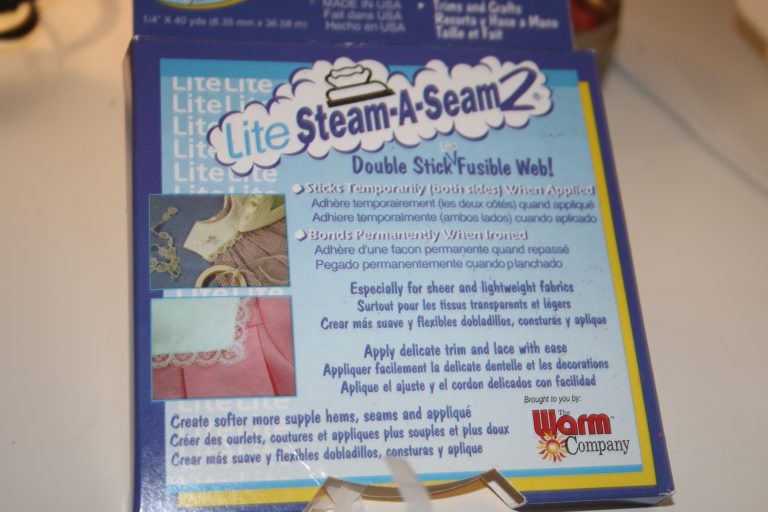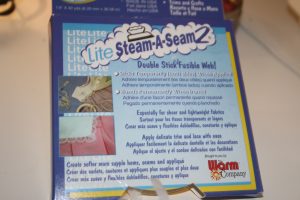 3) Wooly nylon thread. I use this in the bobbin when sewing with the twin needle, just adds a bit more stretch to the stitch. (I just buy it in black and white and use whichever matches best)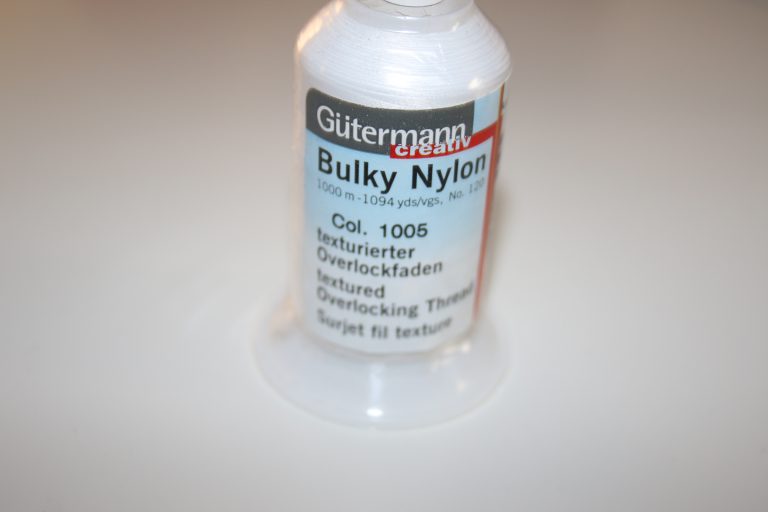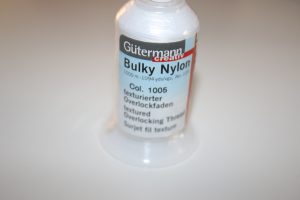 4) A lot of clips or pins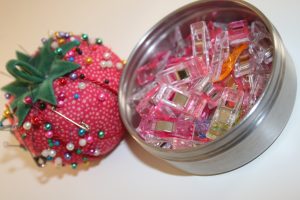 5) An iron
6) Tissue paper for super lightweight fabrics, or serging the raw edge before turning it up to bulk up the seam.
Once again, none of these are an absolute requirement…but all can be helpful.
The part that makes sewing a curved hem tricky is that you are folding an unequal amount of fabric up. It's just how curves work, unfortunately. Because of this, I start pinning or clipping at the center front/back and work my way towards the sides in each direction. You don't want to have pulling or dragging from not pinning evenly. Side note, I'm not the pinning type. I avoid it at all costs, but for bindings, bands and curved hems… I pin.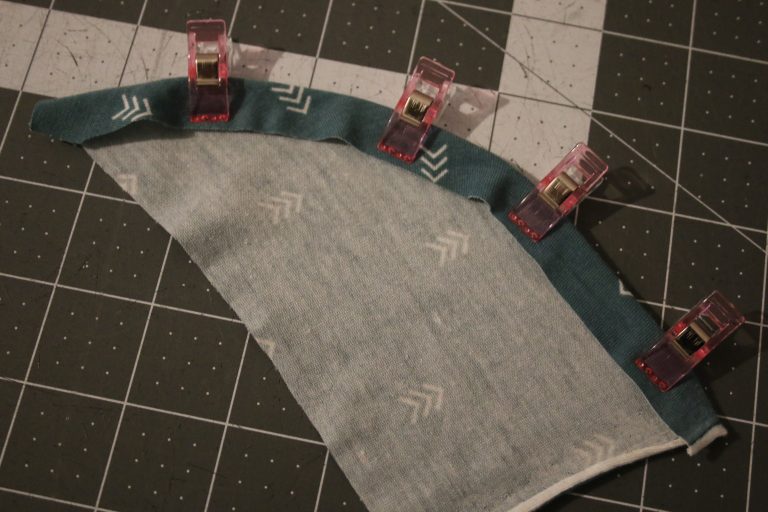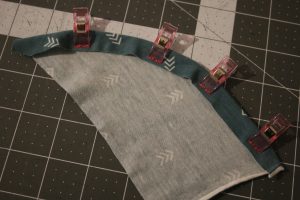 So begin by pressing your curved hem. Make sure your iron is on an appropriate setting to not melt your fabric.  Sometimes it can be hard to keep it even, so I either use a piece of card stock cut to my hem depth to press over that (there's guides you can purchase for just this) or I do a basting stitch where the fold should be. Press well, pinning or clipping as you go.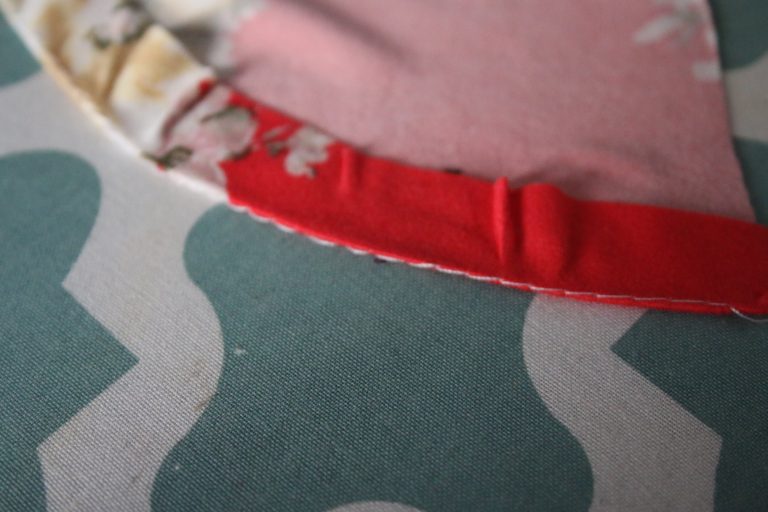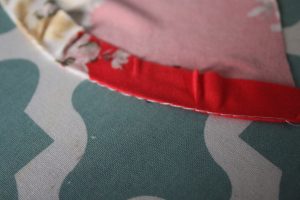 If you are using a lightweight fabric, it's a good idea to break out the hem tape here. You will press it into the fold as you iron.
Now, when I sew with the twin needle on my machine, I use a straight stitch, turn the presser foot pressure down, and lengthen the stitch to a 3. I sometimes need to turn the tension down a little if I get tunneling between the needles. Do a test piece on scraps from your project before trying on your actual garment. Also, don't forget to use a foot that allows for the twin needle!!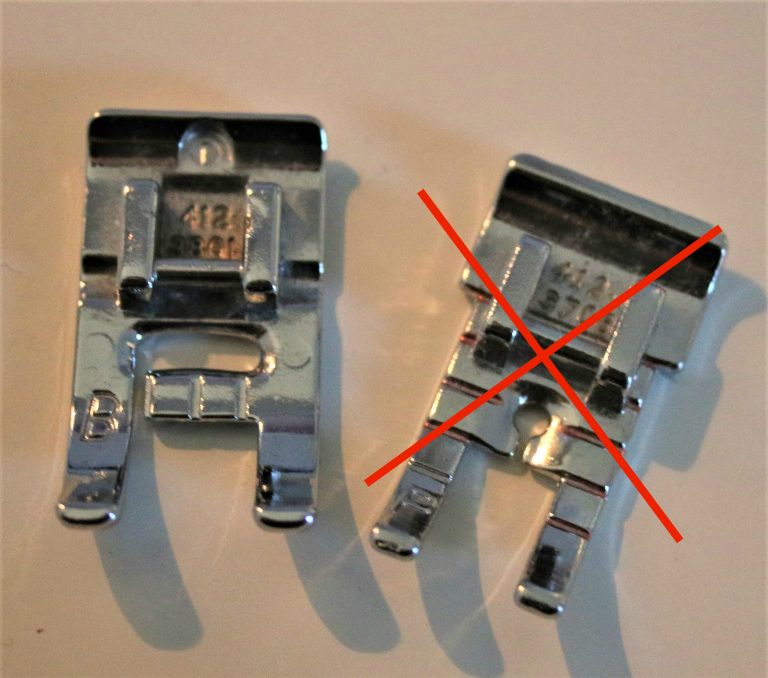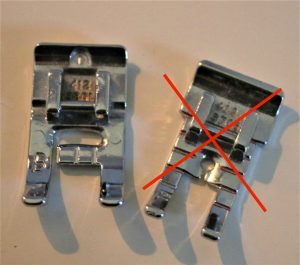 It will have a larger opening where the needles go through. Some use a walking foot with success as well, but I don't have one to try. Make sure you don't tug on the fabric at all and allow the feed dogs to push it through for you.
And that's it! A beautiful curved hem.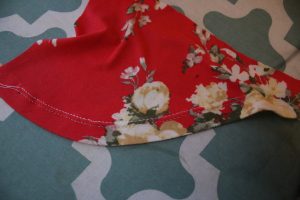 If your machine tried to eat your fabric because it was so lightweight, you can try using tissue paper below your fabric as you sew. This will stabilize it a bit for you.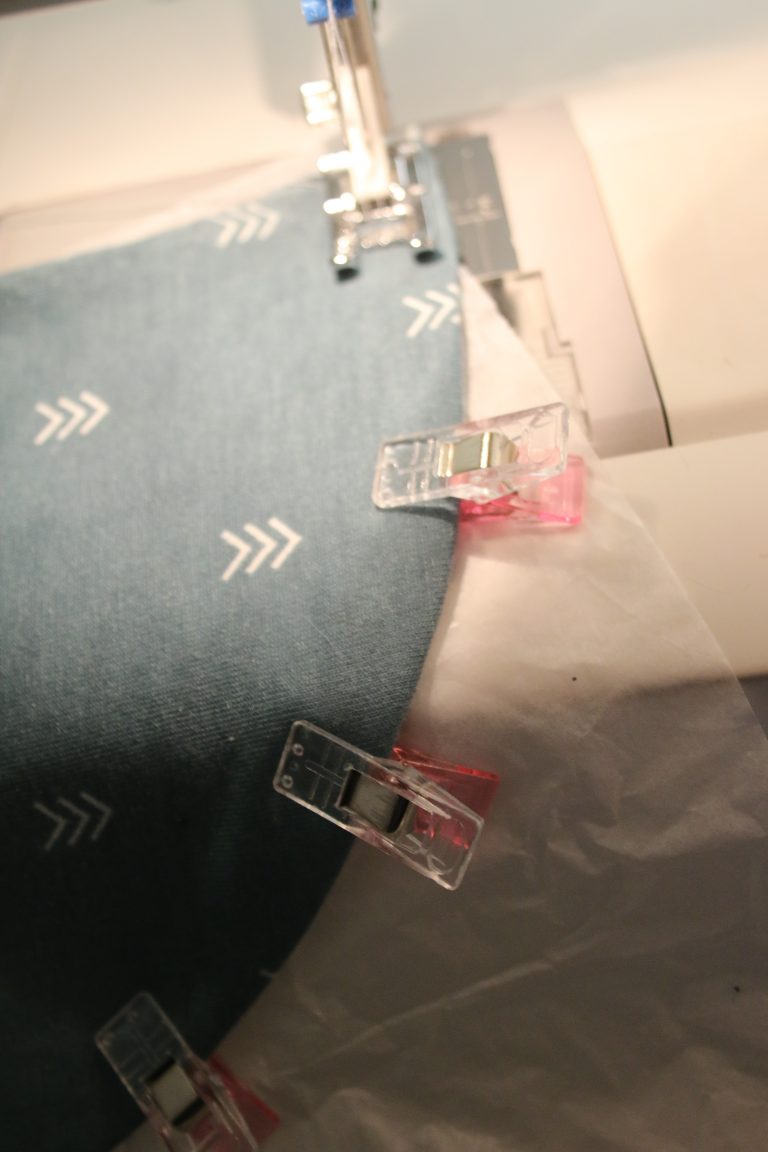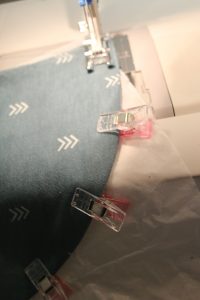 When you're done, just carefully rip the tissue paper away. Perfect job for a young helper.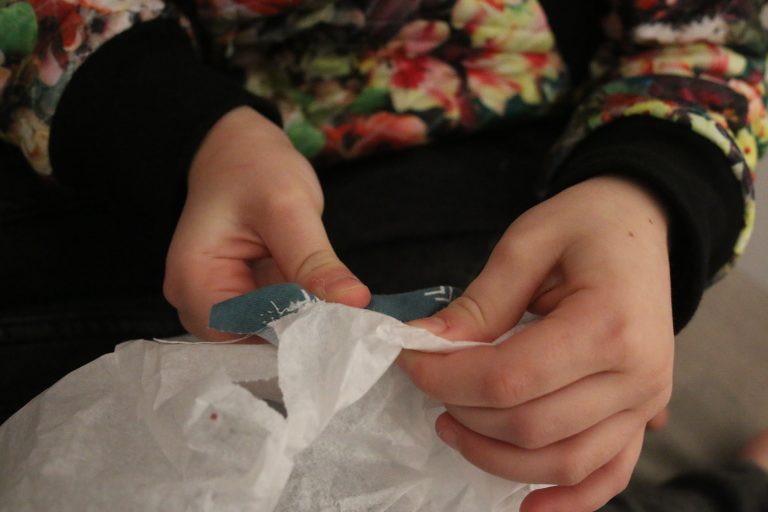 Now, sewing curved hems on woven fabrics can also be tricky and a lot of the same techniques can be used, especially sewing a basting stitch to ease the hem up as you have more fabric at the edge than you will where you sew. (Sometimes, too, especially for a circle skirt….I'll just do a rolled hem on the serger and avoid all the curved hem madness)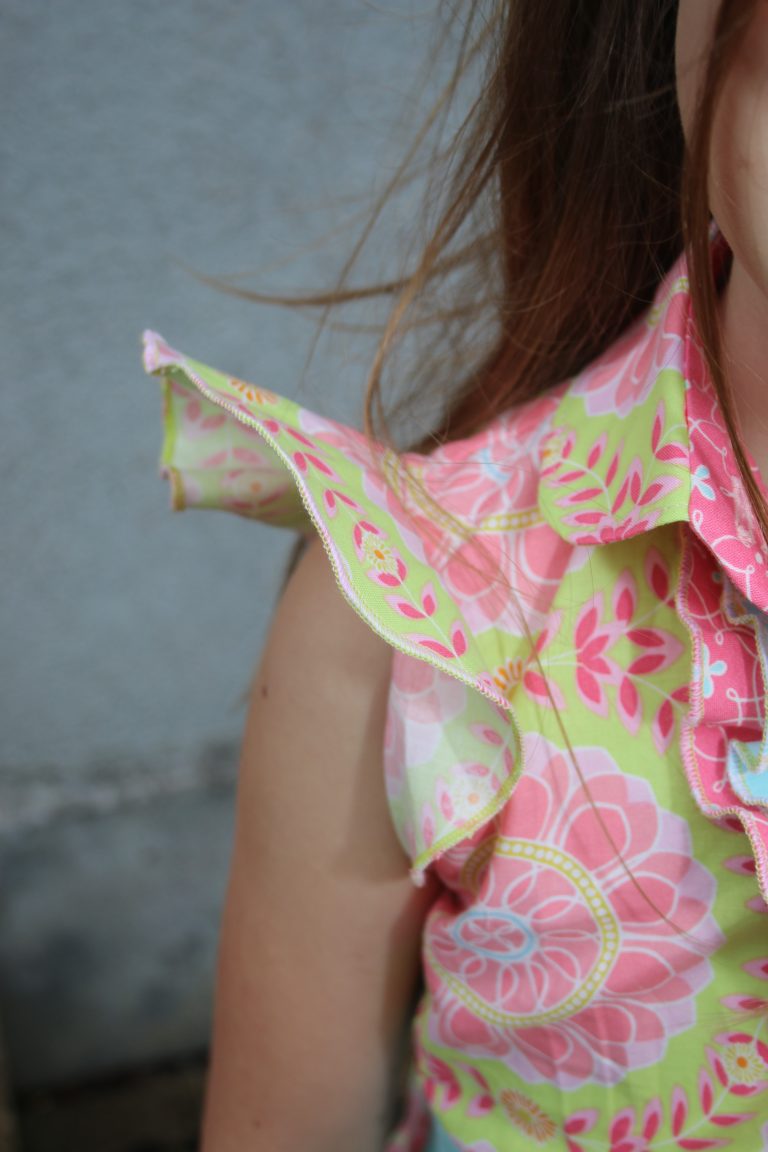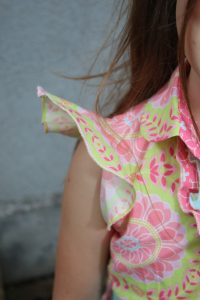 Hopefully you learned something that can help you get a smoother curved hem! Don't forget to share your projects and inspire others.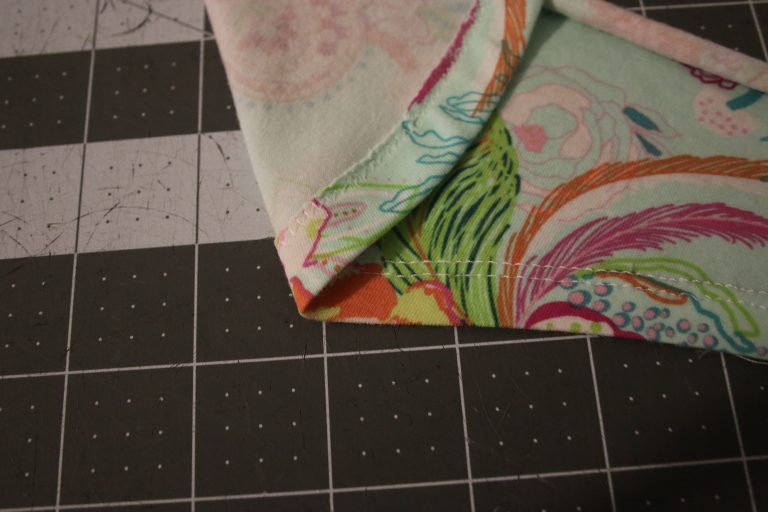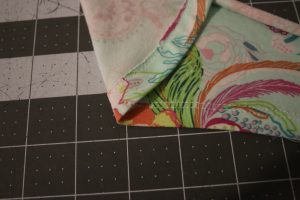 -Amanda