Hello there! It's Bri with The Lilac Needle here to share a few ways to store and organize your digital patterns! If you're at all like me, you've accumulated a lot of patterns which for the longest time you printed or kept in your downloads folder until you needed to remember where the heck you left it. 15 min later you find it, only to have it go back into the void that is the downloads folder. 
I would like to preface that what I am sharing is what I have found to work for me, and is not the definitive method to organizing your digital patterns. What I share here can also be used in other programs and catered to whatever way works best for you! 
Without further ado, let's get into it!
Google Drive
When I first started sewing, I collected as many free patterns and patterns that were on sale just to get my sewjo going. The first organization method I use is one that you likely use today but maybe not necessarily for sewing patterns. Ever heard of Google drive? I'm sure you have, and it is an excellent way to store your patterns!

I personally like to keep all my patterns in one area, then sorted by pattern maker, followed by the pattern name. Let's dig in a bit further to my Pattern Niche folder.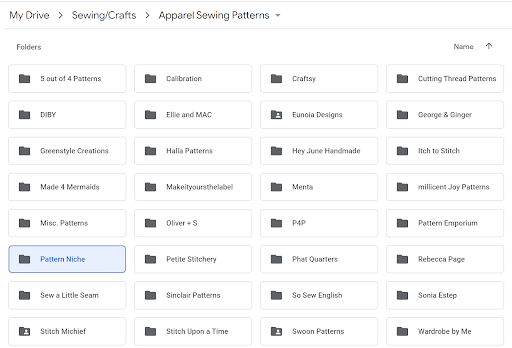 There are some that may want to organize it by date as well, but I have found this simple organization method to be the most useful for myself to find the pattern I want to make that day.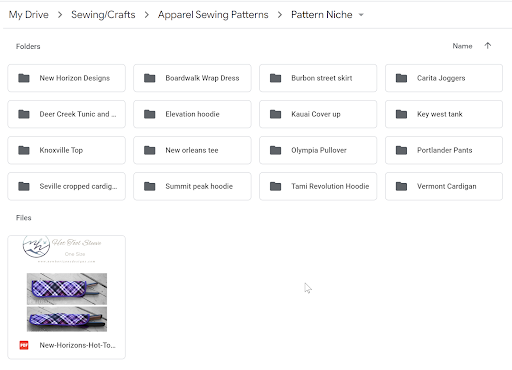 You may also notice that I have some sub folders within each pattern folder, and that is for any pictures of my makes. I also keep all the pattern files, and any mock up designs here as well for easy access and inspiration.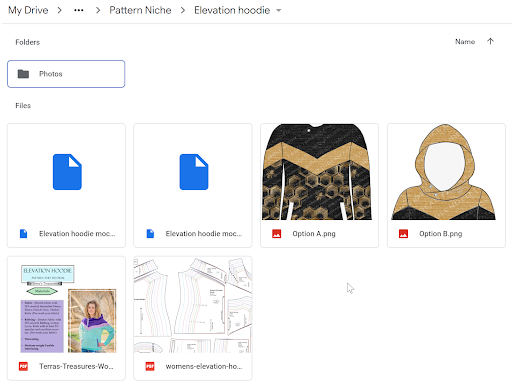 Why is google drive so great for storing and organizing your sewing patterns? While you certainly can do the exact same thing on your laptop or desktop, the major pro for me on using google drive instead is to be able to access my patterns on any computer. Rather than being tied to the computer you use mostly, you can have the patterns in the google drive cloud which can be accessed from any computer or device with an internet browser. Since I have a laptop, desktop, ipad and phone, being able to access these patterns from any device is a major plus for me. 
Now, what if I told you that there is another program that can satisfy the visual organizer? While I am still actively using google drive, and use it in tandem with the next program I am about to share, this program was a game changer for me. 
Notion.so
Notion.so is an application that provides components such as notes, databases, kanban boards, wikis, calendars and reminders. Users can connect these components to create their own systems for knowledge management, note taking, data management, project management, among others. What I am going to show you today is all made with the free version of the program!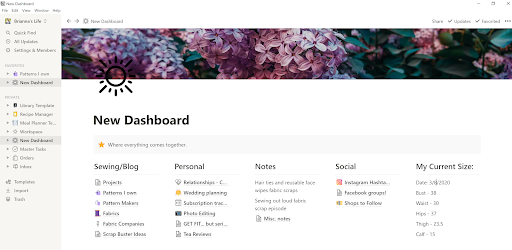 I started with a dashboard which I will land on every time I log in. Notice that I have a section dedicated to sewing? Because I like making Databases, I have a projects database, pattern makers, fabric companies, and then two areas for fabrics I own and patterns I own. Let's focus on the Patterns I own. 
The first view I have shows all patterns with all the details I have entered in a database view. I find I really only use this view when I am entering in several patterns at once after a shopping spree. From this same database, I can change the view to be more visual, and filter it to only show a specific pattern designer as seen below.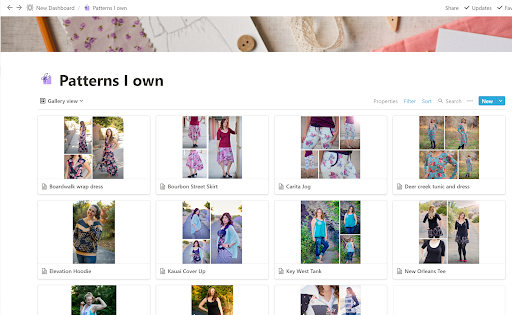 This is usually the way I like to view my pattern collection. I can quickly see what each pattern is supposed to be and see only patterns from one designer, Pattern Niche being the obvious selection here! I also want to point out that there are a few of the patterns that have my picture instead of the main picture from the pattern. That is because I've set out a goal/challenge for myself to fill each one of these patterns with my own picture. It's going to take some time, but should be a fun process! 
Not only can I see my patterns, but when I click on one of these options, I can see and enter in more details.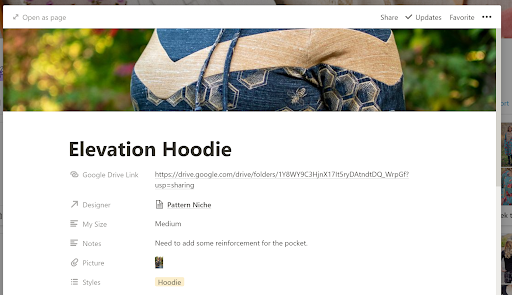 I include a picture, what style or type of pattern it is (in this case a hoodie), my size, any notes that I have from when I made the pattern, and a link to my google drive (which has the actual file). You definitely can upload the files to notion as well, but since I already have the system in google drive, I decided to integrate the two together. 
From this page, I can add additional properties like suggested fabrics or tie it in to my projects database (which is still a work in progress for me!)
I also have a relational link to the designer database which is not necessary, but I like being able to have a slight separation. If I click on Pattern Niche from here, I see the following info.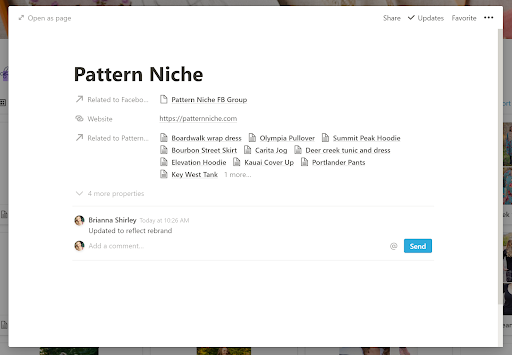 Because it is a relational database, I am able to see all patterns this selection is connected to in one page, I also can see the website, and I also added a quick link to the Pattern Niche Facebook group. I also can add comments for any changes I make. 
Tinkering with my current setup a lot is fun, and also I want to make it both functional and informative. I am so happy with how it is now, so it can only get better from here!
Other Great Options
Both Google Drive and Notion.so have a free option, which is what I used for everything I shared today. You could also use:
Folders on your desktop
And many other options out there. 
How do you store your digital patterns? Let us know on Facebook or on Instagram #Patternniche